Power of the Weak: Taiwan's Strategy in Countering China's Economic Coercion
Publication: China Brief Volume: 21 Issue: 21
By: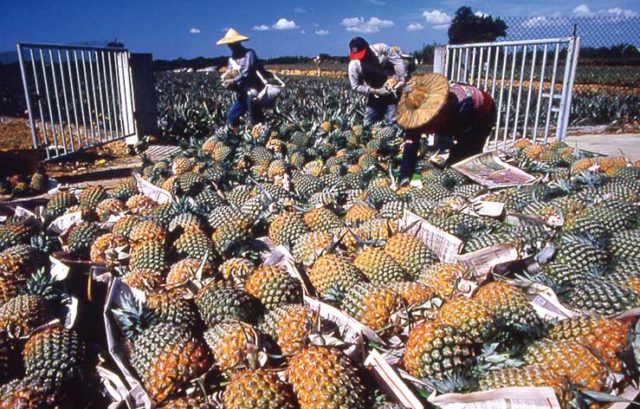 Introduction
In September, China's General Administration of Customs (海关总署通知, Haiguan zong shu tongzhi) imposed bans on Taiwan's sugar apples and wax apples, claiming that harmful pests were found in produce imports on multiple occasions (SCMP, September 19; PRC Customs Notice, September 18). In response to China's suspensions, Taiwan considered filing a formal complaint with the World Trade Organization (WTO) (Taipei Times September 20; PRC Customs Notice, February 26). In fact, this is not the first time that Taiwan's tropical fruits have suffered from Chinese import restrictions. In February, Beijing also suspended the importation of Taiwanese pineapples using similar justifications (Reuters, February 26). Meanwhile, at the beginning of October, China greatly increased its military probing of Taiwan's air defense identification zone (ADIZ) including the largest single-day incursion to date on October 4 involving 56 warplanes. (Taiwan News, October 4, 2021). The intensity and frequency of PLA Air Force incursions indicate that Beijing is flexing its muscles, and ability to project force around Taiwan's airspace and maritime borders.
These recent incidents, amidst ongoing China-Taiwan tensions, reveal a clear pattern in Beijing's coercive measures, which employ a combination of economic sanctions and military provocations [1]. China's increasing economic capabilities and frequent use of coercive measures have led to the following questions: how effective are Beijing's economic sanctions against Taiwan in achieving its desired outcomes and how can the Taiwanese government respond to China's coercive measures? As China becomes more powerful in Asia, it has gradually learned how to achieve its foreign policy goals through a diverse set of policy tools. China's shift from economic incentives to economic coercion to Taiwan, specifically from the Ma Ying-jeou (2008-2016) to the Tsai Ing-wen (2016-) administration, deserves careful investigation. Furthermore, Taiwan's strategy to respond to this shift demonstrates the agency that medium-sized countries can employ in response to China's coercion.
This article highlights Taiwan's diversification strategy to overcome economic and political challenges from China. Concerns over economic reliance on China and Taiwan's geostrategic location are the main drivers for this strategy (Taiwan News, September 17, 2020). It concludes with initial thoughts on establishing a trade pact in the Asia-Pacific region to counter China's unilateral economic sanctions.
Taiwan's Diversification Strategies: Challenges and Opportunities 
Over the last few years, Taiwan has been at the forefront of China's economic sanctions and military provocations, as Beijing has consistently sought to assert sovereignty over the self-ruled island. Although the Democratic Progressive Party (DPP) refuses to accept the 1992 consensus of "One China," President Tsai Ing-wen has cautiously adopted a moderate approach in China-Taiwan relations. The DPP has focused on maintaining Taiwan's autonomy, while not making any provocative moves such as declaring de jure independence. Nevertheless, under President Xi Jinping, China has responded harshly to the DPP's moderate approach, applying coercive measures against Taiwan to increase pressure on Taipei to negotiate its political status.
The Tourism Industry 
In 2016, when Tsai became Taiwan's president, Beijing imposed limits on the number of Chinese tourists allowed to travel to Taiwan. Official data from 2017 showed a decline of 22 percent in visitors from Mainland China in 2016.[2] The economic losses suffered by Taiwan's tourism industry led to street protests, as business owners who were heavily dependent on Chinese tourists urged President Tsai to mend relations with Beijing (Taipei Times, September 13, 2016). In 2016-2017, Taiwan opted not to make concessions in response to China's tourism ban, even though the DPP experienced protests and domestic pressures from pro-China travel industry groups. China's tourists ban may have partially contributed to the DPP's setbacks in 2018 local elections, along with other domestic economic issues, particularly Tsai's policies on pension reform, increasing the minimum wage, marriage equality, and social housing (Brookings, December 5, 2018). These issues contributed to a drop in Tsai's approval rating and contributed to the DPP's significant defeats in the 2018 local elections.
To address the tourism sector's dependence on China, the Tsai administration adopted diversification strategies to attract new visitors from Southeast Asian countries. Tsai succinctly captured the essence of Taiwan's diversification strategy, indicating: "Would you put all your eggs in one basket? If not, let's make Taiwan's tourism stronger and better"  (Liberty Times Net, August 22, 2019).
To pursue this diversification strategy, Taipei took steps including lowering the visa requirements for Brunei and Thailand so that citizens from these countries can enjoy visa-free entry to Taiwan (SCMP, February 21, 2018). It also provided a set of incentives to encourage domestic travel by supporting local businesses. Taiwanese citizens who stayed at local hotels or dined at nearby restaurants could receive vouchers for their trips (Taipei Times, September 16, 2017). Although these measures did not completely offset the losses resulting from China's tourism curbs, Taiwan's tourism industry has gradually lessened its dependence on Chinese tourists and expanded its clientele to become more diverse.
Agriculture Sector
The Taiwanese government took immediate measures following China's announcement that it had stopped pineapple imports from Taiwan. President Tsai encouraged the public to eat more pineapples, including issuing an "All You can Eat Taiwanese Pineapple Challenge" (吃爆台灣鳳梨)  and allocated $36 million in funds to subsidize financial losses incurred by Taiwanese pineapple farmers (Liberty Times Net, March 2, 2021; Bloomberg, February 26, 2021).
Recent trade data shows that China's import ban has had limited impact, as sympathetic Japanese buyers have stepped in to provide timely support (Bloomberg, August 6). Surging domestic demand and shipments to Japan have helped pineapple growers overcome Beijing's economic sanctions in the short term. However, Taiwan's fruit exports remain heavily reliant on China, and the import bans have caused losses for farmers. It is certainly quite difficult for the Taiwanese government and farmers to diversify tropical fruit exports immediately, which would incur significant costs from logistics and storage to identifying new business partners. In response to Beijing imposing trade restrictions on pineapple imports, Taiwanese fruit growers are struck both with anxiety of financial loss and with a wake-up call. For example, one farmer in Tainan, said: "we were all spoiled by China's market, as it always has loose requirements for fruit imports. As a result, farmers in Taiwan were eager to earn quick cash (BBC Chinese News, March 5)." Another farmer expressed gratitude for the timely support of Taiwan's government and consumers, and is now fully aware of the risks of over-reliance on China's market (BBC Chinese News, September 20). Taiwan's Council of Agriculture and the local government of Taitung, the county where most tropical fruits are grown, is helping farmers promote  exports of their produce to other countries like Japan, Australia, and those in the Middle East (Taipei Times, September 20, 2021).
It is unclear how long China's ban on tropical fruits and tourists will last, but Taiwan's diversification strategies for its agricultural and tourism industries will certainly continue. It might take several years for Taiwan's farmers and tourism industry leaders to make needed structural adjustments and sector reforms. The "new southbound policy" is a crucial policy initiative put forward by President Tsai, and it aims to advance economic ties with Southeast Asian countries in order to diversify Taiwan's economic interests and relationships (New Southbound Policy Portal – MOFA Taiwan). More importantly, this "going south" approach represents DPP efforts to find a better balance between Taiwan's trade and security interests.
This diversification strategy serves to overcome Taiwan's dilemma that China is both its largest trade partner and predominant security threat. Challenges certainly remain as to how the Taiwanese government might employ strong incentives for business owners to divert their investment from China to Southeast Asian countries (Chatham House, April 2019). Taiwan's geostrategic considerations have propelled this island to seek an increased security commitment from the United States, but the Taiwanese government has also come to realize its vulnerability to China's economic sanctions. Nevertheless, it would take a long-term commitment from different successive ruling parties- the DPP and the KMT- to effectively implement this diversification strategy. In this sense, Taiwan's diversification strategy is a state-level policy for Taipei, that requires other Asian partners to buy in to a collective economic pact to push back against China's economic coercion.
Envisioning a Regional Trade Pact that Incorporates Taiwan
Countries in East Asia and beyond, such as Japan, the Philippines, and Norway, have all suffered from Beijing's economic sanctions. [4] From a long-term perspective, policymakers in these countries should consider a collective, coherent and credible strategy to address China's challenges, as they have each fallen victim to China's use of punitive economic measures.
For example, members of the UK parliament proposed a trade alliance to counter China's "weaponization of policy tools." Specifically, they offered examples of how a Democracies Alliance Treaty Organization (DATO) might work in practice. For example, were Beijing to withdraw Chinese students from a targeted country or threaten to do so, then the other countries in this alliance could impose restrictions on Chinese students in response (SCMP, June 28, 2021). Such an economic pact could also involve an agreement to refrain from taking advantage of any coercive measures imposed by China (for example, Taiwan would refuse to fill the shortfall created by the import restrictions on bananas from the Philippines, or American beef imports would not make up for China's demand for banned Australian beef). In addition, Matthew Pottinger, former U.S. Deputy National Security Advisor, has advocated for an "economic NATO" that allows member states to deploy similar measures in response to Beijing's economic sanctions (UPI, April 15, 2021). Pottinger suggests the time is ripe for such an agreement due to increased worries among China's neighbors, Taiwan, Australia, and the Philippines over Beijing's import restrictions.
This trade pact might begin with Japan, Australia, and Taiwan discussing mechanisms of information sharing and potential response measures, and then expand to other like-minded countries in the Asia Pacific region. Countries that are vulnerable to China's economic sanctions could build resilience by deepening ties with each other, offering an important alternative market in Asia. Japan's timely purchases of Taiwanese produce is a good example to explore possible ways of expediting remedies for the challenges resulting from China's economic coercion.
There are still challenges to be overcome for such a trade pact to  succeed, such as how to address collective action problems and mediate competing commercial interests among the member states. Nevertheless, the economic and security benefits of this kind of trade initiative outweigh the financial losses resulting from China's frequent use of economic coercion against any specific industry in one country over the long run.
So far this kind of countering strategy has received no official backing from the U.S. or the UK. However, merely having discussions on procedures of policy coordination, risk assessment, and joint statements to counteract China's economic coercion against Taiwan and other states can help deter China's possible future use of economic sanctions (ASPI Policy Brief, 2020). As China's economic importance increases, the United States, along with its Asian allies, must find credible ways to counter Beijing's coercive measures. Collaboration between governments and with the private sector is a positive first step in developing a protocol to address China's sanctions in Asia and beyond.
Conclusion
Beginning in 2016, Taiwan's economic statecraft to counter China's economic coercion has focused on raising public awareness of China's leverage, reducing trade reliance on China's markets, and diversifying Taiwan's trade partners in Asia and beyond. Therefore, putting China's economic sanctions in perspective is one of the most crucial tasks for Asian countries, and Taiwan's experience has lessons to offer to the rest of the world regarding how to address the challenges presented by China's economic coercion.
In the short run, Beijing's travel bans on Chinese tourists and import restrictions on Taiwan's fruit generated significant economic losses, but China's use of economic sanctions has not spurred sustained political progress toward eventual unification. More importantly, as China's economic heft continues to grow, Beijing is likely to explore more ways to use economic sanctions to further its interests. A possible way for Asian countries to build greater resilience, in the long run, would be to construct a trade pact, including the U.S., Japan, Australia, and Taiwan. This might reduce the economic vulnerabilities of the respective member states, and can also send a strong signal in deterring China's sanctions and increasing confidence among Asian countries, allowing them to engage Beijing from a position of strength.
Christina Lai is a junior research fellow in the Institute of Political Science at Academia Sinica, Taiwan. She is also an adjunct lecturer in Global Security Studies at Johns Hopkins University. She is interested in U.S.-China Relations, Chinese Foreign Policy, East Asian politics, and Qualitative Research Methods. Her works have appeared in the Politics, Political Science, Journal of Contemporary China, Pacific Review, International Relations of the Asia-Pacific, Asian Survey, and Asian Security.
Notes
[1] Christina Lai,  "More than Carrots and Sticks: Economic Statecraft and Coercion in China–Taiwan Relations from 2000 to 2019." Politics, (February 2021). https://doi.org/10.1177/0263395720962654.
[2] Taiwan Tourism Bureau, "Visitor Arrivals by Residence, 2017,"  https://admin.taiwan.net.tw/English/FileUploadCategoryListE003130.aspx?CategoryID=b54db814-c958-4618-9392-03a00f709e7a&appname=FileUploadCategoryListE003130
[3] President Tsai succinctly captured the essence of Taiwan's diversification strategy, indicating: "Would you put all your eggs in one basket? If not, let's make Taiwan's tourism stronger and better." President Tsai's Facebook post from 22 August 2019.
[4] Christina Lai, "Acting one way and talking another: China's coercive economic diplomacy in East Asia and beyond," The Pacific Review 31.2 (2018): 169-187.