PRESIDENT ALIYEV SACKS KEY MINISTERS, CLAIMS COUP WAS IMMINENT
Publication: Eurasia Daily Monitor Volume: 2 Issue: 196
By: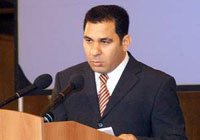 On October 19, Azerbaijani authorities announced they had successfully prevented a coup in the country. Authorities arrested two powerful and influential cabinet ministers — Minister of Economic Development Farhad Aliyev (no relations to President Ilham Aliyev) and Minister of Health Ali Insanov. A third figure, Akif Muradverdiyev, head of a department of the president's office, was also fired.
Yesterday, October 20, the popular daily news website day.az reported that Minister of Education Misir Mardanov, Minister of Labor and Social Protection Ali Nagiyev, and several other high-ranking officials were also fired, but there has been no official confirmation of this development. Also arrested is Rafik Aliyev, Farhad's brother and president of the country's largest oil monopoly Azpetrol. The company's bank accounts are frozen and an investigation has been launched into the operations of the Ministry of Economic Development and Azpetrol.
These events clearly shocked the country. Almost all local analysts were convinced that President Aliyev had not planned to fire any Cabinet minister, as it might cause a split within the ruling party ahead of the crucial parliamentary elections scheduled for November 6. Yet, the dramatic turn of events became inevitable after exiled opposition leader Rasul Guliyev, chairman of the opposition Democratic Party, failed to return to Baku on October 17 (see EDM, October 19).
Subsequently, Azerbaijani law enforcement bodies raided the homes of Guliyev's close associates, including former minister of finance Fikret Yusifov. At his house law-enforcement officers found a list of governmental officials who allegedly funded the opposition in the country and planned to lend support for Guliyev's return. Farhad and Rafik Aliyev are said to be on that list, having paid 100,000 Euros to organize mass rallies on the day of Guliyev's return.
Farhad Aliyev was known as the most reform-minded and progressive member of the Cabinet. He has been engaged in a year-long fight with another powerful member of the Aliyev administration, Customs Chief Kamaleddin Heydarov, over how best to handle monopoly businesses in the country. Farhad Aliyev was said to favor fast-paced economic reforms and integration with Euro-Atlantic structures. In the past three months local media have often accused him of funding the Azadliq block, an accusation that the minister fiercely denied. His removal symbolizes the victory of Heydarov and other hardliners in Azerbaijan's economic sphere.
Meanwhile, Ali Insanov, who was clearly head of one of the power centers in the ruling party, was considered to be a hardliner and member of the "old guard." Local newspapers often questioned President Aliyev's ability to get rid of him, considering his support among some members of the ruling elite. Several newspapers from October 20 speculated that President Aliyev has fired Insanov to please the United States. U.S. Assistant Secretary of State for Europe and Eurasian Affairs Daniel Fried visited Baku on October 20, and some analysts have suggested that firing the hardliner Insanov was aimed at pleasing the U.S. State Department. However, this theory seems unlikely.
Although most analysts are still confused over the course of events in the country, due to the scarcity of information, two versions appear to be gaining the most credibility. According to one scenario, as the crucial parliamentary elections approach, President Aliyev decided to get rid of those ministers considered most likely to switch sides and be disloyal to the president in the event of a democratic "color revolution." Insanov was clearly playing his own game in the ruling party, often against the President.
The second version states that the recent arrests of Guliyev loyalists revealed links to certain members of the Aliyev administration, and the president had to order their arrests in order to prevent a coup.
Notably, these high-profile arrests were carried out by the Ministry of National Security, which President Aliyev has been increasingly relying on in the past year, after appointing his long-time friend Eldar Mahmudov to head the ministry.
On October 21, the opposition dailies are covered in headlines shouting that the ruling party has began to collapse. President Aliyev likely will get rid of other members of the Cabinet who pose a threat to his power. But while all of these developments are likely to ensure the ruling party's victory in the short term, in the long run they may well facilitate the development of a new opposition force.