Pro-Russia Paramilitaries Seize Ground in Eastern Ukraine Ahead of International Negotiations
Publication: Eurasia Daily Monitor Volume: 11 Issue: 72
By: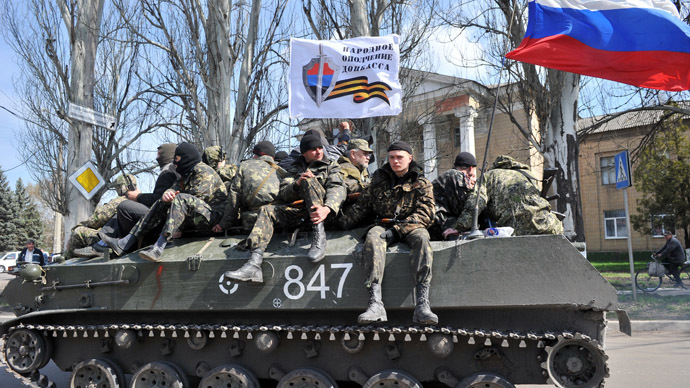 Pro-Russia armed groups fanned out during April 11–14 across Donetsk oblast, capturing the seats of authority in town after town: Slovyansk, Kramatorsk, Makiyivka, Mariupol, Horlivka, Khartsyzk, Yenakiyeve, Zhdanivka, and several others. This is a conflict coordinated from Moscow, designed to create faits accomplis on the eve of international negotiations on Ukraine (see below). The Kremlin is creating a territorial entity in eastern Ukraine in order to promote Ukraine's "federalization."
Pro-Russia "terrorist" groups—as the government in Kyiv began designating them—seized the city halls, police headquarters and other buildings of law enforcement authorities in each of those towns, an airport in at least one case (Slovyansk), and began installing checkpoints on interconnecting roads between these cities.
The armed gangs replaced the Ukrainian flag with Russia's flag and related symbols, appointed their own "movement's" representatives in place of the incumbent civil and police authorities (when these did not promptly switch sides), and called for a referendum to be held on Ukraine's "federalization" or on potential separation from Ukraine ("Donbass People's Republic"). Local crowds, ranging in size from several hundred to several thousand, cheered the takeovers, while the great majority of the populace remained passive. The legitimate forces of order did not seriously resist (Interfax-Ukraine, UNIAN, Channel Five TV, April 11–15).
Some of these towns are home to major, "oligarch"-owned metallurgical plants. Armed pro-Russia separatist are now in a position to exert leverage over those captains of industry and potentially to constrain their political choices.
The same type of paramilitary groups had already seized, on April 6–7, the regional state administrations' (governors') buildings in the city of Donetsk, as well as the state Security Service's (SBU) buildings in Donetsk and in the adjacent oblast center of Luhansk.
Thus, step by step, pro-Russia groups are building up a territorial power base in Donetsk oblast. They have yet to connect the dots they have seized and those still to be captured. A similar process seems entirely possible in the neighboring Luhansk oblast. There, however, the central Ukrainian government's authority looks even weaker than in Donetsk oblast, perhaps rendering pro-Russia paramilitary actions ultimately superfluous in Luhansk oblast. Russia's actions are designed to compel Ukraine to accept either outright loss of territory or "federalization."
Moscow, which stands behind the armed gangs in Donetsk oblast, demonstrates its contempt toward Washington's and Brussels's pleas for "de-escalation" of the conflict. Instead, the latest wave of paramilitary actions and spread of separatist control marks a new phase of conflict escalation.
Russia has openly incited civil conflict in eastern Ukraine through televised propaganda and the infiltration of "political tourists" across the border. Following the fall of Viktor Yanukovych regime's in Kyiv on February 22, the escalation process started in eastern Ukraine with separatist rallies and demonstrations on a regular weekly basis from March 1 onward. Those actions targeted the seats of authority in the oblast centers, initially without success. By late March, pro-Russia armed groups made their appearance in the Donetsk and Luhansk oblasts. By early April, Russian state television channels began laudatively reporting about armed groups and several of their chieftains; and Russia's Duma adopted a resolution supporting those violent militants whom Ukrainian authorities had managed to arrest (see EDM, April 11).
Moscow has targeted other eastern Ukrainian oblasts less successfully. Local "oligarchs" and long-time power brokers are key to stability there. Billionaire governor Ihor Kolomoyski has kept the Dnipropetrovsk oblast firmly on the side of the Ukrainian central government. Internal Affairs Minister Arsen Avakov has to some extent redressed the situation in Kharkiv, which had previously been his political fiefdom. The Kharkiv administrative center remains vulnerable to destabilization. For now, Donetsk oblast is the epicenter of conflict, and Luhansk oblast another potential epicenter.
Russia's latest actions in eastern Ukraine directly precede the international negotiations in Geneva regarding Ukraine, and are intended to influence their course (see below). Those negotiations can easily go in the wrong direction if the character of this conflict is not clearly understood.
The political conflict in Ukraine's east is an inter-state conflict undertaken by Russia against Ukraine. It is a follow-up to the military-territorial conflict that Russia undertook in Crimea against Ukraine (and threatens to recommence militarily in mainland Ukraine). Through incendiary propaganda and paramilitary activity, Russia has initiated a conflict where none had existed until a few weeks ago in eastern Ukraine.
The Kremlin, however, insists that this is a conflict between two parts of Ukraine (or the eastern oblasts and the central government). On this logic, the Kremlin claims an internationally accepted role as protector of Ukraine's east, with its Russian/"Russian-speaking" population. Diplomatic efforts by the United States and the Europe Union seem to be inching toward acceptance of Moscow's logic. They have agreed to discuss Ukraine's future political system (including a new constitution and "minority" rights protection) with Russia—first in the bilateral Sergei Lavrov–John Kerry channel, then in the Geneva forum comprised of the US, EU, Russia and Ukraine.
The Geneva forum is scheduled to convene on April 17, as the opening session in a process that will oversee Ukraine's elections and adoption of a new constitution. This is the sequence that Ukraine and its Western partners want to follow. Russia wants to reverse this sequence. Either way, the West seems to have already sacrificed a fundamental principle from the outset: it has given the Kremlin a deliberative vote in this newly created international format to supervise Ukraine's internal political processes. This is at least partly a result of Western assent to Moscow's thesis that the conflict is not inter-state, but internal.
Moscow wants the Geneva forum and the Ukrainian government immediately to accept a "framework" for Ukraine's new constitution, ahead of the May 25 presidential election. Moscow's draft framework envisages Ukraine's "federalization" and related stipulations (Interfax, April 11, 14). By seizing territories in eastern Ukraine through its proxy armed groups, Russia threatens to orchestrate a full secession in those territories, unless Ukraine accepts its "federalization," which would, in the form proposed, amount to a barely disguised loss of Ukraine's independence.