Pro-Russia Parties Resurgent in Moldova (Part Two)
Publication: Eurasia Daily Monitor Volume: 19 Issue: 120
By: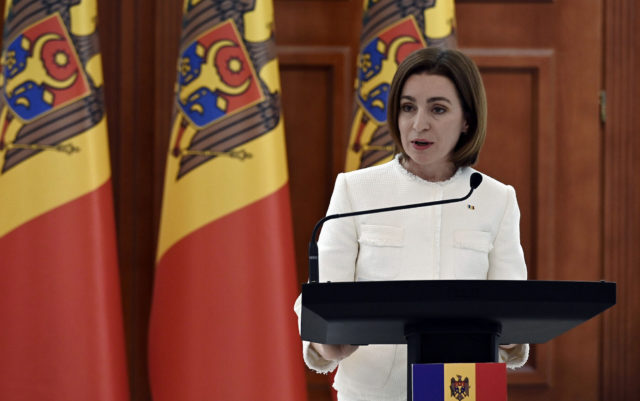 Moldova's Russophile parties aim to force snap parliamentary and presidential elections this year, capitalizing on an unprecedented economic crisis to topple the pro-Western leadership (see EDM, August 4).
Maia Sandu and her Action and Solidarity Party (Moldovan acronym, PAS) achieved landslide victories in the presidential and parliamentary elections of November 2020 and July 2021, respectively, thanks in large part to strong mobilization of Moldovan diaspora voters in Western countries. Sandu defeated the then-incumbent president Socialist Igor Dodon by a vote of 58 percent to 42 percent. PAS went on to win 53 percent of the votes cast in the parliamentary elections, compared with the cumulative 47 percent of three Russophile parties: the Socialists, Communists, and Shor Party (vehicle of  fugitive tycoon Ilan Shor). Under the proportional system, those results gave PAS a parliamentary majority of 63 seats in the 101-seat chamber, compared with 32 seats for the Bloc of Communists and Socialists and 6 seats for the Shor Party.
On Moldova's own territory, however, Sandu and PAS won by quite narrow margins. In both elections, moreover, the Kremlin passed up the chance to mobilize Moldovan voters in Russia behind Russophile candidates in Moldova.
Those three Russophile parties currently act as one opposition front in parliament and the extra-parliamentary arena. They would undoubtedly form an electoral coalition, or at least a cartel, in the snap elections they seek to provoke.
At present, all public opinion polls on Moldova's territory (excluding Transnistria) indicate reverse landslides: namely, by Russophile parties against the Western-oriented authorities. Moldovan polling agencies habitually inquire about eligible voters' choices "if elections are held next Sunday." Meanwhile, the Moldovan Institute for Public Policies' well-respected survey, the biannual "Public Opinion Barometer," has apparently been discontinued, which is a serious loss for public opinion research in Moldova at a critical time.
The CBS-AXA survey, conducted in late April–early May 2022, showed PAS scoring 29 percent among all eligible voters, compared with a cumulative 35.5 percent for the Socialist, Communist and Shor parties, "if elections are held next Sunday" (Ziarul National, May 10).
According to the iData (Intelligent Data) survey, conducted in June 2022, PAS would receive 22.5 percent of the votes among all eligible voters "next Sunday," as opposed to a cumulative 39 percent for the Socialist, Communist and Shor parties. By the agency's own computation, those results would translate into 37 parliamentary seats for PAS versus 64 seats for the three Russophile parties (Unimedia.info, June 29).
The IMAS (Institute for Marketing and Surveys) poll, conducted in July 2022,  shows PAS at 24-percent support among all eligible voters, compared with 45.5 percent for the Socialist, Communist and Shor parties, again translating potentially into a heavy parliamentary majority for the Russophile cohort (Ziarul National, July 20).
In the event of snap elections, no other parties would enter the new parliament, outside the pro-Western PAS and those three Russophile parties. Other parties with less clearly defined options fall below the 5-percent threshold in all the aforementioned surveys.
President Sandu retains first place in the ratings for "personal trust" in all these surveys, with Dodon as the constant runner-up. Sandu's rating is shown in the range of 20 to 25 percent, less than half her winning numbers in the presidential election. Other PAS leaders barely show up in the ratings, if at all. Her lower ratings notwithstanding, Sandu remains (as in 2021) the only "electoral locomotive" available to PAS in any preterm elections.
The polling results also attest to a backslide of Moldova's electorate into its customary polarization. Sandu and PAS had won the elections by bridging those poles to a significant extent and have persisted with that approach since taking power. Their appeal and credibility, however, has suffered under the impact of intractable economic and social crises, further exacerbated by the ripple effects of Russia's war in Ukraine (see EDM, August 4).
PAS and Sandu did not take over a stable, consolidated state but the hollow shell of one—thus necessitating state construction almost from the outset, not to mention a reconstruction of mentalities. The starting date of this effort was August 2021 when the PAS government took office, at which point the presidency, parliamentary majority and government concentrated into pro-Western hands for the first time ever in Moldova. The magnitude of their effort would require two concurrent legislative and presidential terms at the very least. The Russophile parties, however, count on Moscow's support for changing these authorities through preterm elections. And considering the economic and political situation in Western Europe, on top of the shifting mood in Moldova itself, PAS and President Sandu might not be able count on the Moldovan diaspora to support them as decisively as it did in the 2020 and 2021 elections. Nor can Russia be counted on to pass up another chance to lift its Moldovan clients to power, in the event of preterm elections there.
Moldovan authorities are, therefore, acting in the legitimate defense of state interests by investigating leading figures of the Socialist and Shor parties on evidence of criminal corruption. Dodon, who is no longer a Socialist Party member but continues speaking as its leading voice, has been under house arrest since the end of May 2022. Prosecutors are investigating Dodon on evidence of unlawful personal and family enrichment, illegal financing of the Socialist Party through him and state treason—the latter apparently referring to Kremlin funding. Dodon's brother-in-law, the hitherto obscure Petru Merineanu, is currently in preventive detention for 30 days, suspected of having unlawfully received substantial sums of money from undeclared sources and attempting to suppress evidence. Corneliu Furculita, a senior Socialist parliamentary deputy, is being questioned for unlawful enrichment, part of it possibly connected with the acquisition of two television channels with Russian-tainted funds (TASS, July 29; Ziarul de Garda, July 29, August 1; Newsmaker, August 1).
Marina Tauber, chair of the Shor Party's parliamentary group, has seen her parliamentary immunity lifted and has been in pretrial detention since July 23. Tauber is charged with falsifying the party's 2021 financial report and accepting funding from an organized criminal group—the latter apparently a reference to the fugitive Shor (TASS, July 25, 29; Newsmaker, July 25, 30; Noi.md, August 1). Further investigations of Socialist and Shor corruption suspects seem certain, with further arrests possible.