PROSECUTOR GENERAL'S OFFICE PROPOSES NEW ANTI-EXTREMISM AGENCY
Publication: Eurasia Daily Monitor Volume: 5 Issue: 188
By: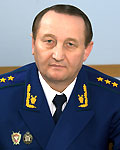 The Russian Prosecutor General's Office has called for a new law-enforcement agency to fight extremism, arguing that federal and local authorities have been ineffective in fighting hate crimes. Some human rights experts, however, have expressed concern that such a body could be used against critics of the Kremlin.
The idea of setting up a separate anti-extremism agency was voiced on September 30 during parliamentary hearings on extremism. Deputy Prosecutor General Viktor Grin told the State Duma that 356 extremist crimes were registered last year, up from 130 in 2004, and that 250 extremist crimes were registered in the first six months of this year, of which 73 were committed in Moscow. Grin said that the jump in the number of extremist crimes was due to an increase in the number of hate crimes, even as the number of terrorist acts was falling. He said that there were 19 religiously or racially motivated killings in Russia from January through June, of which 17 were committed in Moscow. According to Grin, all 17 of the murders in Moscow were committed by young people aged 16 to 20 and that the victims were citizens of Uzbekistan, Tajikistan, Azerbaijan, Armenia, and Kyrgyzstan (The Moscow Times, October 1, www.newsru.com, September 30).
Grin also said that the Internet and computer games were being used to promote terrorism and hate crimes. The Internet, he noted, offered instructions on making explosives and blowing up buildings, while popular computer games promoted racially motivated violence (The Moscow Times, October 1). At present, "there are more than 500 Internet sites fomenting national hatred," he said. Games that "propagandize" murder and violence, including murder and violence targeting members of other ethnic groups, enjoy the greatest popularity. "Such games, according to specialists, can have a destructive effect on the psyche of young people," Grin said (www.newsru.com, September 30).
Grin called for the creation a single federal executive body to oversee inter-ethnic relations and the fight against extremism, stating that federal and local bodies have not worked effectively in these areas (www.newsru.com, September 30).
As testifying to the State Duma about extremism, President Dmitry Medvedev was also addressing the issue, telling Interior Ministry officials at the Kremlin that they had to "step up the fight against extremism and ultra-nationalism." Medvedev said that the recent conviction of a group of mainly teenage boys for a series of racist crimes in Moscow should be "a serious lesson to those who seek to undermine our society and to violate the civil peace existing in Russia" (www.newsru.com, September 30). On September 22 the Moscow City Court sentenced 12 teenage boys and a man to prison terms ranging from four-and-a-half to 10 years for a series of ethnic attacks, including the murder of a chess champion who was a member of the Yakut ethnic group. The attacks were videotaped, set to heavy music, and widely disseminated on the Internet (Associated Press, September 22).
Not all members of the State Duma were happy with the call for the creation of a new federal agency to oversee inter-ethnic relations and fight extremism. Deputy State Duma Security Committee Chairman Gennady Gudkov said the creation of yet another government body would not solve the problem of extremism. "It is necessary simply to force the law-enforcement bodies and special services to work," Gudkov said. "They have piles of directorates and departments for this. Why do we need to create yet another agency?" Another member of the Duma's Security Committee, Aleksei Rosuvan, said the creation of a federal agency to oversee inter-ethnic relations and the fight against extremism would be "a burden on the budget" and would simply add another layer of bureaucracy (Novye izvestia, October 1).
Some human rights activists expressed concern that a new federal body overseeing inter-ethnic relations and the fight against extremism could be used as a weapon against government critics. Galina Kozhevnikova, deputy head of the Sova Center, which tracks hate crimes, told The Moscow Times that she feared the proposed agency would be "directed toward the political opposition" and be "a corruption machine" (The Moscow Times, October 1).
Some observers also expressed concern that a campaign to crack down on extremist websites could end up targeting government critics as well. Aleksandr Brod, director of the Moscow Bureau for Human Rights, said that it was necessary to prosecute those who created extremist websites but that a line had to be drawn to protect websites on which human rights activists, politicians, and journalists criticized bureaucrats and corrupt officials. "It is necessary to create a code of ethics among [Internet] providers in order to limit access to radical websites," he said. To this end, Brod said that Russia should ratify the European Convention on Cybercrime (Novye izvestia, October 1).
Referring to the case of the Komi Republic blogger Savva Terentiev, who was convicted of "inciting hatred or enmity" after he called for burning policemen in town squares (see EDM, July 14), Tatyana Stanovaya of the www.politkom.ru website noted that the authorities' moves against websites thus far remained "uncoordinated" and that the Internet still remained the only place where Russia's political opposition and "pro-governmental structures" enjoyed equal rights. That state of affairs, she wrote, "continues to disturb the Kremlin"; and siloviki hardliners, taking advantage of the Kremlin's concern in this area, were becoming increasingly active in their attempts to control the Internet (www.politcom.ru, October 1).