Putin and Lavrov Rebuff Pompeo's Overtures in Sochi
Publication: Eurasia Daily Monitor Volume: 16 Issue: 72
By: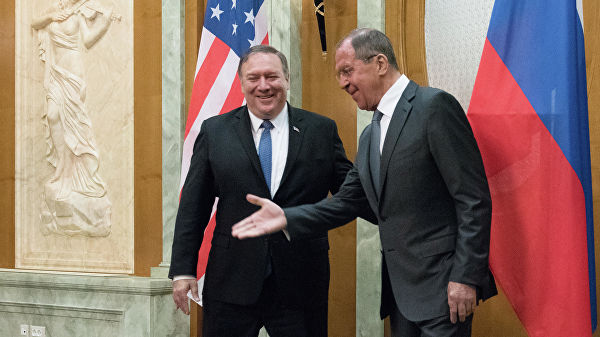 On May 3, United States President Donald Trump phoned Russia's President Vladimir Putin and had "a long and very good conversation" discussing "trade, Venezuela, Ukraine, North Korea, Nuclear Arms Control and even the 'Russian Hoax' [sic]," according to Trump. The two leaders did not talk for long. A Trump-Putin summit was planned for December 1, 2018, on the sidelines of a G20 meeting in Buenos Aires, Argentina; but Washington canceled it after the Kerch Strait incident on November 25, when the Russian military attacked and captured three Ukrainian naval boats together with 24 crew members. Washington demanded the release of the vessels and men as a precondition to a summit, but they remain in Russian custody. In Buenos Aires, Trump and Putin chatted shortly during dinner and had no other encounters, even as international tensions grew and US-Russian relations crumbled. Today, Russian observers believe, Trump seems keen to resume a dialogue and possibly press for some sort of détente or "deal" with Putin's Russia (Interfax, May 3).
The US is in a trade war with China and a standoff with Iran, which may escalate into possible military clashes with Iranian or pro-Iranian proxy forces. The Venezuelan crisis may deteriorate into armed violence that could require a US military response. If the Venezuelan and Iranian crises begin to escalate simultaneously, the US and its military would be torn between two conflicts putting strain on Washington's ability to act decisively. In these circumstances, attempting to make a deal with Russia looks logical: Moscow may terminate its support for Nicolás Maduro in Caracas and also put pressure on Havana to do the same. A swift collapse of the Maduro regime could then theoretically begin a period of democratic reconstruction and recovery of the Venezuelan oil industry, which, in turn, might help balance the global oil market if armed skirmishes break out in the Gulf and disrupt the flow of this strategic energy resource to international customers. In Syria, pro-Iranian proxies may attack US or allied forces, and the reaction of locally deployed Russian forces, or lack thereof, would also be of critical strategic importance. To facilitate a possible US-Russian deal, Secretary of State Michael Pompeo recently went into shuttle diplomacy mode, first meeting Foreign Minister Sergei Lavrov on May 6, in Finland, and then traveling to Sochi, Russia, on May 14 for more talks with his counterpart. Even more importantly, Pompeo's visit to Russia's "southern capital" held hope for direct engagement with Putin to figure out the likelihood of a deal and the possibility of a future Trump-Putin summit (Kommersant, May 13).
Lavrov, Russia's top diplomat, constantly travels the globe, reiterating the Kremlin's point of view. But his personal opinion is not decisive within the Russian system of foreign policy decision-making. Pompeo's meeting with Putin in Sochi on May 14—the main event of the day—was scheduled for 6 p.m., local time, but did not begin until 9:30 p.m. The delay stemmed from the fact that, the same day, Putin flew from Sochi to a research airbase in Akhtubinsk, in Astrakhan region, to observe Russia's newest military aircraft and anti-aircraft weapons and did not fly back in time. Pompeo and Lavrov held a press conference while waiting for Putin, which made little sense before the main event. When the head of state eventually arrived, Lavrov joined him in his talks with Pompeo; also present were the highly influential presidential foreign policy aide Yuri Ushakov and the Foreign Intelligence Service's (Sluzhba Vneshney Razvedki—SVR) chief, Sergei Naryshkin. No press briefing or conference was held after the meeting (Kommersant, May 15).
A possible US-Russian presidential meeting next month in Osaka, Japan, on the sidelines of the G20 summit, was apparently discussed, but not fixed. Putin has indicated he is ready to speak with Trump in Osaka or in any other place the US may see fit to discuss points of mutual interest: "We are open. The problem is with the Americans. As soon as they are ready and their internal political situation changes to allow productive work, we will be ready, too" (Kremlin.ru, May 15). Apparently, to begin productive work, Trump must begin by withdrawing the condition of the release of the 24 imprisoned Ukrainian sailors. In Sochi, Pompeo again called for the Ukrainians' freedom, but Lavrov, while replying to a journalist's question about the Ukrainian sailors, insisted, "We talk politely because we are polite people, but that does not mean we are ready to make concessions that undermine our national interests" (RIA Novoti, May 15).
Moscow is ready to talk to Trump but is not prepared to make a deal on anything of substance, believing the time is not right: If Trump agrees on something, he cannot or will not deliver, because of internal political problems, so there is no sense in making substantial concessions. Trump is seen in Moscow as basically a reasonable person, who came to the White House intending to radically redirect US policies in the company of other reasonable men, like Stephen K. Bannon and Sebastian Gorka. The latter have now left the administration and been replaced by traditional, aggressive neoconservatives, like National Security Adviser John Bolton. These neoconservatives are promoting interventionist policies in Venezuela and the Middle East and, together with Democrats in Congress, will surely undermine any deals Trump may strike with Putin, the Russian thinking goes (Izvestia, May 13).
Moscow will resist by all means any attempts to oust Maduro or US efforts to strangulate Iran by sanctions or military pressure. Russia will also resist US intentions to drive a "wedge" between Moscow and Beijing on key issues. Indeed, Chinese Foreign Minister Wang Yi was in Sochi a day before Pompeo to meet with Putin and Lavrov. Both parties used the occasion to jointly denounce Washington and its policies (Kommersant, May 14). Russia will do its best to humiliate the United States and undermine the latter country's credibility in order to further strain Western alliances and isolate the US as much as possible. In the future, as Putin has indicated, the time may come for substantive negotiations, when the US is already significantly weakened and after Russia has increased its military power by deploying new superweapons (see EDM, March 8, 15, 2018).