Putin and Trump to Meet in Osaka as Iranian Crisis Moves to Forefront
Publication: Eurasia Daily Monitor Volume: 16 Issue: 95
By: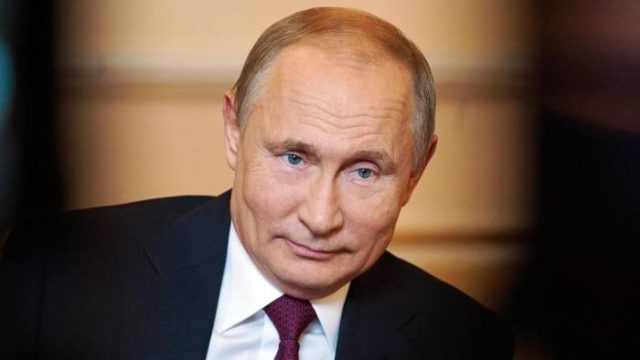 Russian President Vladimir Putin's foreign policy aide Yuri Ushakov told journalists in Moscow that an agreement had been reached with the White House on a meeting with Donald Trump on June 28, during the G20 summit, in Osaka, Japan. According to Ushakov, the meeting is planned to last an hour, but may be extended if the presidents so wish. Trump and Putin will be accompanied by aides and advisors. Topics of discussion will include Syria, Afghanistan, Ukraine, Venezuela and, "of course," Iran. Apparently no concrete agreements or communiqués have been prepared to be signed during this short summit (Interfax, June 26).
All other Trump-Putin get-togethers in the past two years have been essentially fruitless, but the coming one will nonetheless be seen in Moscow as a substantial foreign policy achievement. Last November, the White House snubbed Putin by canceling, at the last minute, a summit planned for December 1, 2018, on the sidelines of the previous G20 meeting in Buenos Aires, Argentina. The US government announced that Trump would refrain from meeting Putin until Moscow releases the three Ukrainian naval boats and their crew of 24 that were fired upon and captured by Russian military forces on November 25, 2018, during the so-called Kerch Strait "incident" (see EDM, November 26, 28, 29, 2018). The three boats remain impounded and the Ukrainian servicemen are still incarcerated at the Federal Security Service's (FSB) notorious Lefortovo prison, in Moscow. Still the US president is ready to meet, and this is seen in Moscow as an example of how the Americans can be pushed on a sensitive issue concerning Russian treatment of Ukraine if the Kremlin has the will to stand up to Washington.
The apparent US climb-down seems to demonstrate how the escalating Iranian crisis is changing political priorities. Tensions grew after two attacks on tankers in the Gulf on May 12 and June 13. The US blamed Iran's Islamic Revolutionary Guard Corps (IRGC). But most other European and non-European powers hesitated, believing there was insufficient evidence to pin the attacks on the Revolutionary Guard. Yet, on June 20, the issue of whom to blame for the tanker attack diminished in importance when the IRGC announced it shot down a US RQ-4A Global Hawk reconnaissance drone over the Strait of Hormuz, at the entrance to the Gulf. The IRGC claimed the drone had penetrated Iranian airspace. The Pentagon, in turn, insisted the Global Hawk was flying in international airspace and that the Iranian anti-air assault was unprovoked and illegal. A retaliatory strike was prepared by the Pentagon against IRGC radar and anti-aircraft installations, but at the last minute it was called off by Trump for being "disproportionate." In May 2018, Trump discontinued US participation in the Joint Comprehensive Plan of Action (JCPOA)—a 2015 agreement between Iran and China, France, Russia, the United Kingdom, the United States and Germany that granted Iran sanctions relief in exchange for a curtailment of its nuclear program. Washington has been putting "maximum pressure" on Tehran in hopes that sanctions would force Iran's ruling Ayatollahs to negotiate a better comprehensive deal to replace the JCPOA, fully end the Iranian nuclear and missile programs, as well as stop the IRGC interventions in Syria, Iraq, Lebanon and elsewhere. After canceling the retaliatory strike for the loss of the RQ-4A drone, Trump, through different channels, called for immediate talks without preconditions, but was flatly repudiated by the Iranians (Militarynews.ru, June 24).
Trump presumably never wanted an armed conflict with Iran, apparently believing sanctions would suffice to push through a deal that is ostensibly economically advantageous to all. The US President declared, "Let's Make Iran Great Again," mimicking his highly successful "MAGA" election slogan. However, the leaders in Tehran are not Iranian nationalists, they are Islamist internationalists seeking to dominate the Ummah (World Muslim Community). Additionally, Trump announced more sanctions targeting Iran's Supreme Leader Ayatollah Khamenei, the IRGC leadership and Foreign Minister Javad Zarif, who negotiated the JCPOA. Tehran responded by announcing the time for diplomacy is over, while President Hassan Rouhani called Trump "mentally disabled." Both sides claim they do not want war, but both are threatening severe retaliatory action in the face of attack or provocation and do not exclude the breakout of open hostilities (Interfax, June 26).
In these circumstances, the Russian position becomes critical. Russia has at its disposal a secure air and sea supply line into Iran over the Caspian that the US cannot possibly control. Moscow could use this route to ship new potent weapons and ordinance to Iran, greatly increasing the Islamic Republic's resilience in the same way it boosted Hanoi during the Vietnam War. At present, both Tehran and Washington are trying to sound out Moscow's true intentions and seeking to pull it over to their side. On June 24 and 25, in Jerusalem, Russian Security Council Secretary Nikolai Patrushev met with Israeli Prime Minister Benjamin Netanyahu, National Security Advisor Meir Ben-Shabbat and US National Security Advisor John Bolton in a trilateral summit to discuss Syria, Iran and the Middle East. By all accounts, Patrushev definitively sided with Tehran, insisting the RQ-4A unmanned aircraft was hit while in Iranian airspace and calling Iran a "partner and ally." Moscow supports the JCPOA and has denounced the US sanctions (Kommersant, June 26).
Undoubtedly, Russia will support Iran in its standoff with the United States politically as well as diplomatically. And it will probably seek to exploit the US-Iranian confrontation as an anti-American PR rallying call. But will Moscow provide new weapons and massive material aid to Tehran in a worst case scenario? Tehran has sent an envoy to Moscow to find out. Iran's deputy defense minister, Brigadier General Ghasem Taghizadeh arrived in Moscow, on June 25, to meet with Russian Defense Minister Sergei Shoigu "to confer on the implementation of joint agreements, [and to] review projects and joint plans of action" (Mehrnews.com, June 26).
Both Washington and Tehran are jockeying for position, but Moscow almost certainly lacks the resources or the appetite to begin a major pro bono supply operation to boost Iranian defenses, like the one it has been running in Syria since 2015—the so-called "Syrian express." Maybe some spare parts or surplus weapons systems could be supplied, but for cash only—and Tehran is short on funds. Regardless, Putin will be listening attentively in Osaka to what Trump and his team have to offer in exchange for restraint in the Iranian crisis. Unlike Khamenei, Trump will have Putin's ear directly, and the latter wants to hear an attractive offer.