Putin Held Personally Responsible for a War He Is Losing
Publication: Eurasia Daily Monitor Volume: 11 Issue: 137
By: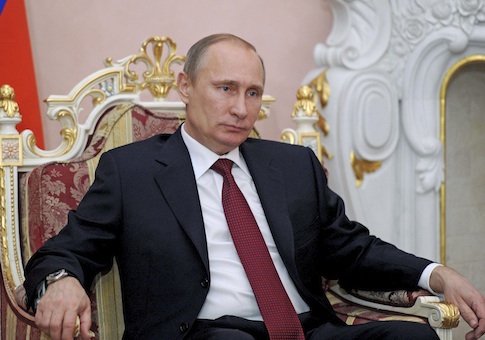 If President Vladimir Putin really thought that the destruction of Flight MH17 with 298 people on board would soon blow over, the White House statement from last Friday must have disillusioned him—assuming his subordinates actually informed him about it. The White House statement directly noted: "we have concluded that Vladimir Putin and the Russians are culpable to this tragedy." Russian media did its best to spin these words, whereas the official sources mentioned only the West's lack of irrefutable evidence (Newsru.com, RIA Novosti, July 26). It is possible to interpret "the Russians" in this context in the narrow sense—as the separatist rebels—but there is no doubt about the meaning of the point: "… it all goes back ultimately to Vladimir Putin" (RBC, July 26). There were at least 15 telephone conversations between Putin and Western leaders in the immediate aftermath of the air tragedy—though none since last Wednesday (July 23).
Putin had every reason to expect that the unusually moderate tone and content of his address to the Russian Security Council meeting on July 22 would bring a sigh of relief in Europe, where many politicians are apprehensive at further aggravating the confrontation between Russia and the West (Slon.ru, July 22). Many insiders had hinted that the plan to deploy Russian "peacekeeping" forces to Donetsk and Luhansk regions would be on the table, but Putin merely confirmed at the Security Council meeting that Russia's sovereignty was Moscow's top priority and that there were no direct threats to it (Forbes.ru, July 24). The working assumption is that such cautious backpedaling will allow the Kremlin to continue exploiting the differences between the United States and key European countries in their varying readiness to punish Russia's barely camouflaged war-making. But such thinking in Moscow is based on a complete inability to read the shifts in conflict dynamics (Ezhednevny Zhurnal, July 25). The Russian proposal to "freeze" the hostilities had initially appeared attractive to many pacifist- and business-minded Europeans—but the missile hit on the Malaysian Boeing 777 has cancelled such an option for good.
The European Union announced a new package of sanctions against Russia on Friday. The expansion of the list of "untouchables" had already been agreed to even before the Malaysian passenger jet carrying inter alia 80 children, mostly from the Netherlands, disappeared from radar screens (Kommersant, July 26). A consensus in Brussels has also been reached on a wide range of financial restrictions and trade barriers, which is due to be announced this week (RBC Daily, July 25). Many of these measures will negatively affect European businesses, but entrepreneurs have had plenty of time to insure their companies against such losses and are now ready for the coming pain (Nezavisimaya Gazeta, July 25). There is hardly any doubt that further sanctions will also be imposed by the US. And Russian state-owned and heavily indebted corporations have limited capacity to absorb those. Meanwhile, such Russian counter measures as slamming fines on McDonald's restaurants have no practical consequences (Gazeta.ru, July 25). The Russian foreign ministry angrily proclaimed that new sanctions signified the end of security cooperation between Russia and the EU. It also furiously rejected Washington's assertions that Moscow is ultimately to blame for the downing of Flight MH17. But these Soviet-style invectives merely confirm that Russia is not ready for ostracism (Newsru.com, July 26).
Russia's government has no real plan to compensate for the economic impact of Western sanctions, and the Central Bank has again increased the basic interest rate, despite the urgent need to stimulate the stagnating economy (Slon.ru, July 25). The Ministry of Finance argues for increasing taxes, while the Ministry for Economic Development objects, instead suggesting to spend the currency reserves (Kommersant, July 24). Putin has issued some vague instructions to reduce the vulnerability of the economy to external shocks, but has generally shown scant interest in mundane economic matters in the last months (Polit.ru, July 25). Moreover, he has stopped trying to check the massive capital flight and to bring back investors (Vedomosti, July 25). Putin's recent visit to Cuba seems to have reassured him that authoritarian governments can survive even without delivering economic growth (see EDM, July 14). Moreover, international sanctions may actually help to explain away Russia's under performance and falling incomes.
Kremlin strategists calculate that a bit more sanctions will not make a difference, but the collapse of the externally induced rebellion in eastern Ukraine most certainly would. Therefore, while assuming a cautious "disengagement" stance, Putin has not taken any steps to curtail the inflow of Russian arms into the conflict zone. It is becoming more difficult to camouflage this de facto intervention—not only because US intelligence is providing more data on convoys crossing the border, but also because the rebels need more heavy weapons to hold their shrinking ground (Newsru.com, July 24). Every day, the Ukrainian forces continue their offensive to restore control over new cities in the Donetsk and Luhansk regions, slowly advancing from the suburbs to the downtowns of both regional centers (RIA Novosti, July 27). Unless Russia escalates its direct military engagement from occasional artillery barrages to moving several battalions into the battlegrounds, the war in eastern Ukraine could be extinguished within a few weeks.
Putin has been maneuvering in this no-win situation, seeking to prolong the hostilities and looking for an opportunity to turn the hopeless separatist cause into a "frozen conflict." Now this maneuvering has come to an inglorious end. New sanctions will not be putting a gentle squeeze on some business interests but rather are designed to produce irreparable disruptions in the Russian financial sector and to generate economic havoc and intolerable pain. For Putin, this will mean that launching a real intervention is becoming prohibitively risky.
In fact, the message inherent in US sanctions on Russia are being addressed not to Putin, but mostly to the Russian elites who have much to lose in the escalating confrontation. The panicky siloviki (security services personnel) may try to stage a palace coup; however, such an attempt is unlikely to include key Kremlin insiders like Foreign Security Services (FSB) director Alexander Bortnikov, Foreign Intelligence Service head Mikhail Fradkov, former interior minister Rashid Nurgaliev, Security Council Secretary Nikolai Patrushev or even Rosneft CEO Igor Sechin, who have themselves been stigmatized by the sanctions regime. A real solution will have to be produced by other elites who realize that the time has come to think hard and fast about a post-Putin Russia.