Putin, Merkel Exchange Views on Ukraine in Sochi (Part Two)
Publication: Eurasia Daily Monitor Volume: 14 Issue: 62
By: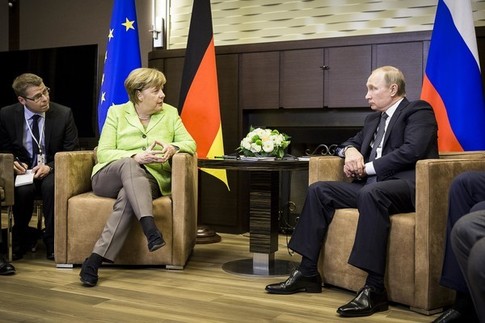 Aiming for progress on the political implementation of the Minsk armistice ("to which we have no alternative") was not the ambition of German Chancellor Angela Merkel when embarking on her visit to Russian President Vladimir Putin in Sochi on May 2. This could not possibly be a negotiating session on conflict resolution in Ukraine (for this there exist other formats), and there were more urgent topics overshadowing Ukraine on the German agenda for these talks. Yet, the international media turned the Russia-Ukraine conflict into the primary topic of the Putin-Merkel joint press conference.
Unlike Putin's ambivalent message—seeking Ukrainian recognition of the Donetsk-Luhansk "republics" under the political clauses of the Minsk armistice, while sabotaging the military clauses of the armistice, and displaying almost nonchalance over the resulting deadlock (see Part One)—Merkel reaffirmed her insistence on the fulfillment of military and political clauses, in the sequence laid down by the armistice "agreement."
As long, however, as Russian and proxy forces continue the attrition warfare in Ukraine's east, thus breaching the military clauses 1, 2 and 3 of the Minsk armistice, it remains impossible to advance to the follow-up political clauses. Russia wants to enforce those clauses first, which would reverse the "agreement's" sequence. And while Putin pretended to ignore the matter of European economic sanctions on Russia in his remarks (see Part One), Merkel held out the lifting of sanctions at some unspecified stage in the sequenced fulfillment of military and political clauses, by Russia and Ukraine in reciprocity.
Merkel's remarks in Sochi reveal her conception of a road map that was discussed at the October 19, 2016 "Normandy" summit (bringing together the heads of state of Ukraine, Russia, Germany and France) in Berlin, and is still under discussion. Merkel outlined a short- and medium-term scenario in Sochi (Bundeskanzlerin.de, May 2; Deutsche Welle, Ukrinform, May 3).
First, the onus is on Russia to abide by the ceasefire, so as to advance to the political stage, which constitutes Russia's priority interest. Said Merkel, "I am asking the Russian president insistently to do his best and bring about a ceasefire. This could foster an atmosphere in Ukrainian society that would make it accept painful compromises regarding the status of the Donetsk and Luhansk territories." Apparently, the onus would shift to Ukraine at that stage.
Second, "We must reach the stage at which elections are held, resulting in a legitimized leadership in the Donetsk and Luhansk territories. On this basis it will then of course be possible to hold direct talks [between Kyiv and Donetsk-Luhansk]. For this we still need a lot of effort. We need a road map. This is on the table, a work in progress." Merkel was alluding to the October 2016 proposed road map (see above). On this second point there is a minor difference between Moscow and Berlin: while Moscow wants those direct talks to be held first, preparatory to "elections" in that territory (see Part One), Merkel suggests holding those "elections" first, so as to legitimize (as Merkel said in Sochi) the Donetsk-Luhansk leaderships ahead of their negotiations with the Ukrainian government about their status.
Third, "Our firm intention remains to help Ukraine to regain access [sic] to its border [Ukraine-Russia border in the Donetsk-Luhansk territory]. This step, however, must be preceded by a political process that would then lead to holding local elections [in Donetsk-Luhansk]," Merkel said. Inasmuch as all participants in the international negotiations unambiguously recognize Ukraine's sovereignty in this territory (even Russia, on paper), no elections could be deemed valid here without Ukraine's advance consent that elections be held.
On the other hand, Kyiv is being asked to accept the holding of those "elections" (legitimizing the Donetsk-Luhansk authorities) as a precondition to hypothetically gaining access to the border in that territory. That in turn would be conditional again on agreement with Donetsk-Luhansk. For, under the political Clause 9 of the Minsk armistice, "the process of restoring the Ukrainian government's full control on the border shall start on the first day after the local elections, and be completed following a comprehensive political settlement […] provided that Clause 11 is [also] implemented." Clause 11, in turn, requires Kyiv to "adopt and bring into force a new Ukrainian constitution, involving decentralization as a key element […] and adopt a permanent special status for the Donetsk and Luhansk [areas] by agreement with their representatives," the implementation deadline of December 2015 now moot (Osce.org, February 12, 2015).
That tangle of conditionalities is bound to end in a fiasco for Kyiv; and even if it tried, access to the border would still be at the discretion of Donetsk-Luhansk authorities as long as Russian forces are present there. Consenting to "elections" in Donetsk-Luhansk would only strengthen their hand in negotiations (not only on border control but on all issues), without restoring Ukraine's "access" to that border. Access is a coded word being used instead of "control." As such it denotes that the aim has been downscaled from Ukrainian border control to a negotiated arrangement between Ukraine and the two "republics," if legitimized and de facto recognized.
Merkel concluded her remarks in Sochi with a cryptic reference to the "Steinmeier Formula." Without evaluating it one way or another, she only said somewhat testily that this formula was very easy to understand. This is actually one of the more abstruse proposals generated in the course of these negotiations. Frank-Walter Steinmeier (minister of foreign affairs until March 2017 and President of Germany since then) first proposed this formula confidentially in the October 2015 Normandy meeting in Paris; it was publicly and aggressively embraced by Boris Gryzlov as Russia's presidential envoy to the Contact Group negotiations in Minsk. It was again discussed at the latest Normandy summit in October 2016 in Berlin. And it is now being raised by the Russians in subsequent Contact Group negotiations in Minsk (RIA Novosti, TASS, October 24–26, November 9, 23, December 9, 21, 2016; January 17, February 1, 2017). Moreover, it is referenced in public discussions, usually without clarity about its meaning.
This formula lowers the bar for "elections" in the Donetsk and Luhansk "people's republics" to be deemed valid and their authorities as legitimate. Prior to Steinmeier's intervention, the negotiations envisaged (based on the Minsk armistice) that those local "elections" be deemed valid only after a positive assessment by observers of OSCE's Organization for Democratic Institutions and Human Rights (ODIHR). In that case, the "republics" would presumably earn a title to their special status, which Ukraine would then have to concede. The "Steinmeier Formula," however, proposes that Ukraine bring into effect the special status temporarily, on the day when those "elections" are held (before the polls close). It also calls on making that status permanent, if ODIHR assesses those elections positively in its subsequent report. Presumably, some ambiguous findings by ODIHR would make it difficult for Ukraine to revoke a special status, once it has brought it into effect.
Hours before Merkel landed in Sochi, Putin warmly received the newly elected "president" of South Ossetia, Anatoly Bibilov there. Merkel did not raise that issue. Sochi is located in close proximity to Georgia and that country's Russian-occupied territories, and Merkel herself had undertaken an emergency visit to Sochi in September 2008 to discuss Russia's military intervention in Georgia with then-president Dmitry Medvedev. But Merkel went on to make a heavy political investment in the relationship with Medvedev (as did other Western leaders); the issue of Georgia's occupied territories has practically disappeared from the international diplomatic agenda. Perhaps, Moscow reckons that Western tenacity in the case of Crimea and Donetsk-Luhansk would run out before Moscow's tenacity would.