Putin Opens a New European Offensive and Plays Hard-Ball with US
Publication: Eurasia Daily Monitor Volume: 9 Issue: 105
By: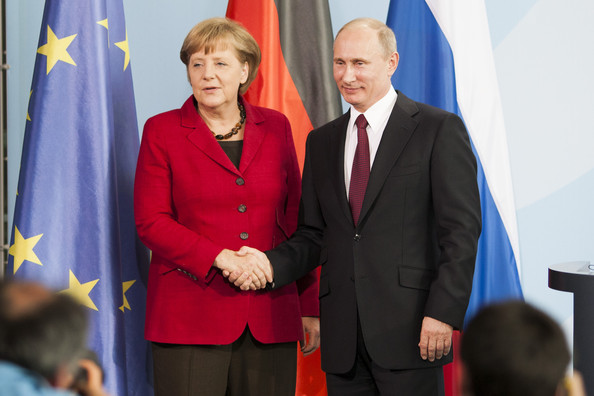 The Russia-EU summit that takes places today (June 4) in Strelna outside St. Petersburg was pre-scheduled as a routine event without any significant predicted achievements. But President Vladimir Putin did not want to start his new term at the helm of Russia's foreign policy in such a boring way (Kommersant, June 2). In order to add more symbolism and intrigue, he paid his first official foreign visit to Belarus last Thursday and then proceeded with two blitz-visits to Germany and France (RIA Novosti, Nezavisimaya Gazeta, June 1). This activity was supposed to compensate for his decision not to attend the G8 summit at Camp-David two weeks ago and for Russia's absence from the NATO summit in Chicago. It also marked the tenth anniversary of Putin's visits to Berlin and Paris that formed the "triangle of old Europe," which took a firm negative stance against the US intervention in Iraq (Gazeta.ru, May 31). No lasting rapprochement came out of that moment of unity, but for Putin it remains one of his cherished triumphs.
The visit to Minsk served to demonstrate more than just that the Russian-Belarusian integration project remains on track despite protracted quarrels and less than ideal personal chemistry (Kommersant, June 1). Putin brought some fresh aid to the struggling neighbor despite Belarus's broken promises of letting Russian companies partake in its privatization program. Additionally, the Russian president effortlessly established that Belarus remains a legitimate member of the European family of nations despite the objects being raised in the West against the authoritarian habits of President Alyaksandr Lukashenka (Moskovskie Novosti, June 1). This cordiality sent a signal to Ukraine that a compromise on gas prices is possible – and that its political price would not be that heavy, particularly since the EU pays no attention whatsoever to Kiev's desperate pleas to receive assistance (Nezavisimaya Gazeta, June 1).
Putin's intentions in France and Germany were far more serious than just getting acquainted with President Francois Hollande and re-introducing himself to the far-from-smitten Chancellor Angela Merkel. His overwhelming concern is about Gazprom's retreat in the European market, where the volume of its gas deliveries contracted by as much as 20 percent in the first four months of 2012, compared with the same period a year ago (RBC Daily, May 30). Putin cannot grasp the paradox of the arrival of the "golden age of gas" that has turned energy export from a major political asset into a bad headache, thanks first of all to the "shale gas revolution" in the United States (Gazeta.ru, May 25). As the oil price goes south, Russia's stock market cannot find a bottom. This denies Putin the advantage of a solid economic base in his attempts to exploit opportunities emerging out of the divisive euro-zone crisis (Newsru.com, May 30). Seeking to camouflage this weakness, Putin plays the few cards he presumes are his trumps to maximum effect, including Russia's special position on the civil war in Syria.
In fact, Putin tries to impress upon the introverted Europeans that he has no sympathy for the Assad regime and that his real disagreements on the Syrian dossier are with intervention-bent Washington (Kommersant FM, May 30). This might appear to depart too far from the real conflict of views on Syria, but it fits perfectly into Putin's recurrent ambition of repelling US "imperialism." Another manifestation of the same fixation is the aggressive official demarche against US Ambassador to Moscow Michael McFaul who keeps advocating a rationale for sustaining the "reset" (Nezavisimaya Gazeta, May 30). His point about the "bribes" that in the pre-reset years the US offered and Russia paid to former Kyrgyzstani President Kurmanbek Bakiyev for – respectively – keeping open or closing down the Manas airbase might appear innocent. But McFaul's remarks point to the heart of Putin's policy of manipulating the kept dictators in the former Soviet states. The visit to Belarus is actually a continuation of this same course (Ezhednevny Zhurnal, May 30). McFaul explains that he sought "to illustrate precisely how much we have overcome by abandoning these outmoded ways of diplomacy from previous eras," but Putin is stuck in the era of rivalries and anti-Americanism, so the Foreign Ministry is fuming about McFaul's "unprofessionalism" (see EDM, May 31).
This undiplomatic row marks another weakness of Putin's retrograde foreign policy – his control over the key levers is far from what it used to be. Energy exports, once used toward political ends, are now an arena of fierce squabbles among entrenched clans. Perhaps more importantly, the domestic stability that was Putin's major source of strength has unraveled to such a degree that he had to skip the vanity fair of the May G8 summit (Novaya Gazeta, May 14). McFaul is very careful not to express any opinions on or build ties to the "white opposition." But the Kremlin knows that McFaul's appointment to Moscow constitutes proof of the profound distaste in Washington to the pseudo-democratic and incurably corrupt Putinism. That is why every high-level bureaucrat is so worried about the "Magnitsky list" that bans dozens of them from travelling to the US. In the near future, this sanction list could be expanded to hundreds of names and dozens of countries, effectively cutting off the whole of Putin's class from its "treasure chests" and "safe havens" abroad (Nezavisimaya Gazeta, May 31; Kommersant FM, May 28).
One remarkable feature of the divided and disorganized anti-Putin opposition in Russia is that it refuses to get angry at the ugly attempts to ban its activities and frighten the activists – and remains cheerful and optimistic. Putin's henchmen are deeply disturbed about this attitude. Every street protest and every devaluation of the ruble sharpens the question: "How much time do we have?" The only possible answer is – "Much less than you think." A larger question is about whether this rigid system of power is capable of giving way peacefully to a more democratic, responsible and efficient political order; and Putin appears firmly set on supplying a negative answer. Central as he is to the decaying of Putinism, fortunately his opinion is not the only one that matters.