Putin Pivots From Western Pressure, but Finds Scant Solace in the East
Publication: Eurasia Daily Monitor Volume: 15 Issue: 125
By: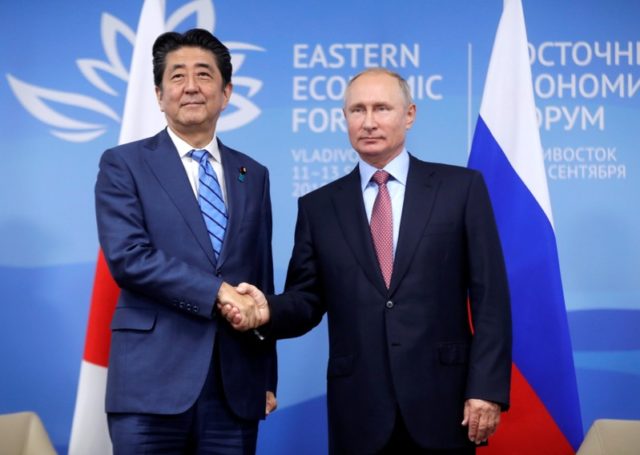 The annual Russia-hosted Eastern Economic Forum is about to open (September 11–13) in Vladivostok, and President Vladimir Putin has arrived there to greet the leaders of China, Japan, Mongolia and South Korea. This carefully prepared ceremony should provide relief for him from the mounting tensions in relations with the West and from the difficult bargaining in Tehran with Iranian President Hassan Rouhani and Turkish President Recep Tayyip Erdoğan (Kommersant, September 8). Chinese President Xi Jinping and other Asian dignitaries can indeed pretend that they have never heard of the "Skripal affair" (see below) and care little about the new escalation of the Syrian war. That said, they have their own concerns about Russia's behavior under the pressure of expanding Western sanctions, even if South Korea had opted out of this regime and Japan is signaling possible relaxation if Moscow shows flexibility on the deadlocked issue of the South Kurile Islands (Nezavisimaya Gazeta, September 2).
What matters most for Asian politicians and investors is economic performance. But Putin's reassurances about new sources of growth in Russia are no more convincing for them than they are for Russian workers in the mid-fifties, who are most affected by the planned increase of the retirement age (Carnegie.ru, September 5). Meanwhile, the Russian ruble nosedived in anticipation of new sanctions after the Kremlin resolutely dismissed new evidence presented by the United Kingdom's Prime Minister Theresa May regarding the Russian military intelligence service's (GRU) bungled operation to poison its former officer, Sergei Skripal, and his daughter see (see EDM, Nezavisimaya Gazeta, September 6). Steady oil prices cannot help to stabilize Russian financial markets as the risk assessments keep going up (Novaya Gazeta, September 7). Even the Chinese business "mandarins," who generally enjoy a most favored status at the Vladivostok show-bazaar, are left guessing which of their Russian interlocutors could end up being a target of the next round of personal sanctions (Republic.ru, September 7). Policymaking coming out of the United States may appear badly disorganized, but the planning of new punishing steps against Russia is nonetheless proceeding on schedule in agitated Washington (RBC, September 8).
One competitive advantage that Russia is supposed to have in the global marketplace is its space program. But Putin has not been able to impress his guests with the operations at the newly-built Vostochny Cosmodrome, because it is known primarily for exorbitant graft rather than advances in space travel (Kommersant, August 6). The Kremlin leader has demanded progress on designing a new heavy space rocket, the Angara. However, the Khrunichev Center, which leads and advertises this project, is in deep financial trouble (Vedomosti, July 18). The appointment of former deputy minister for the space industry Dmitry Rogozin, known more for his bombastic rhetoric than for management skills, as the head of the Roscosmos state corporation, has added to the disorder and demoralization in the industry (Lenta.ru, June 26). Rogozin's recent opinion that a leak on the International Space Station was caused by a deliberate impact from outside has invited much ridicule (Moscow Echo, September 5).
Russia's claim to retaining the mantle of a "great power" is today backed up almost solely by its military force, which Moscow currently seeks to bring to bear in the competitive Asia-Pacific region. The timing of the strategic exercise Vostok 2018 (see EDM, September 5) is synchronized with the Vladivostok forum, so that Putin will attend this demonstration of power immediately after seeing his regional guests off (RIA Novosti, September 6). These massive war games are being promoted as the largest since the peak of the Cold War. However, their real scale will come nowhere close to the incredible figure of 300,000 personnel—nearly a third of the total strength of the Russian Armed Forces (New Times, September 3). The country lacks the logistical capacity to rapidly move more than a few battalions from the key Western theater, where Moscow is anxiously watching the North Atlantic Treaty Organization's (NATO) Trident Juncture 2018 drills (RIA Novosti, August 30). The unique new feature of this year's Vostok maneuvers is the participation of some 3,000 troops and 30 aircraft from the People's Liberation Army, which is supposed to symbolize a new apogee in the Russo-Chinese strategic partnership (Nezavisimaya gazeta, August 30).
In real terms, however, the status of this much-trumpeted relationship is rather ambiguous. Beijing has engaged in managing the North Korean crisis in cooperation with Washington, paying little attention to the opinions expressed by Moscow. And presently, Xi Jinping seeks to manipulate this crisis to influence the course of China's trade war with the US, in which Russia is an observer of negligible significance (Nezavisimaya Gazeta, September 2). Putin has reasons to expect that an escalation of Chinese-US tensions could increase his freedom of maneuver, but he resents the deepening dependency upon China's decision-making—particularly since Xi's court politics remains a mystery to him (Russiancouncil.ru, August 14).
Russia is skeptical and suspicious of Xi's grandiose pet endeavor, the Belt and Road Initiative, seeing it as creeping, if costly, build-up of Chinese global dominance (Vedomosti, September 4). Russia's investment-starved Far East remains of limited interest to Beijing's strategizing; but on the other hand, the Arctic, which Moscow guards jealously as a region of pivotal geopolitical importance, is increasingly integrated into Chinese plans (Globalaffairs.ru, August 20). China is quite indifferent to Putin's plans to build natural gas pipelines from still untapped Siberian fields southwards; instead, Beijing has been investing in the expansion of liquefied natural gas (LNG) projects on the Yamal peninsula. As a result, the market capitalization of Novatek, owned by Putin loyalists Gennady Timchenko and Leonid Mikhelson, has risen above that of state-owned Gazprom, bedeviled by overspending and mismanagement (Forbes.ru, September 7).
The Vladivostok economic forum may help the Kremlin demonstrate that Russia is not isolated in the Asia-Pacific; but it cannot grant Putin sufficient leverage to influence the competitive political agendas set by the much more dynamic powers of this region. Russia is unattractive even as an object for economic competition. And in the delicate diplomatic maneuvering around many regional conflicts, Moscow is either irrelevant or unhelpful. Its military might cannot be turned into a usable instrument of policy, primarily because it is already overstretched from the Arctic to Syria, with the smoldering Ukrainian Donbas war zone in the middle. Whereas, the unmitigated deterioration of relations with the US drives Russia deeper into its sharply asymmetric confrontation with the West. The other Asian powers have neither interest in nor intention to provide Russia with succor.