Putin Takes His Ukraine Crisis to Beijing
Publication: Eurasia Daily Monitor Volume: 19 Issue: 14
By: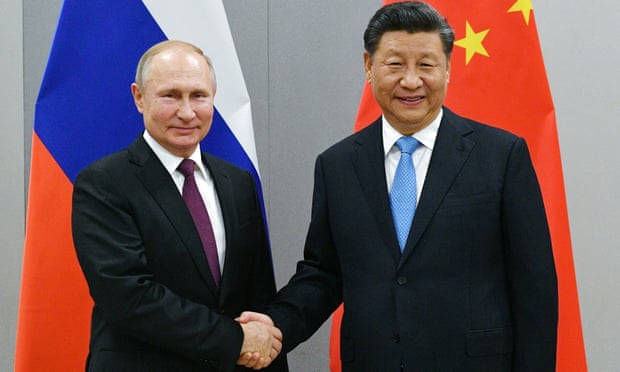 The opening ceremony of the 2022 Winter Olympic Games in Beijing last Friday (February 4) may be remembered not only for its spectacular fireworks and extra-tight pandemic measures but also as a turning point in the brewing crisis on the border of Ukraine—a crisis the Kremlin manufactured to shake the foundations of the European security order. President Vladimir Putin had no reasons to be satisfied with the response to his ultimatum that the United States and the North Atlantic Treaty Organization (NATO) delivered on January 26; nonetheless, he delayed his decision on a further course of action (Carnegie.ru, January 27; see EDM, February 3). Predictably, the US and the North Atlantic Alliance rejected his exorbitant demands that all Western support for Ukraine cease immediately, and the Euro-Atlantic community refused to preclude any theoretical future NATO enlargement. Putin, therefore, promised to take strong "military-technical measures" in response. But before escalating the confrontation to a new level, he sought to—and perhaps even had to—secure consent for this high-risk brinkmanship from Russia's key strategic partner, China.
The Russian president had not seen his Chinese counterpart, Xi Jinping, in person since November 2019, and their phone conversations during the COVID-19 pandemic period have been rather infrequent; thus, both leaders sought to prove that their much-advertised friendship remained on track (Nezavisimaya Gazeta, February 1; Kommersant, February 5). The two sides announced a long agenda for the Friday heads of state meeting, which was followed by lunch. The outcome of the talks was a lengthy statement covering a wide range of issues and concerns, including a "serious threat" from supposed US military-biological activity (RBC, February 4). The statement mentions opposition to NATO expansion together with a more elaborately expressed rebuke of the new "destabilizing" partnership between the US, the United Kingdom and Australia—a grouping dubbed "AUKUS," after the three participating states (Izvestia, February 4). China expressed "understanding and support" for Russian proposals regarding security guarantees in Europe. But Ukraine is not explicitly mentioned even once in the bilateral communiqué, unlike Taiwan—not only in the context of the usual recitation of the "One-China" principle but also Moscow's rejection of its independence "in any form" (RIA Novosti, February 5).
TV cameras captured Putin watching the lengthy Olympics opening ceremony all alone in the stands. He did not cut a happy figure, and the scene could hardly avoid reflections on Russia's increasingly unbalanced partnership with China, which demands ever greater loyalty for every small measure of support (Nezavisimaya Gazeta, January 30). Putin tried to put a positive spin on the one tangible result from his meeting with Xi: a new contract, signed by Gazprom and Chinese CNPC, on exporting natural gas from the Far East. But the agreed-to extra volumes are moderate, while Russia's dependency upon the demanding eastern customer increases at the expense of Europe (Rossiiskaya Gazeta, February 4). Exporting gas to the European continent has long been a central tenet of Gazprom's business; however, the Kremlin's political calculations of putting pressure on key consumers undercut market opportunities to boost deliveries at high prices (Republic.ru, February 4). What Moscow sought to negotiate with Beijing was a set of measures aimed at neutralizing the impact of Western sanctions that will tighten as security tensions in Europe rise, but China issued only vague promises (Kommersant, February 4). The Chinese partners are eager to admonish the US policy of strengthening the solidarity of democracies around the world but remain stingy when it comes to granting access to the domestic market, which could have been beneficial for Russia's stagnating economy (Forbes.ru, February 5).
While Putin was luncheoning with Xi, another and even more difficult partner—Turkish President Recep Tayyip Erdoğan—was enjoying the hospitality of Ukraine's President Volodymyr Zelenskyy in Kyiv (Kommersant, February 3). The Turkish-Ukrainian talks were remarkably productive. And though Russian commentators have tended to emphasize the joint venture to build combat drones, in fact, the agreement on establishing a bilateral free trade zone potentially represents an even more significant achievement, which could provide a much-needed boost for Ukraine's economy (Nezavisimaya Gazeta, February 3; Izvestia, February 5). The timing of Erdoğan's visit added to the political symbolism: he joined the ranks of other top Western leaders, including British Prime Minister Boris Johnson, who have traveled to Kyiv in recent weeks to show solidarity with Ukraine's defiant stance against Russian pressure (Kommersant, February 2). Noble words are not always followed by deeds; yet planeloads of various Western military equipment (including, rather controversially, 5,000 helmets from Germany—see EDM, February 3) keep arriving to Ukraine (Gazeta.ru, January 26). Moreover, additional US troops are deploying to Central and Eastern Europe, directly contradicting Russian demands of a pullback of forward-deployed NATO forces to the Alliance's pre-enlargement (before 1997) posture (RIA Novosti, February 3).
China monitors these developments and is generally content with the concentration of US attention on the Ukraine crisis, which leaves such urgent matters as, for instance, North Korean missile tests, off the agenda. But an eruption of a major military conflict is a different matter (RBC, February 5). Xi Jinping is perfectly aware that Putin, while receiving phone calls from alarmed Western leaders and expecting to see German Chancellor Olaf Scholz in the coming days, has gained little from his high-risk gamble (Ezhednevny Zhurnal, February 3). Russia's damaged international position suits China; and while expressing carefully worded support for some Russian claims, Beijing has probably warned Moscow against any invasion or air strikes targeting Ukraine (Moscow Echo, February 5). Large-scale exercises of Russian strategic forces in February may have to suffice for the promised "military-technical" response to the US refusal to compromise on core NATO principles (Moskovsky Komsomolets, February 6). The Russian Armed Forces have acquired multiple capabilities and skills for projecting power in conventional as well as "hybrid" forms, and the occupied territories of Donetsk and Luhansk provide a perfect bridgehead for sustaining pressure on Ukraine. But the prospect of a full-blown winter war has become rather less than inevitable (Riddle, February 2).
Putin does not need to justify this back-pedaling from the brink of invasion to the Russian domestic audience, which consumes massive amounts of anti-Western propaganda and remains unenthusiastic about going to war with Ukraine. His concerns are more about the loss of face on the international arena; but since the mask of conservative statesman has slipped, there actually is not much left to lose. Ambitions regarding Russian "greatness" have blended together and become indistinguishable from Putin's obsession with personal "respect." However, the amassing of heavy battalions in support of unacceptable demands has reduced Russia in the eyes of many in the West to a boisterous bully and Putin to a maverick autocrat. China is too preoccupied with its own "greatness" to recognize Russia's; still, it may take note of the self-inflicted loss to this status from the abuse of military threats.