PUTIN-VORONIN FAREWELL: AN ANTI-CLIMACTIC CODA
Publication: Eurasia Daily Monitor Volume: 5 Issue: 15
By: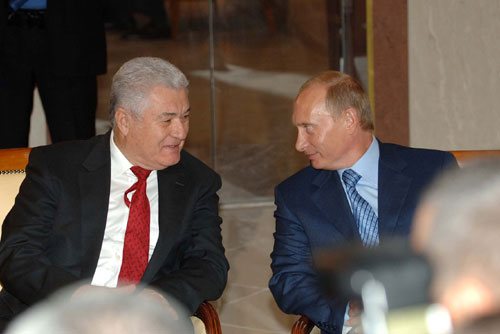 Presidents Vladimir Putin of Russia and Vladimir Voronin of Moldova met on January 22 in Moscow for the last time in their presidencies. Voronin was still hoping against hope that Putin might finally deliver a settlement of the Transnistria conflict on terms compatible with Moldovan sovereignty, or at least a framework for such settlement, at this meeting. Rather than a culmination, however, the Moscow meeting turned out to be the anti-climax of the bilateral negotiating process between the two presidents and their aides from September 2006 to date.
Moldovan Minister of Foreign Affairs Andrei Stratan, who briefed foreign ambassadors in Chisinau on January 24, accompanied Voronin to the meeting with Putin, although this ministry had essentially been excluded from that negotiating process all along. Voronin's top aide, Mark Tkachuk, had played the lead role in developing Moldova's proposals, negotiating directly with officials of Russia's Security Council, and constantly adjusting those proposals along the way to elicit positive responses from the Kremlin. The two presidents met four times during 2007 (including three bilaterals during CIS meetings), each time at Voronin's insistence; but Putin never delivered.
For his part, Voronin resorted to extravagant forms of personal flattery of Putin in hopes of reunifying Moldova with the Kremlin's help. As Putin's presidential term drew to a close, the Moldovan team still hoped that Putin would help resolve the conflict in order to exit the scene as a peacemaker and earn an international award for this. Guided by such wishful thinking, Voronin declared during the preparations for the visit that Moscow "holds the key to a solution" (a long-discredited rhetorical device from the 1990s) and that "the problem [of Transnistria] has already been resolved morally and psychologically" pending the political solution, as Voronin put it in his 2007 year-end news conference (Moldpres, December 29).
During Voronin's final Moscow visit, the outline of Russia's current position on resolving the conflict was leaked to the press. Attributed to Kremlin officials, the proposals include:
1) Permanent neutrality of Moldova under international guarantees (so as to keep Moldova from joining NATO in the future);
2) Moldovan full legalization of Russian takeovers of industrial property in Transnistria (inter alia the electrical power plant, gas pipelines, and steel plant, taken over unlawfully by Russia's Unified Electrical Systems, Gazprom, and Metalinvest, respectively);
3) Turning Moldova into a "federation," with Transnistria as a component; and
4) prolonging the presence of Russian troops until a final settlement is in place (Kommersant, Interfax, January 22).
The proposals on neutrality and on property dovetail with Chisinau's "package" offer in its successively modified versions from 2006 to date. The proposals on federalization and troops, however, were unacceptable all along to Voronin's team and remain unacceptable as a matter of national consensus in Moldova. Putin told Russian media during the meeting that Russia would continue participating in efforts to resolve the Transnistria conflict as a "guarantor" of the final settlement. The idea of Russian political and military "guarantees" is also unacceptable to Chisinau. Originally proposed in the 1997 concept known as the Primakov Memorandum, that idea was rejected by Voronin de facto in 2003, when he turned down the Kremlin's settlement plan known as the Kozak Memorandum. In 2005, Chisinau ruled out such "guarantees" also de jure by passing an organic law that only provides for internal Moldovan legal and social guarantees of a final settlement in Transnistria.
Chisinau reverted to the bilateral format of negotiations with Russia in the wake of the February 2006 breakdown the multilateral 5 + 2 format (Russia, Ukraine, OSCE, the United States, European Union, Chisinau, and Tiraspol). By opting for direct negotiations with Russia, Chisinau aimed to overcome the multilateral format's deadlock and deal with Moscow over Tiraspol's head. However, the bilateral format with Moscow proved as unproductive as the multilateral format.
The OSCE's Spanish chairmanship attempted to convene a 5+2 session during the organization's 2007 year-end conference. Spanish Minister of Foreign Affairs Miguel Angel Moratinos could not possibly have expected any tangible results from a 5+2 session in Madrid, but he seemed anxious to show at least a "success" on paper for a year-end conference that was headed for complete failure. Moratinos consequently invited the unrecognized Transnistria's "foreign affairs minister," Russian citizen Valery Litskay, to Madrid on a Spanish visa issued to him in Moscow. This move violated the European Union's official policy of banning Tiraspol leaders, including Litskay, from traveling to EU territory. Exceptions can be made for those blacklisted leaders in individual cases with prior consent by all EU member countries. However, Spain failed to request such prior consent. Unsurprisingly, Moldova and other participants in the 5+2 format declined to attend the proposed session. Nevertheless, Litskay is complaining to the OSCE's 2008 Finnish chairmanship that Chisinau had thwarted the resumption of the 5+2 format at Madrid (Tiraspol Times, January 22).
Since November 2007, Russia has allowed small amounts of Moldovan wine and cognac, fruit, and raw tobacco to reenter the Russian market. Russia had banned those traditional Moldovan exports since late 2005-early 2006, with destructive effects on Moldova's economy. Putin and Voronin took note of the limited resumption of that traditional trade during their Moscow meeting. It was the only positive result, however meager quantitatively, that Voronin could show back home from his anti-climactic meeting with Putin.
(Moldpres, Basapres, Moldova Suverana, Interfax, January 22-24)