Putin's Big Moment Is Reduced to a Familiar Irrelevance
Publication: Eurasia Daily Monitor Volume: 15 Issue: 73
By: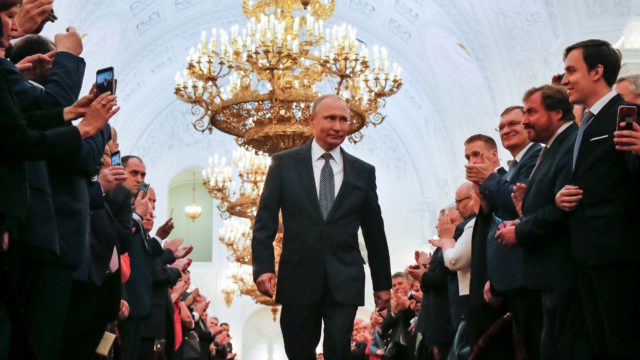 President Vladimir Putin planned his fourth inauguration, held on May 7, to perfection. Like each Russian presidential inauguration since his first, it was timed to come just a few days prior to the traditional military parade on Victory Day (May 9). His hope was probably for these two big pompous shows to break the stream of bad news that had bedeviled Russia since his carefully controlled re-election in mid-March (see EDM, March 19). The deadly fire in Kemerovo brought a wave of public outrage that coincided with protests against the toxic garbage pits in the Moscow region; and the diplomatic row caused by the chemical attack on British soil overlapped with the agitation caused by the United States' sanctions against Russian officials and oligarchs. Putin had sought to produce some positive agenda, but the flow of damaging events continues unabated. The brutal suppression of protest rallies across Russia on May 5 made for a stark contrast with the triumph of street power in Armenia, which took Moscow by surprise. Perhaps most symbolically, an Su-30SM fighter crashed in Syria on the eve on Putin's inauguration, and a Ka-52 helicopter crashed a day before the Victory Day parade, with two lives lost in each case (Kommersant, May 8).
Syria continues to be a source of bad news, eroding Russia's position as a major guarantor of durability for Bashar al-Assad's regime. Putin's declaration of "victory" (see EDM, December 14, 2017) turned out to be meaningless in the new post–Islamic State phase of the Syrian war, in which Turkey has gone on the offensive against the Kurdish forces, and Iran has engaged in direct conflict with Israel (Republic.ru, May 7, 2018). Israeli Prime Minister Benjamin Netanyahu opted to attend the parade in Moscow in order to make sure that the massive strike on Iranian forces in Syria would not face opposition from Russian air defenses (Nezavisimaya Gazeta, May 10; see EDM, May 10). Russia may have tried to warn Tehran about the risks of a new escalation, but for the Iranian leadership, the words of Deputy Foreign Minister Sergei Ryabkov were hardly more convincing than the picture of Putin and Netanyahu standing together on Red Square (Gazeta.ru, May 11). Turkey has no issue with the Israeli or US airstrikes but serious problems with the terms of the contract for importing Russian S-400 surface-to-air missiles; so Moscow has sought to improve ties with this strategic partner by finally lifting the ban on import of Turkish tomatoes (Rossiiskaya Gazeta, May 2).
The US withdrawal from the nuclear deal with Iran is a setback for Russia's political maneuvering in the Middle East, even if Moscow finds itself on the same page with the European Union in opposition to this breach of the multilateral agreement (Novaya Gazeta, May 11). A whole different setback comes from the fast-moving bridge-building between the US and North Korea, even if Russian experts are skeptical about the success of the summit scheduled for mid-June in Singapore (Kommersant, May 10). South Korea and China are deeply involved in developing this opportunity for denuclearization of the high-risk confrontation, but Russia is effectively cut off from this crisis management (Russiancouncil.ru, May 11). The Chinese leadership tends to take Russia for granted, and not one official from Beijing attended Putin's inauguration, where former German chancellor Gerhard Schroeder and—rather improbably—action film star Steven Seagal were guests of honor (Vedomosti, May 7).
That pompous ceremony was spoiled by violence in downtown Moscow, where a peaceful rally called by anti-corruption blogger and opposition leader Alexei Navalny was dispersed by anti-riot police and hired gangs of pseudo-Cossacks (Grani.ru, May 7). This demonstrative zero tolerance toward protest activity was quite possibly driven by the shock in the Kremlin from the unexpected victory of a mass uprising in Armenia (New Times, May 6; see EDM, April 23, 24). Moscow ignored the deepening turmoil in Yerevan as insignificant noise—until the unexpected breakthrough (Ezhednevny zhurnal, May 3). Armenian ruler Serzh Sargsyan's choice to say "I was wrong," rather than to use force, was entirely incomprehensible for Putin's courtiers, who paid scant attention to the unique character of the South Caucasus country's political culture (Carnegie.ru, May 11). Putin had for years positioned himself as a champion of counter-revolution, condemning the uprisings in Ukraine and in the Arab world as "chaos" manipulated by the US. But the revolution in allied Armenia caught him unprepared; so the Russian propaganda machine continues to struggle to explain it away (RIA Novosti, May 8). Newly elected Armenian Prime Minister Nikol Pashinyan will certainly maintain close economic and military ties with Russia, but his remarkable success has undermined Putin's credibility as a security guarantor for post-Soviet autocrats.
No amount of assertive rhetoric can hide Russia's inability to respond to mounting external challenges, as no number of tanks and missiles rolling across Red Square can camouflage the weak economic base of this militarism-for-show. Putin issued a decree with ambitious economic and social goals, but the experts point out that the goal of making Russia's economy the fifth largest in the world has already been in place for a decade, and it still has almost no chance of being achieved (Newsru.com, May 10). The obvious need to overcome stagnation had brought some expectations in the Russian political class about a new reform-minded government; those were duly disappointed when Putin reappointed Dmitry Medvedev as prime minister (Republic.ru, May 7). Short of a new revenue windfall thanks to a spike in oil prices, economic growth is set to oscillate between sluggish and non-existent; while corruption will run undeterred (New Times, May 8). The new package of US sanctions has canceled what little excitement remained about a new start in Russia's political cycle (RBC, May 10).
Too many revolutions of various kinds are unfolding in the international arena for the old-fashioned military parade in Moscow to attract any serious attention. Russians still tend to believe that Putin's main achievement is to restore Russia's status as a respected great power. But with all the self-aggrandizement of his extra-long reign, he now has few reasons to believe in this restoration (Levada.ru, May 7). Even domestic consumption of the tired inaugural show cannot be taken for granted, because after the summer break—filled with the commotion of the World Cup (see EDM, April 24)—the "Now what?" question will inevitably come back in the autumn. When slow degradation is the best option, chances are that more and more malcontents will demand a better answer.