Putin's Pivot to China: Profit-Free, but Problem-Rich
Publication: Eurasia Daily Monitor Volume: 12 Issue: 155
By: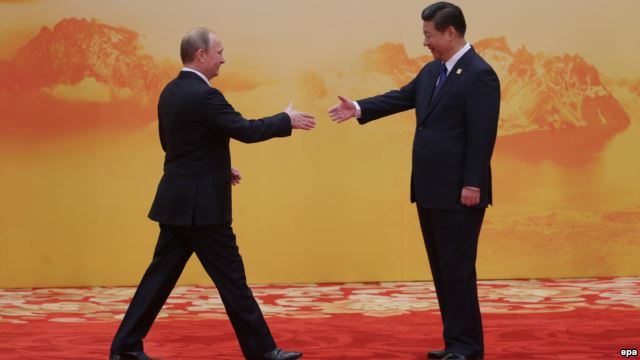 China will host a huge military parade in Beijing on September 3, and President Vladimir Putin will be in attendance—returning President Xi Jinping's earlier gesture of Sino-Russian partnership, which the Chinese head of state expressed as the top guest of honor at the parade in Moscow on May 9. Yet, this past year's pompous Red Square celebrations of the Soviet victory in World War II only illuminated Russia's sad international isolation today. And the carefully planned ceremony in Beijing comes as China experiences its own unexpected and potentially severe turmoil. Putin has pinned so much hope on upgrading Russia's not-quite-alliance with China that he cannot afford a pragmatic evaluation of accomplishments and setbacks. He even instructed his pliant head of government, Prime Minister Dmitry Medvedev, to make yet another visit to the disputed Kuril Islands (see EDM, July 31)—knowing full well that Japan would have to issue strong protests, but also knowing that Japanese Prime Minister Shinzō Abe opted not to attend the Beijing parade (Vedomosti, Moscow Echo, August 24).
The breakthrough deals on exporting Siberian natural gas to China were supposed to form the main pillar of the upgraded Sino-Russian strategic partnership; and presently, Gazprom's reluctant disclosure of postponements cannot camouflage the fact that this pillar is crumbling (Rbc.ru, August 26). Beijing shows no interest in the Western gas "corridor" going from Yamal to Xinjiang, refuses to provide pre-payments for laying the Eastern "corridor" from Chayanda and Kovykta to Heilongjiang, and is reluctant to discuss ideas about China entering Sakhalin projects that have been recently hit by Western sanctions (Nezavisimaya Gazeta, August 27). Ambitious projects for developing the hydrocarbon reserves in Eastern Siberia and in the Arctic cannot presently pass the basic cost-efficiency test, not least because Gazprom's and Rosneft's operational costs are scandalously high (Novaya Gazeta, August 26). China shuns the invitation to invest in these projects, assuming that the oil price is set to remain on the low plateau for years to come, while Russia desperately assumes the opposite (Forbes.ru, August 28).
The only turn of events that could push the oil price up is an escalation of tensions in the Persian Gulf area. However, China is quite vulnerable to such interruptions of supply—and acutely aware of the United States' role in preserving stability in that seat of overlapping conflicts. Seeking to prove to Beijing its value as a partner, Moscow engages in diplomatic manoeuvring in the Middle East: Last week, King Abdullah II of Jordan, Crown Prince of Abu Dhabi Mohammad bin Zayed al-Nahyan, and President Abdel Fattah el-Sisi of Egypt came to Moscow and had separate meetings with Putin (Nezavisimaya Gazeta, August 26). No major deals were agreed, and even the project for building a nuclear power plant in Egypt remains unsigned because Russia cannot provide the promised credit (Kommersant, August 27). While courting the high-level Middle Eastern guests, Moscow is still unable to join the US-led anti–Islamic State coalition—not only because it cannot accept Washington's leadership, but also because the Russian government persists with the position that Syria's authoritarian leader Bashar al-Assad should be a full member of this coalition (Moscow Echo, August 28).
Russia's influence is being undermined by the deepening decline of its economy, thus making a mockery of the term "emerging power" being applied to the Russian Federation. The panic on the Shanghai stock exchange last week resonated all around the world, but Russia's downward economic plunge has accelerated so much that the government acknowledges the domestic crisis is still nowhere near the promised "bottom" (Kommersant, August 25). Estimates for Russia's economic contraction in 2015 will have to be revised down from the conservative figure of 4 percent, while the forecasts for next year are shifting from zero growth to a continuing decline of 1.5 percent (Newsru.com, August 28). And as experts argue about the protracted impact of low oil prices, consumers experience the effect of evaporating purchasing power due to disappearing confidence in the ruble (Gazeta.ru, August 28). The government still has not presented anything resembling a real anti-crisis strategy, but what stands out in the picture of haphazard cuts to social programs is the extra-generous allocation of funding for the defense budget, which, to date, has duly disbursed 67.5 percent of this year's planned expenditures (Rbc.ru, August 27). This determination to prioritize the demands of the "hybrid war" and to muddle through the debilitating recession makes for a sharp contrast with China, where the government is under pressure to check the slowdown and to find new sources of growth.
Beijing cannot put the blame for the economic tremors on external factors and has to ensure the efficiency of central management. Whereas, in the Russian economy, the state-controlled corporations constitute a major part of the problem—and the government cannot do anything about it. For Xi, the fierce struggle against corruption has become the universal instrument that is used for both improving the workings of state bureaucracy and tightening his personal control over the colossal apparatus (Carnegie.ru, August 24). Putin, on the other hand, has to all intents and purposes abandoned any pretenses of a struggle against corruption, but he still has to continue reshuffling the ranks of his courtiers and subordinates, punishing over-confidence and insisting on servile obedience (Slon.ru, August 24). This exterminates any initiative in the government for dealing with urgent matters that have not caught the president's attention (like for instance, the forest fires around Lake Baikal) and accentuates the foreboding of a looming disaster among the elites (Moscow Echo, August 24).
The bilateral meeting in Beijing will be demonstratively cordial but loaded with mutual disappointment. Putin cannot fail to see that his hopes for harvesting rich dividends from closer Russian ties with China have failed to materialize and delivered him to a position of one-sided dependency. Xi, meanwhile, has few doubts about the trajectory of Russia's crisis and probably understands that Putin's mismanagement brings risks of a catastrophically hard landing. While Russia's aggressive assault on the European security system is not helpful for China's plans regarding the evolutionary transformation of the global order. Vladimir Putin has announced his intention to address the United Nations General Assembly in late September; and in the absence of the likes of Mahmoud Ahmadinejad, Hugo Chavez or Muammar Qaddafi, he might receive a rousing ovation for the most anti-American and "down with the Western hegemony" speech. But China will likely hardly be entertained.