Radio Appendage of 'Russia Today' Appears in Georgia
Publication: Eurasia Daily Monitor Volume: 11 Issue: 207
By: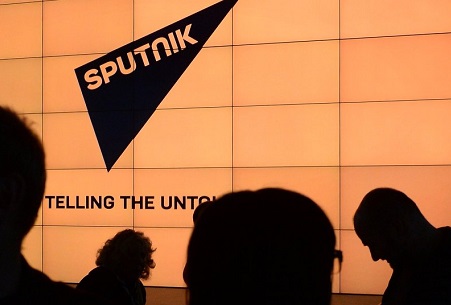 As of several weeks ago, the station Radio-Sputnik has begun broadcasting in Georgia from its studio located on Ateni Street in downtown Tbilisi. It prepares radio programs for the agency News Georgia, which, in turn, is a partner of the Russian media giant Rossiya Segodnya (Russia Today—not to be confused with the 24-hour news/propaganda television channel RT, which also used to be called "Russia Today") (RIA Novosti, accessed November 18). Radio-Sputnik broadcasts over the frequency FM 101.4, which has been owned for the past 12 years by the company Radio Monte Carlo.
The Georgian FM band is so full of radio programs that the launch of a new broadcaster would not have attracted much attention were it not so politically charged due to Radio-Sputnik's direct links to Kremlin-funded media outlets. On December 9, 2013, President Vladimir Putin decreed, via Executive Order, the creation of the International Information Agency Rossiya Segodnya, which would subsume the former Russian news agency RIA Novosti and Voice of Russia radio. Dmitry Kisilyov, who on his Russian TV program has, in the past, advocated "turning the USA into radioactive ashes," was appointed head of the new behemoth state media holding (kremlin.ru, December 9, 2013).
Thus, the appearance of the clearly Kremlin-linked Radio-Sputnik studio in Tbilisi raised suspicions about an increase of Russian propaganda in Georgia, and the opposition accused the Georgian authorities of inaction. "The opening of a propaganda radio station of the Kremlin in our country during the rule of Russian oligarch Bidzina Ivanishvili's Georgian Dream [coalition] is not a coincidence," opposition party United National Movement (UNM) parliamentarian Nugzar Tsiklauri asserted, alluding to the fortune Ivanishvili previously amassed through his business deals in Russia (Author's interview, November 15).
The head of Radio-Sputnik, who also serves as the editor-in-chief of the Tbilisi-based Russian-language newspaper Svobodnaya Gruziya (Free Georgia), Anton Laskhishvili, said in an interview for Jamestown that the Radio-Sputnik studio "only prepares programs and posts them to an FTP server." He added, "I have no idea who takes the files from the server or which radio stations broadcast them." He did confirm, however, that the Rossiya Segodnya–linked News Georgia agency is partnered with Radio-Sputnik (Author's interview, November 15).
According to sources that spoke with the author, both News Georgia and Radio-Sputnik are affiliated with Rossiya Segodnya and receive funding from the Russian state budget. They are part of a larger project that is tasked with launching pro-Russian radio stations and Internet websites in as many as 130 cities and 34 countries across the world (lenta.ru, November 10).
However, Radio-Sputnik head Laskhishvili asserts that he and his team do no not produce propaganda pieces. "We make four-hour-long programs. Our topics include economy, culture and sports. We have not had a program on Russian-Georgian relations," Laskhiashvili emphasized. According to him, Radio-Sputnik prepares all its programs only in the Georgian language (Author's interview, November 15).
Nevertheless, Georgian authorities are, in fact, seriously concerned about the launch of this Russian state media holding company right in Tbilisi. The chairman of the Georgian National Communications Commission (GNCC), Vakhtang Abashidze, told the media that he asked the GNCC's in-house legal team to "carefully examine" the legality of Radio-Sputnik's broadcasting on the airwaves of the Tbilisi-based Radio Monte Carlo station and what its sources of financing are (newsgeorgia.ru, November 13).
Following Abashidze's statement, Radio Monte Carlo annulled its broadcasting contract with Radio-Sputnik. Anton Laskhiashvili continues to insist, however, that his studio did not have a contract with Radio Monte Carlo. "I do not know who signed the contract and who paid the money. Maybe I will know it next week when I become the head of the radio service at News Georgia," he told Jamestown in an interview on November 15.
Radio-Sputnik's behind-the-scenes operations and lack of transparency, especially, concerning its funding, have raised concerns among Georgia's media freedom organizations. "We completely support freedom of speech and responsible and professional journalism, but only if it has nothing in common with propaganda," a source in the Georgian branch of the Institute for Development of Freedom of Information (IDFI) told Jamestown on November 15. The anonymous IDFI source said that the organization would make all legal efforts to inform the public about the origins of "this strange radio station" and its funding sources.
Meanwhile, Georgian experts say that the appearance of one of the appendages of Rossiya Segodnya operating in the Georgian media market is not surprising or unexpected. "In 2004, President Putin signed a secret decree on setting up 'Russian informational troops.' This seems unbelievable, but there are multiple indications [that this report may be true]. Putin regards the media as a tool for waging an informational war that we observe, for example in Ukraine," Zurab Gogoberidze, a columnist for the weekly newspaper Premier, told Jamestown (Author's interview, November 15).
Notably, the Kremlin-linked Russian multimedia group Sputnik (see EDM, November 12) has apparently simultaneously launched operations in dozens of countries and cities around the world, besides in Tbilisi—including in Sukhumi and Tskhinvali (capital cities of the separatist regions of Abkhazia and South Ossetia, respectively). Some observers have claimed that an agreement to allow broadcasts of Sputnik in Georgia may have been reached during negotiations between the Georgian Prime Minister's Special Representative for Relations with Russia Zurab Abashidze and Russia's Deputy Minister of Foreign Affairs Grigory Karasin. However, in an interview for Jamestown, Abashidze dismissed such allegations. "We discuss with Grigory Karasin, among other things, humanitarian cooperation and cultural exchanges; but we never discussed with him the issue of Radio-Sputnik broadcasts in Georgia," Abashidze asserted (Author's interview, November 15).
Should Georgian authorities try to block Russian broadcasts inside Georgia, Moscow is unlikely to ignore such a move by Tbilisi. Putin's regime spends enormous resources on propaganda worldwide under the pretext of "freedom of speech and pluralism," including via its news/propaganda TV channel, RT (see EDM, November 12; Hot Issues, August 13). Therefore, Moscow will probably attempt to use one of its multiple levers of pressure against Georgia in order to retain the Russian government's media presence right in downtown Tbilisi. Such pressure may span the spectrum—from threats to resume the trade embargo, to perhaps going as far as fueling further "unexpected complications" in the zones of conflict around Abkhazia and South Ossetia.