Regional Tensions Loom Over Multilateral Initiatives in South Caucasus
Publication: Eurasia Daily Monitor Volume: 20 Issue: 61
By: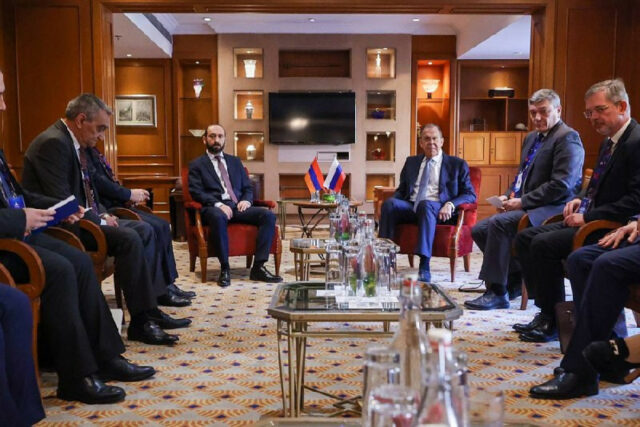 On March 20, at a joint press conference following his meeting with Armenian Foreign Minister Ararat Mirzoyan in Moscow, Russian Foreign Minister Sergei Lavrov accused the West of attempting to undermine Russia efforts to develop the "3+3" cooperation framework in the South Caucasus (YouTube, March 20). The so-called "3+3" platform (Georgia, Armenia and Azerbaijan plus Russia, Turkey and Iran) was first proposed by Baku and Ankara in the aftermath of the Second Karabakh War in 2020 to promote regional peace and stability (Euractiv, January 12, 2021).
Georgia, owing to its conflict with Russia, refused to participate in the platform, though its leaders signaled that they might reconsider this position in the future (Hetq.am, October 8, 2021). The first meeting within this initiative (without Georgia's participation) was held in Moscow on December 10, 2021, at the level of deputy foreign ministers. At the meeting, each side expressed optimism regarding the future of this framework (Azernews, December 11, 2021).
Since that time, significant changes have uprooted the regional geopolitical landscape, especially following Russia's re-invasion of Ukraine in February 2022. While Moscow and Tehran have remained supportive of the 3+3 initiative, it has mostly lost its relevance and importance for the other actors, including Azerbaijan. Despite numerous statements by Russian and Iranian officials over the past year about ongoing preparations to hold the second meeting in this format, that meeting has yet to take place (Radar.am, December 5, 2022; Tasnimnews, February 21; Report.az, March 20). In parallel, expectations for significant progress in the Armenian-Azerbaijani peace process following the 2020 war, unfortunately, have yet to be realized—a setback that has undermined other multilateral initiatives outside the 3+3 format.
Lavrov, at the press conference with Mirzoyan on March 20, argued, "The West is actively working to destroy this structure [i.e., the 3+3 mechanism]" (YouTube, March 20). He added that Russia does not see any possibility or need to cooperate with the West in the South Caucasus and complained that the West infringes on the lawful interests of three close neighbors of the South Caucasus countries—Turkey, Iran and Russia. In his meeting with Turkish Foreign Minister Mevlut Cavusoglu on April 7, Lavrov reiterated that Russia expects the non-regional actors to keep their distance from political arrangements in the South Caucasus, though he did not specifically bring up the 3+3 framework this time around (TASS, April 7).
In fact, the major blow to the 3+3 initiative seems to have been dealt by Iran rather than the West. Tehran's increasingly more aggressive policies with respect to Azerbaijan and its overt attempts to undermine Baku's efforts to open the Zangezur Corridor via Armenian territory have brought bilateral relations to a record low. Iran has, thus, nullified all efforts for the 3+3 format by countering the Zangezur project, which represented a core part of this format as development of the passageway was meant to connect almost all parties within this framework (see EDM, March 7).
In an international conference with foreign experts in Baku in November 2022, Azerbaijani President Ilham Aliyev openly stated that the 3+3 initiative failed to materialize due to Iran's destructive policies (President.az, November 25, 2022). Hence, it is no surprise that Russia hopes and calls for the normalization of Azerbaijani-Iranian relations, as the crisis between the two countries is damaging Moscow's regional vision and influence, in addition to its negative consequences for joint Russian-Iranian connectivity projects (Report.az, March 30).
In parallel to the 3+3 format, the countries of the South Caucasus started to discuss intra-regional formats as well, particularly at the behest of Georgia. In September 2021, Tbilisi proposed such an initiative in the form of the "Peaceful Neighborhood Initiative," which would bring together Georgia, Azerbaijan and Armenia. In October 2022, Georgian Prime Minister Irakli Garibashvili reiterated the call for this initiative and underlined that this format had not been drawn up to "contradict or replace" any other frameworks for cooperation in the region—apparently alluding to the 3+3 initiative (Agenda.ge, October 24, 2022).
The Azerbaijani side has supported this idea for a trilateral cooperation format in the South Caucasus, if not for direct cooperation then at least for general consultations as Aliyev has proposed. Baku also declared its support for convening a trilateral summit of Armenian, Azerbaijani and Georgian leaders (President.az, November 25, 2022). As revealed by the Azerbaijani president in November 2022, the Armenian side refused to take part in such meetings of the regional leaders or even foreign ministers in the proposed trilateral format—due to reasons that have yet to be released publicly (President.az, November 25, 2022). As a result, progress has effectively stopped in promoting this regional track of initiatives for improved multilateral cooperation in the region.
Therefore, given the context of the ongoing Russo-Ukrainian war, tensions between Azerbaijan and Iran, as well as Armenia's refusal to participate in a trilateral format with Azerbaijan and Georgia, efforts to establish an effective multilateral framework for cooperation in the South Caucasus have yet to succeed. The failure of such diplomatic efforts in this regard has a detrimental impact on overall regional security and stability and adds to concerns for the possibility of more tensions and new conflicts in the region.