Rekindled Train Wagon Debate Calls Into Question Planned Size for 'Zapad 2017' Exercise
Publication: Eurasia Daily Monitor Volume: 14 Issue: 22
By: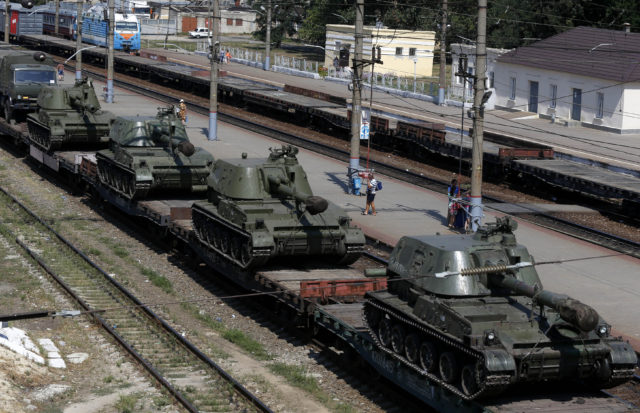 Lithuanian President Dalia Grybauskaitė told journalists in Riga earlier this month (February 2017), "We are worried about the Zapad 2017 exercise, during which concentrations of extremely large and aggressive forces will demonstrate [Russian] preparations for war with the West" (Delfi.lt, February 9). Russia's large-scale exercise Zapad 2017, will take place this coming September, on the territories of the Republic of Belarus and the Russian Federation. Recently, fresh reporting on the number of train cars Moscow has ordered to carry Russian troops into Belarus for this fall's Zapad exercise (see for example Nasha Niva, February 5) has renewed the debate among Russia watchers about the expected size of these maneuvers and their actual goal (see below).
It should be noted that last November, the Russian Ministry of Defense (MoD) published data about train wagon procurements to deliver Russian troops onto Belarussian territory in 2017 (in the forward and backward direction). For this purpose, the Russian MoD has reportedly prearranged 4,162 train cars (Tenmon.ru, Zakupki.gov.ru, November 15, 2016). This represents 78 percent of the total number of train wagons Russia plans to use for transporting its troops over the course of the entire year. Given the unprecedentedly large Russian troop movements to the Republic of Belarus in 2017, this information sparked a heated debate among Russia experts in different countries (Apostrophe.ua, November 24, 2016; Naviny.by, November 30, 2016; Deutsche Welle—Russian service, December 8, 2016). Some analysts argued that, under the umbrella of participating in the Zapad 2017 Russian-Belarusian strategic military exercise, Moscow might seek to deploy offensive forces to the territory of a neighboring state in order to put additional pressure on countries in the southern and northern directions as well as perhaps to threaten Belarusian independence. As of late last year, Moscow had preferred to remain silent and made no comments regarding the transport of Russian troops by rail to Belarusian territory.
This silence by the Russian Ministry of Defense regarding military rail transports was finally broken in February of this year, in the Russian daily Novaya Gazeta (Novaya Gazeta, February 1). The MoD's commentary on this issue is rather laconic and was limited to just three main points: First, the transportation by rail was planned within the framework of the joint Russian-Belarusian strategic exercise Zapad 2017. Second, the Russian military will utilize around 4,000 train wagons for this purpose (2,000 train wagons to the exercise area and ​​2,000 in the reverse direction). Third, the volume of trains used to transport Russian troops to Belarus in 2017 is comparable with previous years: During Zapad 2009, more than 6,000 train wagons were used, and during Zapad 2013—almost 2,500.
However official sources specifically indicate that 6,500 Russian troops took part in the Zapad 2009 exercise on the territory of the Republic of Belarus (Odkb-csto.org, September 29, 2009); whereas during Zapad 2013, 2,500 Russian military personnel were present on Belarusian soil (Cis.minsk.by, August 28, 2013). And yet, the number of train cars reportedly used to deliver Russian soldiers to Belarus in 2009 numbered only 350–400; while in 2013, 100–120 train wagons were needed. This is considerably less than the numbers cited in the Russian MoD's statement earlier this month. It should, however, be noted that strategic airlift was additionally used to deliver Russian troops to Belarusian territory during the Zapad 2009 exercise (Lenta.ru, June 18, 2009).
Russian troop transports by train are governed by specific Russian MoD regulatory documents. According to the legal standards, 72 or more soldiers can be transported by one standard train wagon. These regulations also dictate the placement of weapons and military vehicles on train platforms. As such, one mechanized Russian battalion can be expected to require between one or two military train echelons with 30 or more train wagons each. Based on this data it is not difficult to calculate that half of the planned train wagons for this year could deploy up to two Russian armored/mechanized divisions (around 30,000 military personnel or even more) to Belarusian territory (Mil.ru, accessed 19). And based on past such exercises, some portion of Russian troops sent to Belarus may end up being deployed by air, onboard military-transport aircraft (Ilyushin-76s and others).
The focus of the upcoming Zapad 2017 strategic exercise (RIA Novosti, November 11, 2016)—explicitly identified as the main objective for the Russian Western Military District (MD) for 2017 (RIA Novosti, February 3, 2017)—and the intensity of the training and snap exercises already ongoing in the Western MD (Kommersant, February 14) indicate that offensive Russian military units located near the Belarusian border will likely be involved in the Zapad maneuvers. These include the elite "Kantemirovskaya" and "Tamanskaya" divisions, as well as subunits from the recently re-formed 1st Guards Tank Army of the Western MD (TASS, February 2, 2016; RIA Novosti, February 3, 2016). Special attention will also need to be paid to the Kremlin's plans to involve chemical, biological, radiological and nuclear (CNRN) military units in the exercise (Rg.ru, November 16, 2016). The specifics of their participation may shed light on the role nuclear weapons might possibly play during Zapad 2017.
In early February, Belarusian President Alyaksandr Lukashenka reconfirmed his country's readiness to participate in joint Zapad 2017 military drills with Russia on Belarussian territory (Belarus.by, February 3). Naturally, the planned Russian troop deployments to the territory of a neighboring state close to the borders of the North Atlantic Treaty Organization (NATO) has attracted the Alliance leadership's attention. In this regard, NATO Secretary General Jens Stoltenberg noted the importance of maintaining dialogue with Russia. He also called for developing additional military lines of communications to achieve greater transparency and more predictability related to military exercises like this year's Zapad (Nato.int, February 14). But Yehor Bozhok, the acting head of the Ukrainian Mission to NATO, has warned that Russia is hiding the Zapad 2017 exercise's true plans, character and scenarios (Ukrinform.ua, February 19). Thus keeping a close eye on these maneuvers will be essential for NATO to avoid any "surprises" that could accompany this year's Zapad exercise.