Russia and Japan Agree to Nuclear Fuel Deal
Publication: Eurasia Daily Monitor Volume: 6 Issue: 94
By: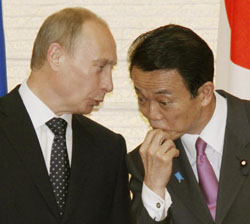 Despite optimistic official pronouncements, Russia appears to be struggling to secure any significant economic commitments from Tokyo to develop energy projects including the East Siberia-Pacific Ocean (ESPO) oil pipeline. Meanwhile, both sides remain divided over their long-standing territorial dispute.
As Prime Minister Vladimir Putin visited Tokyo on May 11-13, the Russian delegation appeared to refrain from making any commitments on the territorial dispute and instead focused on forging stronger economic and energy ties with Japan. During Putin's talks with Taro Aso, both sides pledged to explore "every possible option" to settle the territorial dispute. Putin said the leaders of Russia and Japan will discuss the peace treaty between the two countries at the G8 Summit in Italy in July (Interfax, ITAR-TASS, RIA Novosti, May 12).
Ahead of the talks in Tokyo, it was made clear that Japan should not expect a breakthrough in the territorial dispute. On ?May 7, Putin's deputy chief of staff Yuri Ushakov warned Japan against raising its hopes (Interfax, May 7).
Moscow has been refusing to discuss the return of four islands to Japan -Kunashir, Iturup, Shikotan and Habomai- known in Russia as the Southern Kurils and in Japan as the Northern Territories. The Russian government has consistently dismissed Japan's insistence on returning all four islands. In June 2006 Putin stated that Russia "never considered giving the islands back."
Nonetheless, on May 12 Putin urged further development of bilateral trade and economic ties in order to create the necessary conditions for signing a future peace treaty. However, he conceded that bilateral trade turnover might decline this year, due to the global economic downturn (Interfax, ITAR-TASS, RIA Novosti, May 12).
Bilateral trade reached $29 billion last year, up from $20 billion in 2007 and $10 billion in 2006, according to official Russian statistics. However, the figures represent less than 3 percent of Japan's total foreign trade volume. In the first quarter of 2009, bilateral trade was 66 percent down year-on-year at $2.3 billion, according to Japanese statistics (Interfax, May 11).
Putin urged Japanese investment in the energy sector and invited their companies to join the ESPO oil pipeline project. He reiterated that Russian oil companies will be able to fulfil its planned 80 million tons annual capacity (Interfax, ITAR-TASS, RIA Novosti, May 12).
Putin also invited Japanese companies to join the Sakhalin-Khabarovsk-Vladivostok gas pipeline project. On May 12, Gazprom CEO Alexey Miller pledged to complete this pipeline by the end of 2011. Its capacity will reach 30 billion cubic meters per year and the project would supply gas to Japan and other Asia-Pacific countries, he told a briefing in Tokyo (Interfax, ITAR-TASS, RIA Novosti, May 12).
On May 12, Gazprom signed a memorandum of understanding (MOU) with Japan's Natural Resources and Energy Agency, Itochu Corp. and Japan Petroleum Exploration Co., to prepare a feasibility study on future gas supplies to Japan and other Asia-Pacific countries.
Miller announced that Gazprom may invite Mitsui to develop the Chayandinskoye gas field in Eastern Siberia. He said Gazprom will prioritize its Sakhalin-2 partners in developing the Sakhalin-3 project. On May 12, Putin also suggested that Japanese companies might be invited to join Sakhalin-3 project (Interfax, ITAR-TASS, RIA Novosti, May 12). Sakhalin Energy, the operator of the Sakhalin-2 project, is due to supply 8 million tons of LNG annually to Japan, or more than 80 percent of its total output. The Japanese investment in the project has already reached $3 billion.
In 2007, Gazprom became the major shareholder in the $20 billion Sakhalin-2 oil and gas project, which is now 80 percent complete. Gazprom acquired a 50 percent stake in Sakhalin-2 from Royal Dutch Shell, Mitsui and Mitsubishi for $7.5 billion. Gazprom Sakhalin Holdings B.V. currently owns 50 percent plus one share in Sakhalin Energy, while Shell Sakhalin Holdings B.V. controls a 27.5 percent interest, Mitsui Sakhalin Holdings B.V. holds 12.5 percent, and Diamond Gas Sakhalin B.V., controlled by Mitsubishi Corporation, owns 10 percent.
Putin also reiterated plans to build a major petrochemical and gas-chemical complex in Russia's Far Eastern Primorie region, and invited Japanese businesses to invest in these projects (Interfax, ITAR-TASS, RIA Novosti, May 12). On May 12, Primorie regional governor Sergei Darkin said the 20 million tons per year petrochemical complex will cost up to $14 billion. He claimed on the sidelines of Putin's visit to Japan that the refinery's first stage is due to be completed in 2012, and its second stage by 2017 (Interfax, May 12).
Ahead of the talks in Tokyo, the Japanese media speculated that Japan and Russia considered major deals to jointly develop oil fields in Eastern Siberia. However, only one relatively small agreement was concluded. On May 12, Japan's JOGMEC and the Russian Irkutsk Oil Company signed agreements to jointly develop two oil fields: the Bolshetirsky and West-Yaraktinsly deposits in Irkutsk region (Interfax, ITAR-TASS, May 12).
The Russian RusHydro also signed MOU's with Mitsui on a project to build the Nizhne-Bureiskaya 320 mwt hydropower plant, and with J-Power to construct a wind-powered power plant near Vladivostok in 2010-2012 (Interfax, May 12).
Russia and Japan also inked a long-delayed deal on May 12, to supply additional nuclear fuel to Japan. The head of the Russian state-run Rosatom nuclear power corporation Sergei Kiriyenko, said the bilateral nuclear energy pact will pave the way for multi-billion dollar contracts (Interfax, ITAR-TASS, RIA Novosti, May 12). The deal followed an agreement in March 2008 between the state-controlled nuclear power company Atomenergoprom and Japan's Toshiba to cooperate on the building of power plants and the production of nuclear fuel.
In recent years, the Kremlin has repeatedly suggested that Japan could participate in Russian programs to develop its regional infrastructure in the Far East. However, bilateral talks have only resulted in relatively small energy deals.
As Tokyo failed to respond with investment pledges, the Kremlin seemingly became upset by Japanese obduracy on the territorial dispute and Tokyo's reluctance to commit any funding for projects in the Russian Far East, including the ESPO pipeline. Subsequently, Russia decided to build the ESPO oil pipeline spur to China first, instead of giving priority to linking the pipeline to its Pacific coast as sought by Japan.