PRESS RELEASE: Russia Announces Closure of Kerch Strait, Cutting Southeastern Ukraine off From Access to Black Sea
FOR IMMEDIATE RELEASE
Contact: Matthew Czekaj
[email protected]
202.483.8888
The Ministry of Infrastructure of Ukraine intends to file a complaint to the International Maritime Organization on the matter, and the Ukrainian government is reportedly compiling data to estimate the economic damage to the country likely to result from Russia's announced closures of the strait.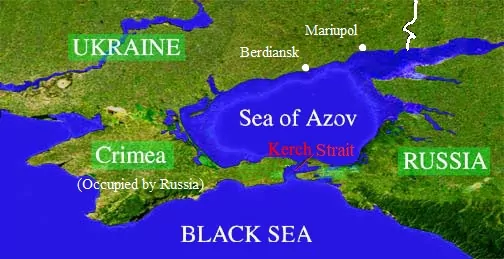 On August 7, the Ministry of Transport of the Russian Federation announced the temporary closure of the international straits as part of construction efforts to build a bridge connecting Russia to the occupied territory of Crimea.  On August 9, between 06:00 to 18:00, this waterway was closed to all maritime traffic except for Russian naval vessels. Construction of the 12-mile-long Kerch Strait Bridge is estimated to cost around $3 billion. The road section of the bridge is slated for completion in December 2018, with the rail link scheduled for the following year.
In October 2003, hostilities nearly erupted between Ukraine and Russia in an incident known as the Tuzla Straits Crisis, when Russia started to build a dam from the Taman peninsula to Tuzla Island. The international crisis led to the 2003 agreement on the use of the Sea of Azov and the Kerch Strait.
Signed on December 24, 2003, Russia and Ukraine concluded an agreement on cooperation in the use of the Sea of Azov and the Kerch Strait. The document determines that the Sea of Azov is an internal waterway for both countries.  The 2003 agreement further states that mercantile vessels and other state non-commercial vessels flying the flags of the Russian Federation and Ukraine have free navigation in the Sea of Azov and the Kerch Strait.
Russia's action of sealing off the Kerch Strait to Ukrainian commercial vessels could have a debilitating impact economically on Donbas by effectively cutting Mariupol and Berdiansk off from the Black Sea. Moreover, the closure of the Kerch Strait runs the risk of undermining an already delicate social situation in the port city of Mariupol, which is heavily dependent on its ability to export Ukrainian steel to international markets.
The Russian announcement about the closure of the Kerch Strait was made around the anniversary of the 2008 Russian invasion of Georgia and at a time when many officials in Ukraine are vacationing. The closure also occurs on the eve of US diplomatic envoy Kurt Volker's forthcoming trip to Moscow, where he is scheduled to meet with Vladislav Surkov to discuss the situation in eastern Ukraine.
To read previous Jamestown analysis of the Kerch Strait Bridge and the security situation in and around Mariupol and the Sea of Azov, please see:
*     *     *
Founded in 1984, The Jamestown Foundation is an independent, non-partisan research institution dedicated to providing timely information concerning critical political and strategic developments in China, Russia, Eurasia and the world of terrorism. Jamestown produces three periodic publications: Eurasia Daily Monitor, Terrorism Monitor and China Brief. Jamestown research and analysis is available to the public free-of-charge via Jamestown's website, www.jamestown.org.