Russia, China Pledge Stronger Economic and Security Partnership
Publication: Eurasia Daily Monitor Volume: 10 Issue: 57
By: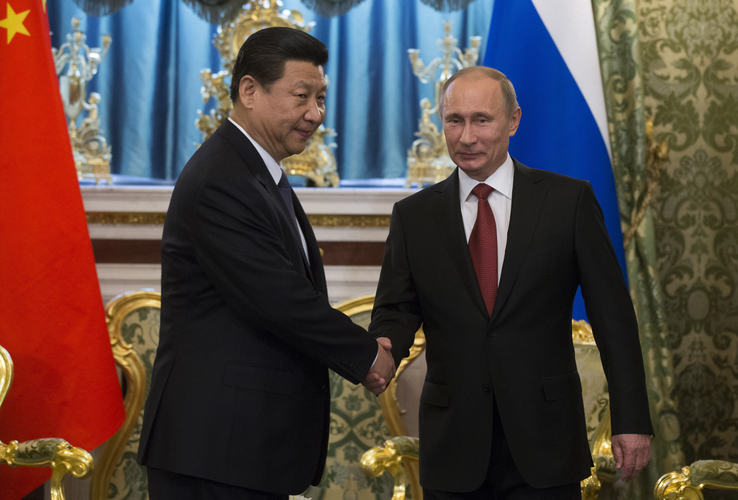 During the new Chinese leader Xi Jinping's recent visit to Moscow, both sides pledged to develop not only energy and trade partnerships, but their defense ties as well. The renewed focus on security cooperation between Russia and China did not remain unnoticed in Japan. Moreover, ahead of the summit meeting, the Kremlin moved to prioritize ties with an inter-state grouping that includes both Russia and China. On March 21, President Vladimir Putin approved a new blueprint for Russian membership in the BRICS—a loose group of major developing countries made up of Brazil, Russia, India, China and South Africa. The blueprint describes Russia's BRICS membership as one of the country's foreign policy priorities (The Russian Presidential Press Service, March 21).
On March 22, Putin and Xi held talks at the Kremlin and signed a bilateral joint statement. Both sides signed a total of 35 agreements, including inter-governmental agreements on migration, on Russian oil supplies to China, as well as joint petrochemical projects. Russian oil giant Rosneft signed pre-payment agreements with China's Development Bank and the Chinese National Petroleum Corporation (CNPC) to finance crude oil shipments. Gazprom and CNPC signed a memorandum of understanding (MOU) on gas supplies to China via the Eastern route (The Russian Presidential Press Service, March 22).
As Gazprom and CNPC signed yet another MOU, their efforts to clinch a final deal on Russian gas supplies to China apparently remained inconclusive. Ahead of the summit meeting, the Russian authorities conceded that the "decisive" agreement on gas supplies remained elusive and negotiations continued. The deal to supply 38 billion cubic meters (bcm) via the Eastern route is now expected before the end of 2013 (RIA Novosti, March 21). After the MOU with CNPC was signed, Gazprom CEO Alexei Miller said that both sides aimed to sign a 30-year contract. Gas supplies to China via the Eastern route were expected to start in 2018, according to Miller (ITAR-TASS, March 22).
Gazprom's plans to build gas pipelines to China have been stalled for years as both sides struggled to agree on gas prices. In 2006, Moscow first pledged to export Russian gas to China via a proposed 6,700-kilometer Altai pipeline. Gazprom planned to supply 30 bcm per year of gas to China via the Western route, and 38 bcm per year via the Eastern route (see EDM, June 24, 2011).
The exact terms of Rosneft's deals with its Chinese counterparts, on the other hand, were not disclosed. However, Russian newswires cited sources in Moscow as saying that the agreements stipulated China's prepayment of $8–10 billion in exchange for crude oil supplies of 9–10 million tons per year (ITAR-TASS, March 22).
Russia started exporting crude oil to China via the East Siberia Pacific Pipeline (ESPO) from January 1, 2011. According to the agreement concluded in 2009, Rosneft and Transneft pledged to supply 15 million tons of oil to China for 20 years in exchange for Chinese loans totaling $25 billion (see EDM, June 24, 2011).
Besides energy, last week's summit meeting in Moscow also focused on security matters. In their joint statement, Putin and Xi pledged to develop a bilateral strategic partnership, and stated that Sino-Russian ties played a major role in sustaining global stability. Both sides also promised mutual support on issues of sovereignty, territorial integrity and security.
Furthermore, Russia and China resolved to increase bilateral trade up to $100 billion by 2015, and up to $200 billion by 2020, including a wider use of national currencies in two-way commerce. Both sides also prioritized energy cooperation, notably in the oil and gas sector, as well as joint infrastructure projects.
Russia and China reiterated their shared preference for a "multipolar" world, pledged to oppose "all forms of hegemony," and advocated "equal security" for all nations and non-military methods to settle international conflicts. In a clear reference to the United States' ballistic missile defense (BMD) system, Beijing and Moscow also warned against unilateral and unlimited actions to boost missile defense capabilities (The Russian Presidential Press Service, March 22).
After the talks, Putin told journalists that the Russian leadership appreciated Xi Jinping's choice of Moscow for his first foreign visit in his new capacity as president of China. "It is a significant gesture," that reflects the strategic character of bilateral relations, Putin said. He also pledged regional and international policy coordination between Russia and China. In response, President Xi said his visit was designed to demonstrate the special character of the Sino-Russian bilateral strategic partnership. He also noted what he described as positive developments and political stability in Russia (The Russian Presidential Press Service, March 22).
On March 23, Russian Prime Minister Dmitry Medvedev met with Xi and described the visit as an important move toward further development of the bilateral partnership. In response, the Chinese leader said the results of the visit exceeded his expectations (The Russian governmental press-service, March 22).
The top-level Sino-Russian discussions about "sovereignty, territorial integrity and security" were backed up by exchanges between the two country's defense officials. On March 23, Xi also met with Russia's Defense Minister Sergei Shoigu and pledged to develop bilateral military cooperation. The meeting was followed by talks on March 24 between Shoigu and Chang Wanquan, the Chinese state councilor and minister of defense (RIA Novosti, March 23). After Shoigu's meeting with Xi, Russia's Deputy Defense Minister Anatoly Antonov stated that both sides exchanged views on matters of international security. Moscow and Beijing jointly noted shared concerns on issues of missile defense, he said. Russia and China also pledged to develop bilateral military cooperation, Antonov added (RIA Novosti, March 23).
However, pledges by Moscow and Beijing to develop security cooperation triggered concerns in Tokyo. The Russian state-run ITAR-TASS news agency cited Japan's Yomiuri Shimbun daily as commenting that Moscow and Beijing appeared to be banding together against Tokyo. Both Russia and China have territorial disputes with Japan and pledges to of mutual support on issues of territorial integrity sounded critical of Tokyo, according to the commentary (ITAR-TASS, March 22).
The recent series of high-level bilateral visits by Chinese and Russian officials (see EDM, March 6, 13) suggests that Moscow views its economic and security partnership with Beijing as a foreign policy priority, outstanding foreign policy disagreements notwithstanding (see EDM, November 14, 2012). But the closer Moscow comes diplomatically to Beijing, the more uneasy other East Asian neighbors, such as Tokyo, appear to become.