Russia Expands Its Fleet in Sea of Azov to Some 40 Ships, Kyiv Warns
Publication: Eurasia Daily Monitor Volume: 15 Issue: 100
By: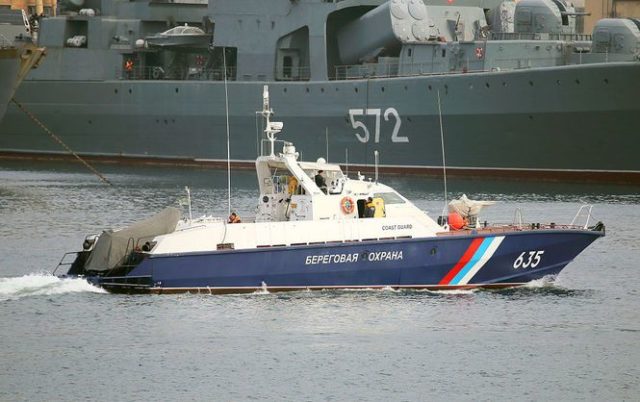 The Russian navy has boosted its presence in the Sea of Azov to approximately 40 ships, giving it the ability to control that body of water and to strike virtually at will along Ukraine's coastline there, Vadim Skibitsky, a representative of the main intelligence directorate of the Ukrainian defense ministry, said yesterday, July 27 (5.ua, July 27). Russian naval vessels on the Sea of Azov still have fewer than 1,000 marines attached; a landing by these forces would likely be repulsed by Ukrainian coastal defenses. Therefore, a sudden Russian assault on Ukraine's Azov coast would likely be a feint and an indication that Moscow actually intends to launch a far larger, simultaneous attack on Ukraine along another vector.
The latest developments not only represent a continuation of Russia's moves to take control of the Azov Sea and its littoral over the last three months (see EDM, April 12, May 8, 31, June 11; Windowoneurasia2.blogspot.com, June 5) but are also occurring at a time when President Vladimir Putin's domestic support is flagging and an international sports competition, the World Cup, is distracting the world's attention (see EDM, June 18, 21).
The last time Putin found himself in a similar position, he introduced forces into Ukraine and seized Crimea. And some analysts argue he may now try do the same with the sea and land near that Ukrainian peninsula in order to strengthen his hand. However, some in the West might not react as harshly this time around given the announcement of plans for a summit between Putin and his United States counterpart, Donald Trump, in July (Svoboda.org, June 25).
Russian maneuvers in the Sea of Azov are troubling, Skibitsky noted. According to the Ukrainian intelligence official, "[T]he problem consists of the fact that, before the beginning of the war, we [Ukraine and Russia] were not able to completely agree about the border" (5.ua, July 27). But domestic experts outside of the Ukrainian government are less diplomatic: Mikhail Samus, a military specialist at the Kyiv Center for Research on the Army, Conversion and Disarmament, pointed out that, in 2003, the two countries signed an agreement that declared the Azov Sea an inland body of water shared by both of them. As a result, the usual rules of the United Nations Convention on the Law of the Sea (UNCLOS) do not apply there. Moscow is presently exploiting that distinction to its fullest, both to interfere with Ukrainian shipping and to force Kyiv to maintain forces on its littoral that it could otherwise deploy elsewhere, Samus asserted (Apostrophe.ua, June 25).
Skibitsky, for his part, conceded that Russia, as a result of its fleet buildup in the Sea of Azov, has "almost completely taken under control all sea routes used by civilian ships" going to and from the Ukrainian ports of Berdyansk and Mariupol via the Kerch Strait (5.ua, July 27). One of Russia's favored tactics, he and others say, is to delay the passage of ships in the name of inspections (see EDM, June 11). That may seem neutral and natural; but if the ships carry perishable cargo like food, it can lead to the loss of the entire shipment. And even the threat of that for ships that might carry Ukrainian agricultural products is sufficiently serious that their owners are refusing to send them to these ports. Kyiv and some of its supporters, most prominently Vilnius, have complained about this tactic to the international arbitrage court (Dsnews.ua, June 21).
Samus, however, sees a far greater danger in what Russia is doing. In his view, Russia would fail if it sought to attack only the Ukrainian littoral with the forces it now has in its fleet—according to this expert's estimations, in total there is only one battalion of Russian marines on these ships. Launching any attack on the Azov littoral would make sense if Moscow were also planning a new and larger advance either to secure a land bridge to Russian-occupied Crimea or to move more deeply into central Ukraine, Samus argued. He added, Ukraine must more directly challenge Russia's moves to control shipping by denouncing the 2003 accord and by stepping up its appeals to international bodies that regulate shipping by bringing new lawsuits against Moscow (Apostrophe.ua, June 25).
Meanwhile, Andrii Klimenko, a military specialist at the Maidan for Foreign Affairs group, argues that Ukraine must do far more than that. Over the last four years, he writes, Ukraine has built up its military presence on the Azov littoral to the point that any landing would likely be repelled or at the very least be quite bloody for the Russians. But, he says, as Russia expands its forces, that could soon cease to be the case. On the one hand, Moscow may dispatch more marines to its fleet, creating a force capable of defeating the Ukrainian military it faces in a limited location. And on the other hand, a naval force can move far more easily and rapidly than a land-based one, able to choose to attack at less defended places, thus giving it greater chances for success (Novoye Vremya, June 28).
Given those factors, the Ukrainian military expert continues, Ukraine must build up its naval and air presence in the Sea of Azov region—and quickly. Countering any landing is "a complex operation" that requires not only coastal defense units but military aviation and naval forces to respond to unexpected moves by the enemy, which "can always find a coastal area where there are no troops." Ukraine needs to move more ships—of the right kind—and more aircraft into the region to offset the Russian naval buildup. Unfortunately, Klimenko continues, neither Ukrainian society nor the international community seems focused on the broader dangers Russia's buildup on the Sea of Azov represents. But the situation is real and could soon explode. The time to counter it is now.