Russia is Demanding One-Sided Western Concessions
Publication: Eurasia Daily Monitor Volume: 7 Issue: 195
By: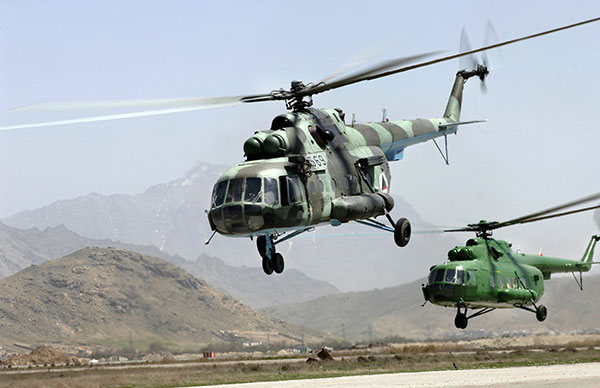 A number of British newspapers have reported from Brussels quoting NATO sources that "Russia has agreed to return to the war in Afghanistan at the request of Western states." A "groundbreaking agreement" with Russia may be announced at the NATO summit next month in Lisbon, which President Dmitry Medvedev promised to attend. Moscow is ready to provide helicopters to the Afghan and NATO forces, and might train Afghan pilots. It may also assist in training Afghan national security forces, while increasing cooperation on counter-narcotics and border security in order to improve transit and supply routes for NATO forces. According to NATO secretary-general Anders Fogh Rasmussen, "The summit can mark a new start in the relationship between NATO and Russia." In return Moscow is demanding concessions from NATO in Europe and on the issue of Russian troops in Georgian breakaway South Ossetia and Abkhazia (The Independent, The Guardian, October 27).

Rasmussen has been promoting a "reset" of NATO-Russian relations (EDM, October 6). Next week Rasmussen will come to Moscow for talks on November 5, despite it being a public holiday to promote agreements on Afghanistan and Russian participation in European ballistic missile defense plans (RIA Novosti, October 27). Rasmussen had invited Medvedev to the summit in Lisbon, but the Kremlin accepted the invitation only after a summit last week in Deauville, France between French President, Nikolas Sarkozy, German Chancellor, Angela Merkel, and Medvedev (Interfax, October 17). Rasmussen is promoting a "NATO-Russian reset" as a personal political goal, which may explain the exaggerated reports about a possible "groundbreaking agreement" on Afghanistan emanating from his office in Brussels.

There seems to be no substantial change in Moscow's Afghan policy, despite NATO headquarters hype. Soviet forces officially withdrew from Afghanistan in February 1989 after an unsuccessful nine year engagement. However in some ways, Russia never fully left. Moscow (together with Tehran) provided weapons, including artillery, tanks and helicopters, to the anti-Taliban forces of the Northern Alliance long before the arrival of the United States and NATO in the fall of 2001. Afghan government forces today have approximately 25 Mi-17 transport helicopters – all supplied by Russia, including Russian-trained pilots (RIA Novosti, August 17). There are no Russian solders fighting with the coalition forces in Afghanistan, while Russia has no intent of sending any anytime soon, according to Defense Minister Anatoly Serdyukov and Security Council secretary Nikolai Patrushev (RIA Novosti, February 19). However, there are Russian and Ukrainian contractor pilots flying logistical sorties in several of the war zones in Afghanistan and on occasion have taken enemy fire. Last year a Moldova-registered heavy transport Mi-26 helicopter with a Ukrainian crew was shot down during a mission in Helmand province (Interfax, July 15, 2009). Two days later a Russian Mi-8 helicopter went down with 17 Western passengers near Kandahar. The helicopter and crew were from a Russian private company known as Vertikal-T, a company associated with Gazprom, and leased to NATO forces with Moscow's official approval (Interfax, July 19, 2009).

During the Soviet engagement in Afghanistan in the 1980s, the Russian defense industry developed a special modification of the Mi-8 (aka Mi-17) helicopter – with an enhanced dust resistant engine – to fly troops and supplies into battle zones in the Afghan mountains. Russia has been supplying Mi-17s to Afghanistan and to Iraqi government forces paid for by the Pentagon. What is indeed "groundbreaking" about the present deal to supply more than 20 Mi-17s to Afghan and NATO forces is that the price has tripled. In 2006 Mi-17s were procured for $6 million a piece, but now Moscow is reportedly asking for $18 million (Vedomosti, June 21). In all, Russia hopes the helicopter deal will bring in revenue totaling more than $300 million (www.newsru.com, June 20).

Moscow is actively lobbying to sell the helicopters. Russia's permanent representative to NATO Dmitry Rogozin has been calling for NATO to stop dragging its feet and pay up (RIA Novosti, July 12). Consequently it is the US Congress that has been reluctant to release public funds to buy the overpriced Russian Mi-17 helicopters, while President Barack Obama administration has been lobbying in favor of the deal (www.newsru.com, June 20).

This month the Russian government approved an agreement with France to allow the transit of arms, military equipment and solders through its airspace. Russia has similar agreements with the United States, Germany, Spain and NATO as an alliance (RIA Novosti, October 11).

The Taliban have never been Russia's friend. A Taliban-controlled Afghanistan could spread an Islamist militancy that could destabilize the former Soviet Central Asia where Russia has vital strategic and military interests. In selling helicopters to forces in Afghanistan, in providing transit capabilities, in training Afghan personnel and in fighting narco-traffic, Russia is not doing the West a favor, but is serving its own strategic and commercial interests. Still an explicit US-lead victory in Afghanistan is not desired by Moscow because it could increase long-term Western influence in a region that is still seen as a Russia's strategic backyard. Moscow will never commit combat troops to facilitate such an outcome.

But if NATO is ready to publicly promote continuing limited cooperation in Afghanistan as something "groundbreaking," then Moscow will likely play along to promote it in exchange for an endorsement of its European security agenda. Last December, Russia handed NATO a draft of an "Agreement on the basis of NATO-Russian cooperation" the essence of which has now been disclosed. Moscow has demanded that the West legally avoid deploying in the combined territory of all new post Cold War member-nations any forces bigger than a brigade (3000 men, 41 tank, 188 armored vehicles, 90 guns), or permanently stationing 24 aircraft for more than 42 days a year. In the case of an emergency, any additional forces may be deployed in Central Europe, the Balkans or the Baltics only with Russia's agreement: The creation of a Russian legal veto power within the framework of the NATO-Russian Council on any Western military deployments has also been proposed. In return, Moscow will not undertake any legal commitments, "since it is NATO that is expanding and threatening Russia and not the opposite," say Russian diplomats (Kommersant, October 27). During the summit in Deauville, Medvedev seems to have been encouraged by Sarkozy and Merkel that Russia's special position on European security will likely be favorably received.