Russia Offers Generous Support for the Kyrgyz Army
Publication: Eurasia Daily Monitor Volume: 9 Issue: 209
By: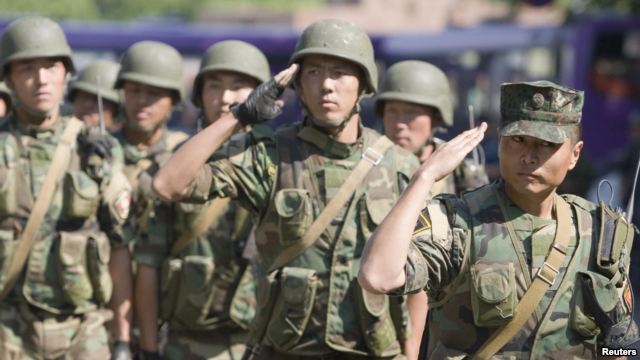 According to the newspaper Kommersant, Russia agreed to provide military and technical support to Kyrgyzstan and Tajikistan in the form of direct assistance. Russia is prepared to spend $1.1 billion to upgrade Kyrgyzstan's army and another $200 million for the needs of the armed forces of Tajikistan. In addition, Moscow will provide Tajikistan with $200 million in the form of discounts for the supply of petroleum products (Kommersant.ru, November 6).
The first batch of Russian weapons is to be sent to Kyrgyzstan in the summer of 2013. Bishkek will receive a variety of new small firearms, new infantry fighting vehicles and combat reconnaissance patrol cars, helicopters, and fixed field hospitals (Kommersant.ru, November 6).
The Kyrgyz Republic is a mountainous country, and for operations in a mountainous terrain, Kyrgyzstan's Defense Ministry needs lightweight motorcycles, lightweight portable mortars as well as satellite equipment. Apparently, the army of Kyrgyzstan is hoping to get all this equipment from Russia (Kommersant.ru, November 6).
The armed forces of Kyrgyzstan are among the weakest in the region. At the time of the formation of Kyrgyzstan's army in 1992, it had 20,000 people. Recently, the army was reduced to 15,000 people. Seventy–five percent of army personnel are contractors. In 2006, the term of draft military service in this Central Asian republic was reduced from 18 to 12 months. The country has one university that prepares junior officers and the National Military Lyceum, which trains middle-tier commanders. The Ministry of Defense of Kyrgyzstan also has special forces "Scorpion" and "Ilbirs" units. Kyrgyzstan's army still largely uses Soviet equipment and cannot afford new modern weaponry. It noticeably lags behind the armies of its neighbors. President Almazbek Atambayev recently acknowledged that only the 25th Special Forces Brigade "Scorpion," trained by the North Atlantic Treaty Organization (NATO), met modern equipment requirements. Kyrgyzstan's regular army gunners, for example, still use 122-mm Howitzer M-30 and 152-mm D-1 artillery pieces—howitzer models dating from 1938 and 1943, respectively (Ferghananews.com, November 6).
Pledged Russian military support to Tajikistan is more modest. So far, Moscow is ready to provide Dushanbe with only $200 million in aid. The money will be primarily allocated for the modernization of Tajikistan's air defense and repairs to its military equipment. Tajikistan has a conscript army, and the service term is two years, or one year for college graduates. Therefore, Tajikistan is not currently short of manpower (Kommersant.ru, November 6).
According to the chief of the Central Asia department of the Russian Ethnology Institute, Dr. Sergei Abashin, Russia has decided to assist Kyrgyzstan and Tajikistan in response to attempts by the United States to gain a foothold in Uzbekistan (author interview, November 10). Russia has increased its activities in Central Asia after the US began strengthening its bilateral relations with Uzbekistan, reaching an agreement in the past year with President Islam Karimov on the transit of cargo from Afghanistan, which NATO forces are planning to leave in 2014. Most of the NATO weapons used in Afghanistan, according to well-informed sources, are planned to be transported out through Uzbekistan. A thaw in relations between Tashkent and Washington was reflected in Uzbekistan's latest withdrawal from the Collective Security Treaty Organization (CSTO). At the forthcoming CSTO summit in Moscow this December, the military bloc will consider Uzbekistan's decision to withdraw (Uznews.net, November 7).
Furthermore, according to Kommersant's sources in Uzbekistan's Ministry of Foreign Affairs, Washington and Tashkent have started negotiations over potentially establishing a US military base in Uzbekistan. These negotiations were started due to the fact that Tashkent is afraid the situation in Uzbekistan could destabilize after US troops withdraw from Afghanistan (Kommersant.ru, August 23).
There is no doubt that Russia is consistently and systematically strengthening its military cooperation with Kyrgyzstan and Tajikistan. Incidentally, the subject of military-technical cooperation will be a key topic during the visit of Kyrgyzstan's President Atambayev to Moscow on November 14–15 (Ferghananews.com, November 6).
However, many experts question the wisdom of Moscow's decision to support Kyrgyzstan's and Tajikistan's militaries. "Russian help to the Kyrgyz and Tajik armies does not guarantee that US military influence will be decreased. Bishkek and Dushanbe could collaborate with both: with Russian as well as US militaries. But the situation in Kyrgyzstan is very tense—a new conflict between Kyrgyz and Uzbeks in southern Kyrgyzstan is possible. Moscow would be blamed if Kyrgyz kill Uzbeks using Russian guns," the senior political science researcher of the Russian Academy of Science, Dr. Alexander Knyazev, told Jamestown on November 10.
According to senior expert of the Carnegie Moscow Center Alexey Malashenko, "Russia is making a great gamble with this military investment." "Russia is not only supporting Kyrgyzstan and Tajikistan, which are not the most stable regimes, but it is also making a gesture that would complicate already troubled relations with Uzbekistan," Malashenko believes (Kommersant.ru, November 6).