Russia Pressures Ukraine to Prolong the Ceasefire
Publication: Eurasia Daily Monitor Volume: 11 Issue: 117
By: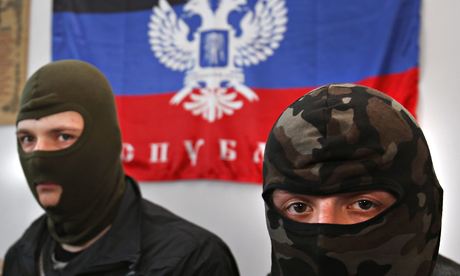 Ukraine's unilateral ceasefire, announced by President Petro Poroshenko on June 20, expires today (June 27). Russia and its proxy forces in the Donetsk and Luhansk regions (Donbas) have actively undermined the ceasefire, politically as well as militarily.
The Russian side has undoubtedly sensed weakness in Ukraine's unilateral, albeit time-limited, ceasefire (see EDM, June 24, 26). Strongly interested in prolonging the ceasefire to freeze the status-quo in the field (see accompanying article), the Russian side apparently calculates that it could achieve that result through relentless pressure on Kyiv during the latter's temporary ceasefire.
On June 25, Poroshenko announced that pro-Russia forces had killed 18 soldiers of Ukraine and wounded 27, while Ukrainian forces were unilaterally observing the ceasefire. Poroshenko reported those numbers in a five-sided telephone conference call with Russian President Vladimir Putin, United States President Barack Obama, German Chancellor Angela Merkel and French President Francois Hollande (president.gov.ua, June 25).
Kremlin-controlled television channels agitate to discredit Kyiv's ceasefire and peace plan in the eyes of the Donetsk and Luhansk regions' population. Showcasing leaders and activists of the Donetsk and Luhansk "people's republics," lionizing their troops, and fabricating atrocity stories about Ukrainian forces, Russia's state television continues inflaming the atmosphere. This propaganda practically monopolizes the airwaves in Donetsk and Luhansk, which are basically cut off from Ukraine's information space (Russian TV Channel One, Rossiya 1 TV, June 24–26).
Russia's Investigative Committee (subordinated directly to President Putin) and Russia's Ministry of Internal Affairs have jointly launched criminal proceedings against Ukraine's Internal Affairs Minister Arsen Avakov and Dnipropetrovsk Governor Ihor Kolomoysky on multiple charges of "war crimes" and atrocities. Moscow has referred Avakov and Kolomoysky to Interpol for placing them on the international wanted list (Interfax, June 21). These two officials cannot conceivably be intimidated; but Moscow's move is an attempt to intimidate others into recalculating their stance.
On June 24 and 25, respectively, the Donetsk and Luhansk "people's republics'" "parliaments" adopted decisions to merge into one "federated republic of Novorossiya;" and approved a "constitution of Novorossiya." Russia's citizen Aleksandr Borodai, who moved from Moscow to Donetsk in April, and is now "prime minister" there, announced those decisions, duly broadcast on Russian television (Russian TV Channel One, Rossiya 1, June 25; Interfax, RIA Novosti, June 24, 25).
That move falls into line with Moscow's project to "federalize" Ukraine, stopping short of outright secession, but not ruling it out either. In either case, it corresponds with the Kremlin's Novorossiya project. Undoubtedly, Borodai's handlers authorized this move from Moscow. This occurred immediately after the envoys of the Organization for Security and Cooperation in Europe (OSCE) had "facilitated" a first round of "consultations" with Borodai in Donetsk on June 23—the first step toward legitimizing that group de facto.
Moscow seeks the "federalization" of Ukraine with Donbas or Novorossiya, not an outright secession of those territories. However, invoking the possibility of full secession is a tactic to ratchet up the pressure on the Ukrainian government.
The Russian government has allowed a "liaison office of the Donetsk people's republic in the Russia Federation" to open in Moscow. The liaison office chief appeared on state television to say that the "republic" and Ukraine are two different states (Russian TV Channel One, June 23).
On June 21, South Ossetia's "ambassador" in Moscow received Donetsk "people's republic's parliament chairman," Denis Pushilin, to discuss "recognition" of that "republic." The "ambassador," Dmitry Medoyev, had himself overseen the transformation of South Ossetia's initial "liaison office" in Moscow into an "embassy," following Russia's "recognition" of South Ossetia. A pro-Russia delegation from Ukraine's western Carpathian region visited on the same day, headed by the self-declared "prime minister of the Subcarpathian Rus' republic, Petro Hetsko," also soliciting recognition. This is the first publicly advertised move to coordinate anti-Ukraine activities in Donbas and the Carpathian region (Voice of Russia, June 21).
Ukraine's June 20 peace plan envisages, inter alia, exchanging persons detained or captured by either side. Donetsk "deputy prime minister" Andrei Purgin, told journalists on June 25: "We have abducted an aide to [legitimate Donetsk governor] Serhiy Taruta, along with ten [Ukrainian] officers, to use them in an exchange of hostages" (OstroVu [Donetsk], June 26, cited by Ukrinform, June 26).
Moscow claims that Ukraine is causing a mass influx of refugees from Donbas into Russian territory. Russian television seeks to increase nervousness and, correspondingly, the flow of refugees. Ukraine is concerned that Moscow fosters perceptions of a "humanitarian crisis" in Donbas as a possible pretext for a "peacekeeping" operation. Russian Deputy Prime Minister Dmitry Kozak reported to Putin on June 25, live on TV, that the Russian government has decided to give each refugee from Ukraine a sum of money upon arrival and registration in Russian territory (Russian TV Channel One, Rossiya 1 TV, June 25)—an effective way to stimulate displacement.
Meanwhile, Putin has ordered Russia's Federation Council (upper chamber of parliament) to cancel its authorization for Russia's armed forces to intervene in Ukraine. The Council had given Putin that mandate at his request on March 1; and it remained in force after the March 16 annexation of Crimea, ostensibly hinting at possible military intervention in mainland Ukraine. On June 25, Russia's Federation Council, at Putin's, request discontinued the validity of that authorization. Western governments and Ukraine itself have lauded Putin for this "constructive move," calling it "a step in the right direction."
That move, however, illustrates the familiar tactic of threatening, or feigning, a brazen aggressive move (e.g., massive military intervention in mainland Ukraine), only to cancel it and obtain something in return, including political capital for a "constructive step." An invasion of mainland Ukraine was never a credible proposition. Moreover, Putin could (still) at any time order a military operation without his "parliament's" mandate. A limited-scale operation, labelled as "peacekeeping" or "humanitarian," was a more credible proposition. Putin explained the difference in his June 24 Vienna statements (Interfax, RIA Novosti, June 24—see accompanying article). "Thank God, it did not come to the use of armed forces [beyond Crimea in mainland Ukraine]," he said. In Crimea, on the other hand, Russia used "military formations [as distinct from full-scale forces]," Putin said. He is good at playing the cat-and-mouse game.