Russia Seizes Opportunity to Expand Drone Usage
Publication: Terrorism Monitor Volume: 15 Issue: 17
By: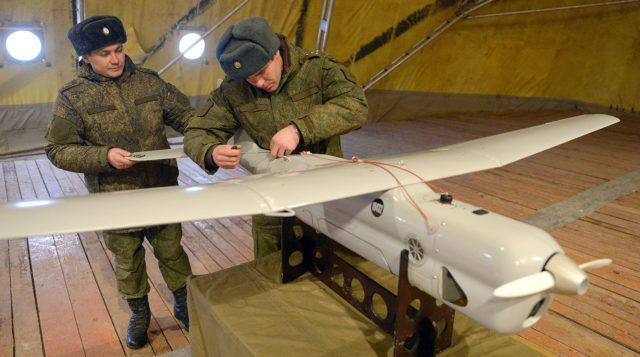 During the Russian war in Afghanistan in the 1980s, and later the conflicts in Chechnya in the North Caucasus in the 1990s and 2000s, the Russian military went into battle without unmanned aerial vehicles (UAVs) and apparently saw no necessity to acquire them. Instead, aerial reconnaissance and attack missions were carried out using manned aircraft, because, by and large, the opposition in both Chechen wars did not have significant or effective anti-aircraft capabilities.
Even so, Chechen rebels using Soviet Igla short-range man-portable air defense systems (MANPADS) shot down a number of Russian aircraft, mostly helicopters. Some of these losses were painful, but Russian fixed-wing jets continued to carry out sorties in the North Caucasus with near impunity.
It was not until after Russia's invasion of Georgia in 2008 that Moscow began an effective UAV program. After a slow start, Russia is struggling to expand its drone capabilities. Once its attack UAVs — currently still in development — become operational, they are likely to be deployed to Syria for combat practice and assessment.
Watched From Afar
In August 2008, Russian forces invaded Georgia. Most of the Russian troops were from Russia's Southern Military District and had experience fighting separatist/Islamist rebels, but going up against the more modern and better-equipped Georgian military was very different. The Russian military was victorious nonetheless, and the war ended after five days with a French-brokered truce, but it was in the conflict with Georgia that Russia's lack of usable UAVs was exposed and recognized as a significant deficiency that required immediate action.
Looking back to 2010, General Vladimir Shamanov, the commander of the elite Russian Airborne Troops (VDV – Vozdushno-desantnye voyska), at present retired from active service and chair of the Duma Defense Committee, told how, when he was deploying paratroopers in Abkhazia to invade Georgia, his force's movements were monitored by an Israeli-made Georgian UAV (Hermes 450) that hovered constantly overhead and which his troops failed to shoot down.
According to Shamanov, heat-seeking Igla anti-aircraft missiles failed to register the UAV as a target because of its low-emission engine. The 30mm guns of BMD-2 airborne combat vehicles, designed to hit aircraft at altitudes up to 2 kilometers (km), failed to reach the craft because it was hovering at 5 km. Shamanov found himself more or less in the same position as some Pashtun tribesman, hopelessly brandishing a gun at the sleek high-tech threat hovering above and watching his every move with impunity (Nezavisimoye Voyennoye Obozreniye, June 4, 2010; EDM, June 10, 2010).
The Georgians were not ready to resist massive Russian simultaneous invasions in both South Ossetia and Abkhazia, but the UAV reconnaissance gave the Georgian leadership prior information about what was coming, while the Russian commanders who lacked UAV's were unsure about the exact location of enemy forces.
When the Shamanov-led paratroop force crossed the ceasefire line on the Inguri River from Abkhazia, it encountered no armed resistance. The Georgian forces faded away, successfully hiding their more modern heavy weapons and waiting for Western diplomatic efforts to stop the invasion.
Developing Drones
The Russian defense industry is still very much reliant on Cold War era Soviet weapon systems, and the development of "new Russian weapons" is in many cases the result of the modernization of old Soviet hardware, or the development and production of Soviet-designed systems that originated in the 1980s.
In 2010, Colonel General Vladimir Popovkin, then the defense ministry chef of armaments and first deputy defense minister, was given sweeping powers and money to procure Western defense technologies and expedite the production of weapon systems that had been unavailable in the USSR.
Popovkin publicly ridiculed attempts by different Russian companies to make UAVs and oversaw the signing of a number of contracts to buy Israeli-made UAVs from the Israel Aerospace Industries (IAI) Corporation.
By 2011, Russia had begun to operationally integrate these into its armed forces. By 2012, the Uralskiy Zavod Grazhdanskoy Aviatsii (UZGA) in Yekaterinburg began producing, using Israeli-provided components, the Forpost UAV, which is a Russian-assembled licensed replica of the IAI recon UAV Searcher II, together with Israeli-designed command/control and communications equipment.
The Forpost has been the backbone of successful Russian military UAV operations in Syria and Ukraine. According to defense ministry sources, the Israeli-designed Forpost is still today the most potent operational Russian UAV with the biggest payload (up to 70 kilograms (kg)) and the longest flight endurance (around 18 hours). By contrast, the Orlan-10 UAV, used by Russian forces in Syria, can carry only a 5 kg payload (vedomosti, June 7, 2016).
Ukraine Becomes a Turning Point
In August 2014, Russian forces effectively used recon UAVs to turn the tide of battle in the eastern Ukrainian region of Donbas. Ukrainian government forces together with volunteer battalions were stretched thin, attacking the Russian-supported separatists in an attempt to surround the two main rebel-held cities — Donetsk and Lugansk. The rebel pro-Russian forces seemed to be in disarray, but just as the collapse of the Donbas rebellion seemed immanent, some nine elite Russian tactical battalion groups (TBGs) crossed the border into Ukraine and radically changed the course of the battle. The Russian authorities have not denied the presence of Russian military personnel in the Donbas, but claim they are volunteers on leave from active service (otpuskniki).
Russian air force jets were not deployed to provide air support for the August 2014 invasion, but UAVs were used to supply intelligence about the deployment and movements of the Ukrainian military, which had no effective UAVs and was unaware of what the Russians were up to.
Meanwhile, the Ukrainian air force stopped flying piloted recon and air attacks over the Donbas after the Russians introduced Buk surface-to-air missiles (SAMs) to the combat zone and shot down a number of Ukrainian aircraft. The Ukrainian forces found themselves pinned down and decimated by heavy howitzer and multiple rocket launcher system (MRLS) fire to the south-east of Donetsk in Illovaysk and the south of Lugansk. The targeting intelligence was being provided by Russian UAVs, primarily by the Forposts.
Ukrainian forces suffered heavy casualties and were routed into a disorganized retreat. The rebel-controlled segment of the Donbas was solidified under the terms of the so-called Minsk-1 ceasefire agreement in September 2014 (korrespondent.net/ukraine, August 14).
Russia does not officially acknowledge the use of its UAVs in the Ukraine conflict, but it is reported that at least two Forpost UAVs were lost in action in the Donbas (vedomosti, June 7, 2016). One Forpost was reportedly hit by Ukrainian antiaircraft fire in May 2015 over Peski in the outskirts of Donetsk, and it crash-landed on territory controlled by Ukrainian forces. The UAV was damaged, but did not disintegrate fully on impact. It was salvaged by the Ukrainians and positively identified as a UZGA-assembled Forpost (sprotyv.info, May 24, 2015).
Drones Deployed in Syria
Unlike in eastern Ukraine, the Russian military has been deployed openly and officially in Syria, although there are differing levels of official recognition for the combat role of its different services. The main emphasis has been on the combat sorties run by the Russian Aerospace Forces (VKS – Vozdushno-Kosmicheskiye Sily) — some 90,000 combat sorties have flown since deployment in September 2015 — and on spectacular attacks by long-range cruise missiles launched from both sea and air against Islamic State (IS) targets and other rebels that Moscow considers to be "terrorists."
The combat activity of Russia's special forces, military advisers and specialists has also been acknowledged. As in the Donbas, Russian UAVs in Syria have been used to provide targeting intelligence for attack aircraft, heavy guns and MRLS (regnum.ru, August 27, 2017).
Footage of attacks provided by UAVs has been regularly displayed by the Russian military for propaganda purposes. However, if images of Russian jets deployed in action have been regularly displayed, images of the UAVs in Syria are not. The Russian authorities apparently believe the display of Israeli-designed Russian UAVs deployed on Arab soil and used to target local rebels is too sensitive.
In Syria and in the Donbas, Russian UAVs have been used exclusively on reconnaissance missions. Russia does not have any attack UAVs and cannot perform stealthily pinpointed UAV attacks, which have become something of a U.S. trademark. According to the VKS chief, Colonel General Viktor Bondaryev, Russia is working on producing attack UAVs, so as "not to fall behind" other nations (Tass, July 18). There have been numerous reports of different Russian companies developing "heavy" attack UAVs, but it seems clear there is as yet nothing usable. This is seen as a serious deficiency, especially in running low-intensity anti-guerrilla and counterterrorism operations.
When Russia was importing Israeli UAV technology some five years ago, it did not manage to buy anything more advanced or larger than the Searcher II. On condition of anonymity, Russian officials say that Washington has forbidden the Israelis from selling them bigger and more modern attack-capable UAVs.
In an apparent sign of desperation, the defense ministry has allocated budgetary funds to modernize the Forpost (Russian-made Searcher II), providing it with attack capabilities. By 2019, the UZGA in Yekaterinburg is expected to begin producing a modernized Forpost-M, "using Russian-made components and with attack capabilities" (rg.ru, May 5). Russian defense industry sources boast that the Forpost-M will be "the best UAV in Russia and possibly in the world" (defence.ru, March 17).
A modernized Searcher II is too light and small to be an effective attack UAV on par with the U.S. MQ-1 Predator, MQ-9 Reaper, Israeli Elbit Hermes 450 or IAI Heron, but at present it seems to be the only reliable and usable UAV Russia can convert to perform attack missions.