Russia Skeptical on Imposing Sanctions Against North Korea
Publication: Eurasia Daily Monitor Volume: 6 Issue: 102
By: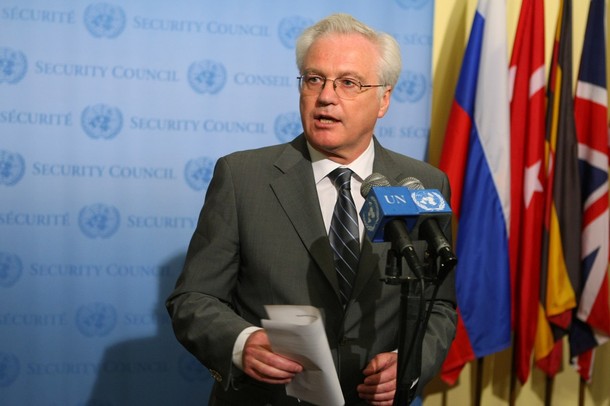 Russia along with the rest of the international community strongly condemned the latest North Korean underground nuclear test this week. The Russian U.N. permanent representative Vitaly Churkin, censured North Korea and declared that it "violated international law and is threatening regional and international peace and security." Churkin promised that the U.N. will work on a "strong resolution with firm action" to influence North Korea, "but it may take several days to complete" (Interfax, May 26).
According to the former chief of staff of the Strategic Rocket Forces (RSVN) General Victor Yesin, the North Korean nuclear test on May 25 signals serious progress in its nuclear arms program. In October 2006, the first North Korean test produced an explosion of around one kiloton in yield. According to Yesin, apparently referring to Russian intelligence sources, the 2006 North Korean device was designed to produce a 4 kiloton yield. The latest explosion had, according to the Russian defense ministry, a 10 to 20 kiloton yield – a significant step forward. Western and South Korean sources put the yield of the latest North Korean test at four or less kilotons (AFP, May 26). Yesin said that North Korea has produced 38.5 kilos of weapons-grade plutonium (over 90 percent plutonium-239).
The recent test used 4 to 5 kilos of weapons-grade plutonium, while Yesin believes that the remaining quantity is being used to make more nuclear devices – possibly up to six. He suggested that the North Koreans might use these primitive nuclear weapons against targets in South Korea or Japan delivered by its aging Chinese-built Il-28 bombers. However, he is dismissive of the idea that they possess the capability to mount their nuclear weapons on missile delivery systems. To produce more plutonium, North Korea must restart its 25-megawatt nuclear reactor in Yongbyon, which they did in late April, though it might take 10-12 months to have it fully operational and several years to extract substantial additional amounts of weapons-grade plutonium. In the meantime, Yesin considers that only China has the capability to seriously change North Korean policies, while the U.N. has little practical influence (Interfax, May 26).
After the nuclear test the North Koreans launched several short-range ballistic missiles, including apparently, two antiaircraft missiles that might have been aimed at U.S. spy planes. South Korea announced that it will join the U.S.-led Proliferation Security Initiative (PSI) aimed at curbing the trade in weapons of mass destruction – a move Pyongyang has said it regards as tantamount to a declaration of war. Under the PSI regulations the U.S. and South Korean warships can intercept and search North Korean shipping suspected to be importing or exporting nuclear materials or ballistic missiles. North Korea profits by exporting missile and nuclear technology to Iran and Syria. In response it has threatened military strikes on U.S. and South Korean naval vessels if any searches are conducted and renounced the 1953 truce that ended the Korean War (AP, May 27).
Moscow has been alarmed by the sudden escalation of tensions on the Korean peninsula. The North Korean ambassador in Moscow was called to the foreign ministry to hear Russian concerns (RIA Novosti, May 27). It was publicly announced that Russian military intelligence (GRU) was ordered to monitor the situation in the region, since it might escalate into an armed conflict with the possible use of nuclear weapons. Russia does not believe this poses a direct threat or that an armed conflict is imminent. Foreign Minister Sergei Lavrov said that a new "strong" U.N. Security Council resolution "must lead to the resumption of six-party talks with North Korea." While insisting that North Korea must be punished, Russian diplomats also warn against its isolation and that Pyongyang has "legitimate security concerns" (Interfax, ITAR-TASS, May 27).
The present North Korean regime is not Moscow's friend and Russia does not have serious commercial interests in the impoverished reclusive communist state. Russia opposes proliferation in principle, but it is not anxious about a nuclear North Korea, or a future nuclear Iran. These "rogue states" weapons are not aimed at Russia, but at those considered in Moscow as "bad guys" – the U.S. and its allies. North Korea is seen as an important buffer security zone separating Russia from the U.S. forces in Japan and South Korea. Nether Russia, nor China are at present ready to agree to punitive U.N. sanctions that might promote the collapse of the regime in Pyongyang and the emergence of a re-unified Korea as an American ally.
Moscow and Beijing consider an indefinite continuation of the status quo as the best possible solution and appear willing to apply pressure and limited sanctions to rogue states such as North Korea -only calculated to make them refrain from any major destabilization. Last year Russia and China voted to impose ineffective U.N. Security Council sanctions on Iran for continuing its nuclear program and refused to go any further. It is equally important for Russia to recognize that North Korea -and even more so Iran- continue to be pariah states, essentially isolated from the international community. This gives Moscow additional political leverage, facilitates its arms sales and in the case of Iran it prevents the rapid development of its massive natural gas deposits that might transform the country into a major gas supplier to Europe, undermining Gazprom's attempts to control that market.
Moscow and Beijing are attempting a delicate balancing act with the emerging nuclear rogue state threat. It is a gamble that underestimates the potential future use of these weapons in a military conflict.