Russia Throwing Soviet-Era Tanks Into Ukraine Grinder, Reserving Armatas for Moscow Parades
Publication: Eurasia Daily Monitor Volume: 19 Issue: 85
By: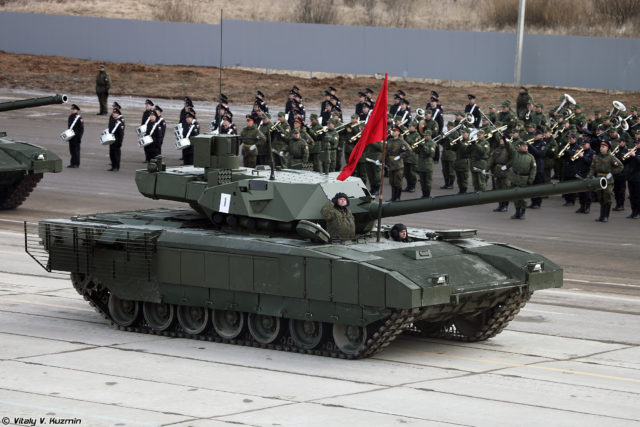 A group of Soviet-built T-62M main battle tanks were recently spotted in an occupied area of Kherson Oblast. The units were equipped with metal grids over the turrets, apparently as some sort of improvised protection (Mil.in.ua, June 5). That account marked a continued trend in the Russian military that was initially exposed late last month. In a May 23 report, the General Staff of the Armed Forces of Ukraine said a heavy loss of armored equipment in Ukraine battles had pushed the Russian command to start pulling T-62 tanks from storage and use them to equip reserve battalion tactical groups that were about to be sent across the border (Facebook.com/GeneralStaff.ua, May 23). The turret grid upgrade appears to be an attempt to protect these vehicles (built during the 1960s and 1970s) from modern anti-tank systems. However, Russian tank crews had earlier slammed such "enhancements" as ridiculous. In particular, once the grids were installed, the turret machine gun could not rotate properly, while the antenna would short-circuit when touching the grid, burning down the radio and thus cutting off the crew's communication with the unit. Also, whenever a tank caught fire, the crew would be effectively blocked inside (Moskovsky Komsomolets, May 24). Those lessons, however, were evidently not taken to heart.
This growing Russian reliance on such aging technology contrasts sharply with its propaganda about the Russian Armed Forces supposedly being armed with hi-end military equipment. On May 18, a news story appeared of a single company of Terminator tank support combat vehicles being deployed in the Sievierodonetsk direction, in Donbas. These vehicles, put into service in 2018, are supposed to operate as part of tank formations (RIA Novosti, May 18, 2022). However, this fielding of up to ten Terminators likely had less to do with trying to significantly affect the operational situation on the battlefield and more with testing the technology in combat and creating a favorable picture for the media. Moreover, the Terminators already underwent similar testing in Syria, back in 2017, where they provided support to the Syrian military's armored units in urban warfare against the Islamic State (Rossiyskaya Gazeta, September 10, 2017). No records exist that this vehicle was deployed in greater numbers into regular Russian armored units; five years on, they continue to be tested—this time, in Ukraine.
A similar situation is developing with the latest Russian tanks—the modernized T-90M Proryv and T-14 Armata. A train carrying T-90M tanks was spotted in late February near the borders with Ukraine, but seemingly none of these units were actually used in battles until May. On May 10, footage emerged purportedly showing a T-90M tank being annihilated by Ukraine's Territorial Defense Forces using a Carl Gustaf grenade launcher outside Stary Saltiv, in Kharkiv region (Focus, May 10, 2022). However, there is no evidence that Russia deployed any of its T-14s in Ukraine. The Armata was widely mocked for stalling during a rehearsal for the Victory Day parade in Moscow in 2015, when it was about to be showcased for the first time (BBC News—Russian service, May 7, 2015). Since then, Russia's newest tank model has continued to be a traditional part of these May 9 parades but apparently still has never seen combat, raising doubts about its actual battlefield capabilities. Moreover, when a high-end asset, like the Proryv tank, is sent to the front line and is actually hit, this sends a negative signal to Russia's potential foreign arms customers. After all, the Russians have always tried to portray their weaponry as something truly unique and beyond competition.
Therefore, Moscow is mostly using its older armored vehicles in Ukraine that it continues to field in large numbers. According to the International Institute for Strategic Studies (IISS), the Russian Armed Forces have about 2,800 T-72, T-80 and T-90 main battle tanks in active service, 13,000 other armored vehicles, as well as about 10,000 units of various types in storage (including T-64s, T- 62s and T-55s) (Csis.org, April 12, 2020). What must be taken into account is the peculiarities of equipment storage in Russia and the corruption component. After all, thousands of tanks and armored vehicles had been mothballed, while none of the military officials had expected any major war to come for years. This resulted in cases of both spare part theft and non-compliance with basic storage regulations. According to Ukraine's defense intelligence service (GRU), Russia frequently fails to properly restore its armored vehicles taken from long-term storage facilities because their optics and electronics turn out to have been stolen. For instance, in Russia's 4th Tank Guard Division, out of ten "reactivated" tanks, only one vehicle appeared to be combat ready (Pravda, March 26).
That said, the practice of bringing older equipment out of long-term storage for the purposes of sending it into battle is not a new trend or unique to the Ukraine conflict. During the Vostok 2018 military exercises, T-62M tanks were reactivated before being returned to their depots shortly after the drills. At that time, Russian media outlets responded to criticism about the use of these aging T-62s by claiming that the practice was all about checking the Soviet-era tanks' combat-readiness. Thus, the use of obsolete weapons in the event of major hostilities was clearly looked into and prepared for (Rossiyskaya Gazeta, September 27, 2018).
Today, Russia is throwing into the war those models of main battle tanks and other armored vehicles that it has produced the most of, filling their weakest spots at the front with obsolete models taken from long-term storage. What does this imply? First, the Western sanctions are evidently already significantly affecting Russia's defense industry, including the ability to produce new types of equipment and repair or modernize existing models. Back in March, the Ukrainian General Staff said that due to the imposed sanctions and the lack of access to foreign-made components, the Uralvagonzavod Corporation and the Chelyabinsk Tractor Plant suspended their operations (Facebook.com/GeneralStaff.ua, March 21, 2022). Second, the available statistics on Russia's "huge" armored reserves raise the question of their actual condition and the share of vehicles that can be safely put back into service. But for now, Russian retains large numbers of hardware in stock that can be deployed on the front lines, forcing Ukraine to expend considerable effort—and munitions—to hit each such unit. Moreover, the obsolete T-62s spotted in Kherson region likely will not take part in intensive firefights. Rather, Russia may be concentrating them to cement its defensive positions in the occupied areas.