Russian Aggression Against Ukraine Activates Pro-Russian Groups in Georgia
Publication: Eurasia Daily Monitor Volume: 19 Issue: 26
By: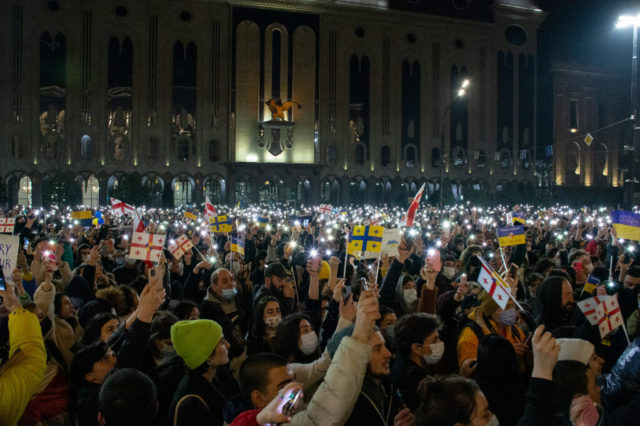 On February 21, a few days before Russia launched its large-scale re-invasion of Ukraine, 53 political and non-governmental organizations registered in Georgia published an "open letter" to Russian President Vladimir Putin requesting that he help them achieve a "neutral status" for their country (Radiotavisupleba.ge, February 21). The vast majority of the organizations and persons who signed the letter to Putin were still unknown to the Georgian public and expert community. The only major exception on this list was Irma Inashvili's Alliance of Patriots (AP) party (Netgazeti, February 21)
AP leaders had infamously met several times in Moscow with leaders of the Russian State Duma (lower chamber of parliament) and Putin's United Russia party over the past decade and a half. They have blamed former president Mikheil Saakashvili for the 2008 Russian invasion of Georgia, and they have advocated for their country to abandon the idea of joining the North Atlantic Treaty Organization (NATO) (see EDM, August 21 2021). A pro-Euro-Atlantic course is currently fixed in the Georgian constitution.
In addressing the Kremlin head, the February 21 open letter reads, "We would like to inform you that we are committed supporters of building a new system of international security based on justice and mutual respect for the interests of all countries. The fundamental approach for countries such as Georgia and Ukraine, in our opinion, should be military neutrality." The authors of the missive add that, supposedly, 69.4 percent of Georgians support military neutrality, while 75.8 percent are in favor of dialogue with Russia. They ask the president of the Russian Federation to organize their meeting with the leadership of the State Duma and the Federation Council (upper chamber of parliament) in order to contribute to the formation of an "effective system of regional security" (Radiotavisupleba.ge, February 21).
The Kremlin-friendly signatories further argue, "Realizing that the confrontation with Russia is detrimental to Georgia, we—53 political and public organizations—united in the United Patriotic Front, publicly signed a declaration on the complete military neutrality of Georgia. We urge the authorities to make appropriate changes to the Constitution of Georgia" (Radiotavisupleba.ge, February 21).
As one of Georgia's most respected constitutionalists, Vakhtang Khmaladze, told this author on December 17, 2021, the 2008 amendment (initiated by then-president Saakashvili) guaranteeing a pro-Western orientation for the country, including integration with NATO, cannot be removed without a constitutional majority in the Georgian parliament. This would require 3/4 of the votes of 150 deputies, which, in the current political environment, is absolutely impossible: all of Georgia's parliamentary parties, including the ruling Georgian Dream (GD) party of billionaire Bidzina Ivanishvili, openly declare their loyalty to the course toward membership in NATO and the European Union.
The only openly pro-Russian party elected to the Georgian parliament in 2020 was the Alliance of Patriots. But that fraction gave up its mandates in protest against the "falsification" of the voting results by the GD authorities. So, Kremlin-aligned forces have no legal mechanisms to change the course of the country. But Moscow, when pursuing an aggressive and expansionist policy, often relies on the most marginal groups abroad—as happened both during the last century and Georgia's modern history (see EDM, May 30, 2006, April 11, 2014, February 19, 2016).
Gela Vasadze, from the Georgian Strategic Analysis Center (GSAC), underlined that the organizations that signed the declaration calling for Georgian neutrality are "fake parties." "They are financed by Moscow, but they often embezzled this money and now want new funding," Vasadze asserted. Meanwhile, "AP's maximum support in Georgian society is 2–3 percent. But if Putin decides to launch a war of aggression against Georgia, as he did in Donetsk and Luhansk in 2014, he can rely on [the backing of Georgia's] most marginalized groups," Vasadze stipulated. The expert warned that if Putin achieves his goals in Ukraine, "all the leaders of countries neighboring Russia will be replaced by Moscow's puppets, and these countries will lose their independence" (Author's interview, February 24).
David Avalishvili, a columnist with the independent news and analytical agency Nation.ge, noted that the idea of Georgia's (as well as Ukraine's) neutrality is absurd because this would be implicitly unacceptable to Russia. "Moscow wants Georgia and Ukraine to become its satellites and parts of the new empire, not [truly] neutral states," Avalishvili argued (Author's interview February 24)
The ruling GD and its leadership also do not support the idea of neutrality, but they are holding fast to their de facto policy of "not irritating Russia." One of the top party officials, Member of Parliament (MP) Givi Mikanadze, said that the proposal of Mikheil Saakashvili's United National Movement (UNM) party and other opposition MPs to hold a special meeting of parliament to support Ukraine exemplified "populism and provocation." "We will not participate in this show," Mikanadze stated (Civil.ge, February 25; see EDM, January 27, February 1).
It is important to note that Georgian President Salome Zurabishvili (elected with the backing of the ruling party) espoused holding such an emergency session of parliament to discuss the situation around Ukraine. Zurabishvili reiterated Tbilisi's solidarity with Kyiv and "understanding of what is happening today to the Ukrainian people. […] Because we probably, more than most, understand what it means." She stated, "[E]verybody recals Georgia's experience; the scenario, although a bit different, is a scenario that Russia has been using and repeating" (Interpressnews, February 22).
The Georgian head of state's strong rhetoric notwithstanding, real power in the country belongs to Prime Minister Irakli Garibashvili. "We stand by the Ukrainian people, but we act in the interests of Georgia. Our steps are fully agreed with the Western partners," Garibashvili carefully clarified (Radiotavisupleba.ge, February 24).
The government's extreme caution does not reflect the views of a large portion of Georgian society, however. As Russian tanks and bombers continue to pound Ukraine, tens of thousands of Georgians are holding rallies and demonstrations in Tbilisi and other cities in support of the Ukrainian defense against Russian aggression.