Russian Communists Try to Control Popular Discontent
Publication: Eurasia Daily Monitor Volume: 18 Issue: 122
By: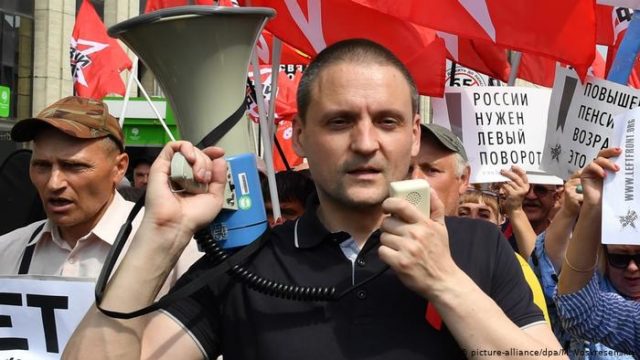 In the run-up to September's legislative elections to the State Duma (lower chamber of the Russian parliament), the Communist Party of the Russian Federation (CPRF) has been notably active. Traditionally, the communists are seen by Russians as a "surrogate" opposition—that is, one completely loyal to the current government. The behavior of fractions of the CPRF in the Duma has often confirmed this hypothesis: the party's deputies, as well as its leader, Gennadiy Zyuganov, have supported the majority of legislation proposed by the ruling United Russia party, including laws that are openly repressive (Deutsche Welle—Russian service, May 26).
This time, however, the Communist Party has decided to accumulate quite radical oppositionists, who advocate sharp changes and declare their hostility to the current regime. At the end of June, the leaders of the "Left Front" movement and "Movement for a New Socialism" announced that they had joined the CPRF and included their candidates in its party lists (Kommersant, June 24). Both movements are known for their aggressive anti-Western approach to foreign policy; but they also sharply criticize the Kremlin's internal policies.
In particular, one of the leaders of the "Left Front" movement, Sergei Udaltsov, actively participated in the liberal opposition rallies in 2011–2012 and even spent 4.5 years in prison after being convicted in the so-called "Bolotnaya case." Simultaneously, he enthusiastically accepted the annexation of Crimea and called for Donbas to secede from Ukraine, not hiding that his ultimate goal was some kind of restoration of the Soviet Union (Ekho Moskvy, March 23, 2014).
The leader of the "Movement for a New Socialism," Nikolai Platoshkin, during an appearance on a Russian TV show a few years ago, also harshly criticized liberalism and the West and called Ukraine "Banderite" and "worthless" (YouTube, April 22, 2019). Platoshkin had previously served as a diplomat at the Russian consulate in Houston, Texas, but was expelled from the United States in 2006 (MBK Media, June 21, 2021). And though he has more recently avoided criticizing the US too harshly, the leftist Russian politician has repeatedly referred to the "inexpediency" of Western sanctions against his country (Riafan.ru, April 8).
However, as concerns domestic policies, Udaltsov, Platoshkin, and their adherents propose a series of serious social transformations, advocating for democratization, a revision of the results of privatization, and the prosecution of corrupt oligarchs. In May, Platoshkin was sentenced to five years' probation "for incitement to mass disorder," after spending a year under house arrest (MBK Media, May 19). Having been convicted of a crime, the "Movement for a New Socialism" head was deprived of the right to run for the Duma, although his wife, Maria Glazkova, was included on the CPRF list (Kommersant, June 25).
Still another attempt of the CPRF to take advantage of popular unrest has been to play on widespread anti-vaccine sentiments in Russia. According to the results of a joint survey prepared in July by the Levada Center and Open Media, 58 percent of citizens do not support the idea of compulsory vaccination against the COVID-19 coronavirus, and 54 percent do not wish to take the shot at all. Only 19 percent of respondents said they already received the vaccine (Openmedia.io, July 5).
Such sentiments are partially driven by Russian propaganda itself (see EDM, April 28, 2020). As the first wave of the pandemic raged in Europe during spring 2020, Russian television claimed that the disease had been "set loose by global elites in order to blame it for the collapse of Western civilization" (Topwar.ru, March 31, 2020). Extreme-right audiences in Russia, in turn, were targeted by even more radical theories that the "World Government" had provoked a pandemic in order to cull the "extra" population of the planet under the pretext of vaccination, to ensure control over people and to introduce changes into their gene pool (Regnum, March 31, 2020). As shown by independent media research, such views automatically became linked in those predisposed Russians' minds to all vaccines under development—even the ones researched domestically by Russian state-supported biomedical institutes (MBK Media, April 10, 2020).
A second reason has to do with Russians' deep distrust of their government and domestic medicine, which long predates the pandemic. Thus, 18 percent of those opposed to compulsory vaccination feel this way because they specifically have misgivings about Sputnik V, the Russian vaccine. Of those who said they were not yet ready to be vaccinated, one-third expressed a fear of side effects, and one-fifth said they would agree to the shot only after all vaccine trials are concluded (Levada.ru, May 18). It is significant that some religious leaders, while emphasizing that they are not anti-vaccine, have nevertheless compared the Russian inoculation campaign against COVID-19 with the Nazi invasion and concentration camps (RuTube, July 5).
The well-founded Russian distrust of their authorities (see EDM, March 8, 29) in this case has resulted in a refusal of most of the population to protect itself from a deadly disease (Moscow Echo, January 4). But the Kremlin itself, to a large extent, provoked such a dangerous situation. And interestingly, although during Soviet times the Communist Party actively promoted mass obligatory vaccinations, the modern CPRF rushed to coopt the anti-vaccine sentiments spreading through society. Gennady Zyuganov declared that it is inadmissible to discriminate against unvaccinated Russians (TASS, June 24), and his party undertook street actions against compulsory inoculations (Kommersant, June 26).
At the end of July, the CPRF refused to agree with United Russia's proposal to provide sanitary security measures for the election campaign, incongruously justifying this stance by claiming that the Communist Party is "the only one which opposes the team" of systemic parties (Vzglyad, July 20). Yet another communist leader connected to the Kremlin, Sergei Kurginyan, has also been conducting an active anti-vaccination campaign, alternately referring to the coronavirus itself as well as the vaccine against it as "biological weapons" (Moskovsky Komsomolets, July 1).
Leaving aside the question of the ethics of embracing disinformation and politicizing the health and safety of people in an election campaign, the communists have certainly managed to attune themselves to the attitudes prevalent not only in the Russian hinterland but also with many intellectuals. Indeed, protest sentiments in Russia are increasingly taking on a "red" tint (see EDM, January 15, 2020). But it is not entirely clear whether the "non-systemic communists" should, in fact be considered, real oppositionists or whether they are being used by the authorities to "channel" protest sentiments and then control them. It nevertheless seems almost certain that even if these people one day come into positions of power, Russian foreign policy will not change significantly.