RUSSIAN CONSUMER PRICES STILL RISING DESPITE PLUNGING SHARE PRICES
Publication: Eurasia Daily Monitor Volume: 5 Issue: 197
By: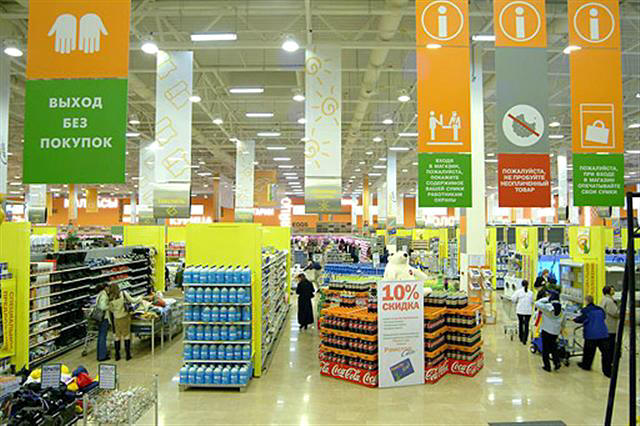 Russia's stock markets have recently been hammered along with those elsewhere in the world, and perhaps even more so, with Russian markets having lost two-thirds of their value (or about $1 trillion) since June. It is, however, rising prices, not falling share prices or teetering banks, that remain the first concern of the average Russian. In a poll taken earlier this month, 57 percent of the respondents named inflation as their main concern (see EDM, October 14).
Indeed, while the world, including Russia, is in the grip of a credit crisis with a recession possibly looming on the horizon, this has had little effect thus far on rising consumer prices in Russia. Russia's Economic Development Ministry predicts that the inflation rate for the first 10 months of 2008 may hit 11.7 percent, just a 10th of a percentage point off the ministry's projected figure of 11.8 percent. According to Vremya novostei, independent experts are predicting that inflation may even exceed the official prognosis owing to the government's steps to add liquidity to Russia's economy by injecting government funds into the country's financial markets. Finance Minister Alexei Kudrin has already predicted that these measures could add a percentage point or two to the overall inflation rate for 2008.
The Economic Development Ministry predicts that inflation in October will be in the range of 0.8 percent to 1 percent, compared with 1.6 in October 2007, and that inflation for the first 10 months of this year will be in the range of 11.5 percent to 11.7 percent, compared with 9.3 percent during the first 10 months of 2007. The ministry predicts that prices for food products will grow by 1.3 percent to 1.5 percent in October and 13.6 percent to 13.8 percent since the start of the year. Prices for non-food products are predicted to rise by 0.6 percent to 0.8 percent in October (7.1 percent to 7.4 percent since the start of the year), while "paid services" (such things as public transportation and housing) are predicted to rise 0.4 percent to 0.6 percent in October (14.6 percent to 14.8 percent since the start of the year) (Vremya novostei, October 15).
Still, Kudrin said that the world financial crisis would start to curb rising prices in Russia and that inflation in 2009 would be less than the 11.8 percent predicted for this year. He added, however, that the crisis might also mean that Russia's GDP might grow 7 percent to 7.5 percent this year—the pre-crisis forecast was 7.8 percent to 8 percent in 2008—and only 5.7 percent in 2009, considerably lower than the government's earlier prediction of a 6.7 percent growth in GDP next year. Kudrin said the slower growth rates were the result of weaker investment inflows, noting that some trading partners, in particular China, had decreased their orders in Russia (Interfax, October 15).
According to some experts, all of these trends could mean lower real income for Russians. Maria Kataranova of the government's Economic Expert Group noted that continued high inflation this year would decrease real income, while the effects of the financial crisis would spill over into the real economy and reduce the rate of salary increases. Vladimir Tikhomirov, a senior economist with the Uralisib financial corporation, predicted that despite a drop in prices for raw materials and metals, Russia would not experience deflation and that the maximum effect would be a slowing down in the rate of price increases. How the crisis would affect real incomes would depend on how the world financial crisis played out, he said. "In the case of a sharp drop in prices for oil, falling state budget revenues will not permit pensions [or] state sector salaries to be increased at the same rates," Tikhomirov told Vremya novostei. "And while the growth in income will be preserved, it will lag behind the growth in prices, and this means that there will be a real worsening of the well-being of the population" (Vremya novostei, October 15).
Novye izvestia reported that while the Moscow city government announced on October 14 that city workers would enjoy three raises in salary next year, with salaries increasing by a total of 25 percent, half of that increase would be eaten up by inflation (Novye izvestia, October 15).
Meanwhile, polling by the Public Opinion Foundation in September found that only 5 percent of the respondents said that prices had not risen in their city or village, while 54 percent said that prices had gone up significantly and 24 percent said prices had increased moderately. Polling during the first week of October found 57 percent of the respondents complaining that prices had risen sharply and 25 percent saying that prices had increased moderately.
Www.newsru.com quoted experts as saying that rising prices were increasingly stratifying society. "Protest attitudes are creating social polarization and social contrasts," said Aleksandr Golov of the Levada Center:
Sharp changes in living standards give rise to expectations of mass protest actions both among those whose standard of living has fallen and those whose standard of living has significantly increased. The readiness to participate in protest actions grows only among those whose standard of living has dropped significantly (www.newsru.com, October 15).
In a Levada Center poll, 18 percent of the respondents said mass protests against falling living standards could possibly take place in their cities or districts (www.newsru.com, October 15).