Russian Forces Begin Zapad-2013, While Perceiving Threats in the Arctic, Central Asia and the East
Publication: Eurasia Daily Monitor Volume: 10 Issue: 171
By: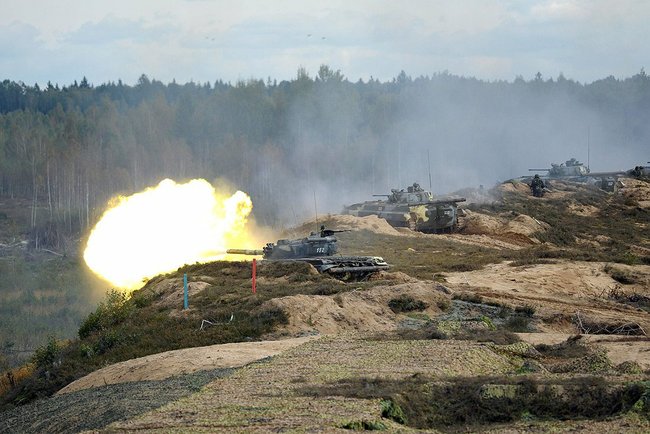 This week (September 23), the Collective Security Treaty Organization (CSTO), held a summit in President Vladimir Putin's Black Sea residence in Sochi. The Russian-led military alliance is made up of several post-Soviet republics—Armenia, Belarus, Kazakhstan, Kyrgyzstan, Russia and Tajikistan. Russia's allies supported Moscow's stand on Syria in the final communiqué: Any outside use of force, or the threat of use of force, in the Syrian conflict without an explicit United Nations Security Council mandate is "illegal and unacceptable." The CSTO backs Moscow's diplomatic efforts to peacefully solve the Syrian conflict as well as supports the Geneva accord between Russia and the United States on Syrian chemical weapons disarmament (https://news.kremlin.ru/ref_notes/1533). Moreover, the CSTO member states agreed to help Tajikistan reinforce its border with Afghanistan that may be threatened when US and North Atlantic Treaty Organization (NATO) forces complete their withdrawal in 2014. Speaking at the summit, Putin announced, "We must not be caught unawares and be ready to meet any development [in Afghanistan]." According to Putin, "bandit formations and terrorists active today in Syria, may threaten any of our nations." Putin promised Tajikistan (the only CSTO member nation that directly borders Afghanistan) military aid to strengthen its border against jihadist groups and narco-traffic from Afghanistan (https://www.kremlin.ru/transcripts/19268).
The threat of a possible serious destabilization of post-Soviet Central Asia after the withdrawal of the bulk of the US-led coalition forces from Afghanistan in 2014 has been much discussed in Moscow. The Sochi CSTO summit communiqué formally recognized this perceived threat (https://news.kremlin.ru/ref_notes/1532). But the strengthening of the Afghan-Tajikistani border may not be enough to achieve long-term stabilization in Central Asia. Afghanistan also borders Uzbekistan and Turkmenistan, which are not CSTO members and do not fully coordinate their security policies with Russia. Internal social and ethnic conflicts within the Central Asian states may pose a greater threat to stability in the region than the perceived cross-border infiltration of jihadist operatives from Afghanistan. The urgent need for social and political reforms of the inherently unstable, corrupt and authoritarian CSTO regimes (including Russia itself) was not discussed at the CSTO summit, and is rarely, if at all, discussed in any CSTO-member capital.
Putin's Russia sees threats coming from all directions. This week, Putin and his Belarusian counterpart, Alyaksandr Lukashenka, were present at the Zapad ("West") 2013 joint allied military exercises in Western Belarus near Grodno and in the Russian Kaliningrad enclave. The presidents observed Russian and Belarusian solders repelling a perceived "invasion of a column of terrorists." The 9th Separate Russian Motor-Rifle Brigade together with Belarusian servicemen defeated the "terrorists" using tanks, indiscriminate heavy artillery barrages and aerial bombing, followed up by an infantry assault (https://ria.ru/defense_safety/20130926/966018732.html#ixzz2fzxfxpiz). The heavy-handed approach in fighting "terrorists," demonstrated by the Russo-Belarusian allied forces during the Zapad 2013 exercises, is reminiscent of tactics used by Bashar al-Assad's forces in the Syrian civil war that has killed more than 100,000 and displaced some 7 million. It is difficult to imagine any "terrorist columns" invading Belarus to overthrow Lukashenka or any other invasion of Kaliningrad oblast or Belarus from a NATO-member territory. But Putin and Lukashenka seem to be preparing in earnest to meet the perceived threat.
Last May, the Russian Air Force and the Air-Space Forces (Vozdushno-Kosmicheskye Voyska) were exercising to defend the European part of Russia against a sudden massive enemy (presumably US) "air-space assault" centered on Moscow, by deploying hundreds of jet fighters, S-300 and S-400 anti-aircraft missiles (kremlin.ru, May 31). And last July, a massive exercise was enacted in the Russian Far East, involving some 160,000 servicemen, thousands of pieces of armor, hundreds of aircraft and navy ships. Two brigades were moved to Sakhalin Island together with other reinforcements to repel a sea landing invasion (presumably by the US and Japan). Massive reinforcements were simultaneously moved into the Zabaykalsky krai to repel a land invasion (presumably by China) (https://ria.ru/vl/20130731/953202555.html).
Now, in addition to building up perimeter defenses in the East, the South and the West, Russian naval forces, air forces and Federal Security Service (FSB) Border Guards are holding military exercises to defend the Arctic, landing marines on the uninhabited icy shores of the New Siberian Islands and the Franz Josef Land archipelago (see EDM, September 23).
As military exercises in the Arctic continued, a threat in the region suddenly materialized in the form of the Greenpeace Arctic Sunrise research icebreaker. Greenpeace activists protested oil drilling by Gazprom, which may harm the ecosystem in the southeastern part of the Barents Sea, known as the Pechora Sea. The Arctic Sunrise circled the Gazprom Prirazlomnaya oil rig, while two activists managed to board the rig from an inflated speedboat but were later detained. The Russian FSB maritime Border Guard opened fire on the Arctic Sunrise and boarded the ship in international waters with commandos roping down onto the deck from a helicopter. All on board (30 in all from 16 different nationalities) were detained, and the Arctic Sunrise was towed by a Border Guard vessel to Murmansk. Everyone on board the Arctic Sunrise was accused by the Russian authorities of piracy—"attempting to attack and take possession of the Prirazlomnaya oil rig," according to the Investigative Committee spokesman Vladimir Markov (https://www.interfax.ru/print.asp?sec=1448&id=331057).
On September 26, the Greenpeace activists are being taken to court in Murmansk one by one to receive two-month pretrial detention sentences in the notorious Russian prison system. Putin, speaking at an international Arctic conference in Salekhard, in the Yamalo-Nenets Autonomous Okrug, stated the "Greenpeace activists were not pirates, but they did attempted to take possession of the oil rig and had broken international law" (https://www.interfax.ru/print.asp?sec=1448&id=331057).
The Greenpeace activists, especially those with Russian passports will be lucky to avoid long prison sentences for attacking Gazprom. Recent exercises carried out by Russia to prepare to meet the presumed "terrorist threat," seem to reveal an unsophisticated Russian military that will act in the future as it did during the Chechen campaigns of 1995 and 2000, or like al-Assad's forces do today in Syria: "Liberating" towns and villages from "terrorists" with heavy guns, tanks and indiscriminate bombing, reducing them to rubble. Obsessed about being surrounded by enemies imaginary or real from all around, Putin's Russia seems ready to lash out heavy-handedly in assumed self-defense, using excessive force without too much consideration.