RUSSIAN FORCES SETTING UP OCCUPATION ZONES IN GEORGIA
Publication: Eurasia Daily Monitor Volume: 5 Issue: 162
By: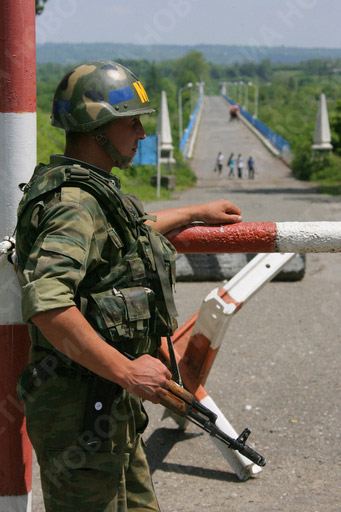 Russian forces remaining in Georgia have switched from the role of invasion troops to that of occupation troops, seizing chunks of territory in Georgia's interior as well as key logistical nodes and arteries. The quick and smooth switch from the invasion to the occupation mode, as well as its ready-to-use diplomatic cover, bespeaks advance planning at the military and political level in Moscow. The land grabs extend southward from South Ossetia and Abkhazia, deep inside Georgia, as military buffer zones.
The occupation zone adjacent to Abkhazia was never discussed as part of the French-brokered "armistice," which pertains to the South Ossetia conflict. This fact demonstrates that Russia is acting in a purely unilateral fashion in Georgia, completely disregarding the French mediation, although using President Nicolas Sarkozy's involvement as a fig leaf on Moscow's unilateral actions.
The new occupation zones and demarcation lines were shown on detailed maps by Col.-General Anatoly Nogovitsyn, Deputy Chief of Staff of Russia's Armed Forces, briefing the Russian and international media in Moscow on August 22 and 23. The Russians refer to the new occupation zones as "vnutrigruzinskie," meaning "in Georgia's interior." Sarkozy may now realize that Russian President Dmitry Medvedev deceived him by promising, most recently on August 19, that Russian troops would withdraw from all vnutrigruzinskie territories (Interfax, August 19).
The Russians are rapidly building up a system of military posts for the long term in Georgia's interior. These posts number 37 in all, including 18 in the buffer zone near Ossetia and 19 in the buffer zone near Abkhazia. Labeled as "blokposty," they involve more than checkpoints. Russian troops are already constructing fortifications at some of these points. According to Nogovitsyn, "because blokposty on the main roads and in populated localities are going to be permanent, they are being endowed with the necessary living quarters and technical facilities." This plan reflects Russian intentions to occupy these territories on a long-term basis.
Further according to Nogovitsyn, Russia reserves "the right to increase the peacekeeping contingent if necessary" as well the extent of buffer zones: "We do not intend to consult with the Georgian leadership about the size of buffer zones." Moreover, some of the troops that were concentrated in South Ossetia and Abkhazia from August 8 onward may stay there "as long as necessary" and "depending on additional security measures" that Russia may take (Interfax, RIA Novosti, August 22, 23).
Indeed, Russia can do all this without technically violating the Sarkozy-Medvedev "armistice." Medvedev again deceived Sarkozy with the promise that Russia would only keep some 500 extra troops in a buffer zone near South Ossetia. Based on such promises, France helped Moscow foist the buffer-zone scheme on Georgia. On August 22 in the evening, Russian Defense Minister Anatoly Serdyukov reported to Medvedev in front of the cameras that Russian forces had completed their "pull-back" (otvod) and thus, the Russian side has fulfilled the agreements (Interfax, August 23). On this point as well, the Russians misled the French presidency by playing on the Russian words for pullout and pull-back (vyvod and outvod) (see EDM, August 22).
The buffer zone adjacent to South Ossetia is demarcated by a jagged line, expanding Russian military control by up to 20 kilometers inside Georgia, reaching close to the country's geographical center. Russian troops and their North Caucasus and Cossack auxiliaries have driven out the Georgian population from South Ossetia (which was one-third Georgian-populated until August 10) and also from the newly created buffer zone (which was compactly Georgian-populated prior to this conflict). This new zone enlarges a Russian-controlled salient deep within the Georgian heartland, within easy striking distance of Tbilisi.
In the west, the buffer zone expands Russian military control by some 40 kilometers to the south and southeast of Abkhazia. The demarcation line is so drawn as to include the Senaki airfield, the Kulevi oil export terminal (Azerbaijani state-owned), and both entrances to Poti (Georgia's main sea harbor), within the Russian-occupied zone. This zone encompasses possibly one half of the population of Samegrelo province (Mingrelia).
Russian forces in this area claim to act on the collective behalf of the CIS, extending the allegedly "CIS peacekeeping" operation from Abkhazia into the newly-created buffer zone. The other nine CIS member countries dare not disavow this gratuitous Russian claim, which purports to associate them with an invasion and occupation of another country's territory. Russian troops fly both the Russian and the CIS flag at their posts. They have set up two such posts near Poti harbor: one controlling its northern entrance and the other located south of Poti, on Free Economic Zone land recently leased by the Georgian government to the investment authority from the United Arab Emirates, without having asked anyone's permission.
The Russians have paralyzed Poti harbor by bombing its installations from the air, sinking with explosives at least three Georgian coastal guard and police cutters in the anchorage area, cutting the port's highway link to the country's interior, and blowing up a critical railroad bridge. They took these actions both before and during the French-brokered "armistice." On August 23, Poti residents took part in organized mass demonstrations demanding, "Russian Occupiers Go Home."
In Tbilisi, Georgian President Mikheil Saakashvili has repeatedly told local and international media, "There will be no 'buffer zones'. We will never live with 'buffer zones.' We'll never allow anything like this" (August 21-23).