Private: Russian Gold Miner a 'Pole' of Risk
By: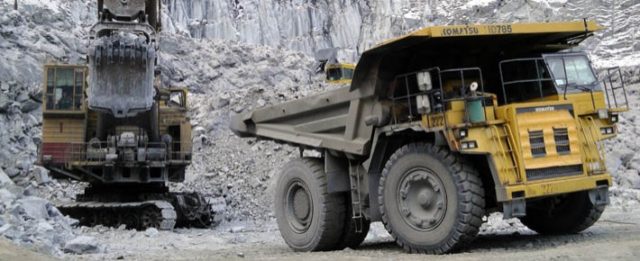 One of the most intriguing bits of news concerning the Russian business sphere came at the end of June, from London, where Russia's leading gold-mining company, Polyus ("Pole" in Russian), completed its secondary public offering (SPO), selling 9 percent of its shares to investors for a bit more than $800 million (RBC, June 29). It is now apparently prepared to sell another 15 percent stake to a group of Chinese com­panies headed by Fosun Corp. This was the first public offering of such size by a Russian company since the occupation of Crimea in 2014, so it attracted huge attention in Russia immediately after all the preliminary conditions for it were announced early last month (Kommersant, RBC, June 5). The case not only highlights the opaque business practices in Russia but also reveals that the Russian state in fact controls much more of the economy than is usually estimated.
Polyus has done well in recent years—gold production is up 61 percent compared to 2008, and its dividends for 2016 amounted to $354 million. But the company's capitalization has remained unchanged for at least five years. In 2013, when Mikhail Prokhorov sold 37.78 percent of the firm for $3.62 billion (Vedomosti, February 22, 2013), Polyus was valued at $9.6 billion; after the recent London deal, it has stayed at around $9.0 billion. Though the inclination may be to ascribe Polyus's lack of growth to the impact of Western sanctions or the poor Russian investment climate, a closer examination suggest another explanation.
The recent SPO deal was formally organized not only on the London Stock Exchange (LSE) but also on the Mos­cow Exchange (MOEX), since Polyus declared as its primary goal was to raise its stock to become one of the top performers on the MOEX quotation list (1prime.ru, June 22). However, Russians (and Western traders dealing through the Russia-registered companies included) bought less than 10 percent of the offered stock (Vedomosti, June 20). Some valid reasons stand behind this outcome, which may also disenchant Western investors qui­te soon.
Like many Russian commercial entities these days, Polyus is highly indebted. After capital flows from abroad dried up in 2014 due to Western sanctions, Polyus, similar to many other Russian corporations, substituted its foreign loans with those provided by Russian banks. Moreover, although it operates in Russia and possesses only Russian fixed assets, Polyus is more than 90 percent owned by a foreign holding company—another business practice common in Russia. Its parent company, the Jersey-registered Polyus Gold International Ltd. (PGIL), is itself owned by Cyprus-based Wandle Holdings Ltd., which belongs to 21-year-old Sayyd Kerimov, the son of Suleyman Kerimov. The elder Kerimov, who is the actual beneficiary of Polyus, also happens to currently sit on Russia's Federation Council (the upper chamber of parliament) and is the body's richest member. In recent years, Polyus received several large loans from Russia's biggest state-controlled bank, OAO Sberbank: for 36 billion rubles ($1 billion at the then-effective exchange rate) in April 2014, and for $2.5 billion in January 2016. The following month, in February 2016, Sberbank provided Wandle Holdings Ltd. with a stunning $6.18 billion loan, thus in­creasing the combined disbursements to Polyus to more than $9 billion—a figure that approaches the company's entire capitalization (see below).
Of course, Russia's leading bank was unable to provide a loan of such mag­nitude without solid collateral, and all the shares of PGIL were offered as such in early 2016 (1prime.ru, June 28; Wandle Holding Ltd. Security Interest document, May 25, available on the Cyprus legal entities database at Efiling.drcor.mcit.gov.cy, accessed July 2). Moreover, Sberbank secured a so-called floating charge for 51 percent of PGIL shares and increased the claim to 100 percent in Ju­ne 2017. In between, it obtained full property rights for the first 51 percent (Wandle Holding Ltd. Security Interest document, March 16), including the right to collect the corresponding dividends from Po­ly­us. In other words, Po­ly­us's parent company is today de facto owned by Sber­bank, so recent investors who bought shares in the gold-mining company believing they were becoming partners of a well-known Russian billionaire politician, are actually minority holders of a nationalized venture be­longing, via Sberbank, to the Russian state.
The Po­ly­us story is instructive since it underlines two crucial features of the current Russian business environment. First, Russian firms time and time again neglect minority shareholders' interests. Polyus's ultimate stake holder, Suleyman Kerimov, is a case in point. The acquisition of Soyuznefteexport by Kerimov's Nafta-Moskva back in 2003 was unsuccessfully challenged in courts for years (Kommersant, August 5, 2003); the sale of Silvinit to Kerimov's UralKalii was similarly controversial (Mfd.ru, May 27, 2011); and minority shareholders of Lenzoloto ended up having to file a suit against Kerimov in an attempt to collect dividend payments from the company. Now, such opaque and corrupt Russian business practices are being taken abroad in dealings with Western partners.
Second, the Polyus case strongly suggests that, today, the Russian economy—which is often estimated to be around 70 percent state-owned—is actually controlled by the government to a much greater extent through the loans and collateral issued and used by state banks. It bears pointing out that the collateral for the entire stake of PGIL was not mentioned in Po­ly­us's more than 800-page-long SPO prospectus, disse­minated among potential investors in early June. The Russian state is present every­where in the country's economy. Its presence is worth taking note of much more seriously today than has been the case in the past—particularly considering the important role shadowy Russian business practices play in influence operations in its "near abroad" and in the West (see EDM, September 29, 2014; November 3, 2014).
In conclusion, the highly indebted Russian oligarchic companies ra­rely show a strong performance on foreign stock exchanges. Another giant Russian corporation, UC Rusal, controlled by billionaire Oleg De­ri­paska, proves this quite well. The company was hit by the 2008 crisis but, due to strong ties between its owner and the Russian leadership, it received a $4.5 billion loan from the state-owned VEB, against that bank's risk management requirements (Gazeta.ru, November 29, 2010); by 2016, it accumulated a debt of $8.42 billion (Rusal.ru, accessed July 2). Yet, as of June 28, 2017, it is still valu­ed on MOEX at 427 billion rubles ($7.2 billion) (Investfunds.ru, accessed July 2). In 2010, UC Rusal managed to arrange an IPO on the Hong Kong stock exchange; but its shares lost more than 80 percent of their value in less than five years. The same fate is now quite likely to befall foreign investors in Po­ly­us.