Russian Influence Fades in the Multi-Aligned South Caucasus
Publication: Eurasia Daily Monitor Volume: 20 Issue: 144
By: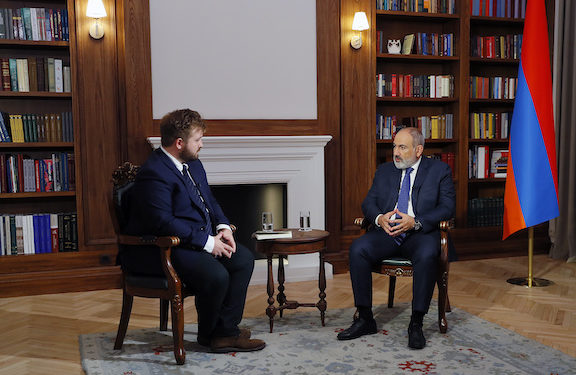 In a recent interview on September 13, Armenian Prime Minister Nikol Pashinyan reiterated that Armenia can no longer rely on Moscow as a guarantor of its security (Asbarez.com, September 13). This comes against the backdrop of renewed tensions in the South Caucasus, as recent events point to a renewal of the hot conflict between Armenia and Azerbaijan (Radio Free Europe/Radio Liberty, September 19).
Russia's war against Ukraine has been the pivotal event in disrupting the Kremlin's influence in the region. The Russian invasion has shifted trade and geopolitical dynamics across Eurasia (see EDM, March 1, 2022). And its effects have been vividly felt in the South Caucasus, where Russia has traditionally been the dominant power since the early 19th century. Even after the Soviet collapse when certain geopolitical vacuums emerged, Russia maintained a largely unchallenged regional position.
The "long war" in Ukraine is changing all that. Some elements of Russia's decline were indeed visible even before the war. Yet, since initiating the full-scale invasion, Moscow has become ever-more unpredictable in its foreign policy, effectively disrupting transit routes that it has dominated for decades (Eurasia Review, February 11). Now, the Kremlin must tread more carefully with its neighbors. For example, in relations with Baku, Moscow has been more patient of late as Azerbaijan holds a key position in supporting Russia's expansion of the International North-South Transport Corridor (see EDM, June 7).
Russia's relations with Armenia have significantly deteriorated as a result. Outside of Pashinyan, a number of other Armenian officials no longer consider Moscow a reliable ally (Radio Free Europe/Radio Liberty, June 2). Nor does the Armenian government feel that it can rely on the Russia-led Collective Security Treaty Organization to preserve regional security (JAM-news, April 4).
Even in its relationship with Georgia, Russia has enacted a series of policies that have hurt support for its goals among the Georgian population. Earlier this year, the Georgian Dream government planned to enact a law similar to the Russian "foreign agent" bill, which levied additional barriers to international organizations registering and working in Russia. But after widespread protests, the measure was removed from official consideration (see EDM, March 13). Additionally, Moscow resumed direct flights to Georgia in May 2023. While the Georgian Dream government has been quite supportive of the move, the arrivals of such flights from Russia have been met with vehement public protests in Georgia (see EDM, May 10).
Perhaps the most consequential change in regional dynamics has taken place with the increased effectiveness of other outside powers' engagement. Turkish influence has visibly increased in expanding ties with Baku and Tbilisi (JAM-news, October 28, 2022). Ankara now serves as a central player in the advancement of the Middle Corridor, a strategically important transit project running through the Black Sea and eastern Turkey connecting to the Caspian Sea and Central Asia (see EDM, July 31).
Russia's regional influence has also been hampered by Iran's increased attention to the South Caucasus. The results of the Second Karabakh War and the emerging regional vacuum coming from the war in Ukraine have provided Tehran with the space to re-assert its position by building closer ties with Armenia (Al Jazeera, October 22). Simultaneously, this has given Iran increased leverage in pressuring Azerbaijan when necessary, especially on preventing further development of the Zangezur Corridor, and pushing Russia to take a more central role in improving regional infrastructure (see EDM, September 23, 2022).
Russia's war against Ukraine has also opened the door for non-regional powers, such as China, to expand bilateral ties in the region. Beijing recently signed a strategic partnership agreement with Tbilisi in the hopes of better positioning itself in Black Sea transit and trade (see EDM, August 10). The new deal also includes potential investment for critical infrastructure projects in Georgia, including the construction of the strategic Port of Anaklia.
The West, too, has made in-roads with countries in the region. Although heavily criticized for its previous inactivity, the European Union has made a series of important steps to elevate its influence in the South Caucasus. The EU has continued to support Georgia's European perspective and has agreed to participate in the recently proposed project to run an electricity cable along the bottom of the Black Sea (Ec.europa.eu, December 17, 2022). Brussels also signed a new gas agreement with Azerbaijan and intensified its role in mediating Armenian-Azerbaijani peace talks. Additionally, the United States has actively positioned itself at the center of the negotiating table in navigating the intricate talks between Baku and Yerevan (State.gov, June 29).
The expanded activities of these outside actors inevitably pose questions about the Kremlin's overall posture in the region. Current trends signal that Moscow's influence will continue to wane, mirroring similar developments across Central Asia (see EDM, November 15, 2022). Russia's diminished regional role has enabled not only the Central Asian states but also traditional allies like Armenia to pursue a more multi-vector foreign policy.
Nevertheless, Russia is unlikely to leave the South Caucasus altogether. Geographic proximity and an extensive military presence will keep Moscow's eyes at least partially fixed on the region. Yet, Russia now becomes one of many powers vying for influence in the region, as the South Caucasus has evolved into a multi-aligned geopolitical space. Armenia, Azerbaijan and Georgia are all striving for better balance in their foreign relations (see EDM, February 9, 14).
The age of Russian dominance in the South Caucasus has come to an end. The recent tensions with Armenia underline Moscow's weakening position (Eurasianet, September 7). Regional competition is no longer merely about the West and Russia. Turkey and China continue to deepen their regional influence and, in some ways, have supplanted Russian dominance. Much will yet depend on the outcome of Russia's war against Ukraine. Nevertheless, so long as the invasion continues, Moscow's actions will be further constrained in the South Caucasus—something the West, with more concerted actions, may be able to capitalize on in the near future