Russian Military Braces for Possible Follow-Up Attacks by US in Syria and Beyond
Publication: Eurasia Daily Monitor Volume: 14 Issue: 56
By: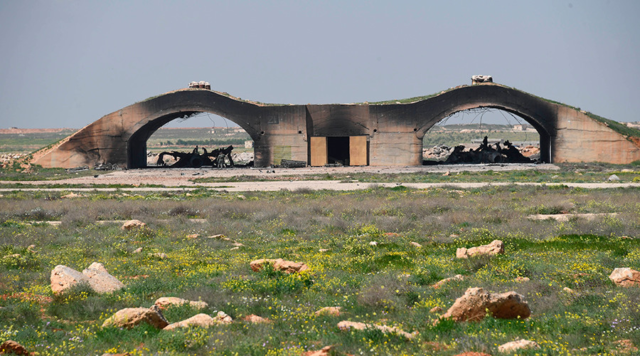 Russian state propaganda has definitively changed its portrayal of United States President Donald Trump after the April 7 Tomahawk cruise missile strike on the Syrian airbase of Shayrat (Homs province). The forces loyal to Syrian President Bashar al-Assad (the Syrian Arab Army—SAA) had allegedly used this base to launch chemical weapons attacks, on April 4, against a rebel-held area of Khan Sheikhoun (Idlib province). According to a poll published this week by the Kremlin-controlled pollster VtSIOM, 82 percent of Russians believe Washington's attack on the Shayrat airbase was "unjust" and a "US provocation designed to destabilize the situation." According to VtSIOM general director Valery Fedorov, only 6 percent of Russians believe the US attacked Shayrat to punish the al-Assad regime for allegedly using chemical weapons. The rest believe it was an act of illegal aggression and a provocation designed to harm Russia and its allies. The Russian public supports its country's continued military involvement in Syria (53 percent), though this support is not overly high despite a continuous pro-war message broadcast by state TV propaganda. VtSIOM data reveals that 34 percent want Russian forces to withdraw from Syria. According to Fedorov, the Tomahawk attack has dramatically diminished the previously positive image of President Trump in Russia (Wciom.ru, April 20). The latest VtSIOM poll concludes that Trump's popularity among Russians has decreased from 38 to 13 percent; 39 percent of Russians see him today in a negative light, compared to 7 percent a month ago (RIA Novosti, April 17).
Damascus and Moscow have both adamantly rejected any involvement in the alleged April 4 sarin gas attack on Khan Sheikhoun. Initially the main spin coming from Moscow was a theory that a rogue rebel chemical weapons arsenal in Khan Sheikhoun could have been hit by a conventional SAA aerial bombardment, and the inadvertent spill of poisonous gas caused civilian casualties (see EDM, April 13). Now, the emphasis has shifted: The Russian military insists the entire Khan Sheikhoun chemical attack was a deliberate hoax staged by the rebels to implicate al-Assad (Militarynews.ru, April 18). At a meeting in the headquarters of the Organization for the Prohibition of Chemical Weapons (OPCW), in The Hague, Russian high-level diplomat Mikhail Ulyanov presented photo evidence that, according to Moscow, implies there was no real chemical weapons attack in Khan Sheikhoun (TASS, April 19).
The same day, in a special statement, the OPCW announced it had irrefutable forensic evidence sarin was used in Khan Sheikhoun (TASS, April 19). Apparently Moscow knew the use of sarin would be confirmed by OPCW and attempted to preempt that news. Foreign Minister Sergei Lavrov has accused the OPCW of perpetrating regime change in Syria and of "one-sidedness" (Militarynews.ru, April 19). The defense ministry has accused the OPCW's Director General Ahmet Üzümcü of "a politically motivated statement" about the use of sarin in Khan Sheikhoun and of "ignoring the facts" (Militarynews.ru, April 20).
Moscow seems to have gone into total denial over the alleged chemical attack in Khan Sheikhoun. This month's visit to Moscow by US Secretary of State Rex Tillerson, who met with Lavrov and President Vladimir Putin, apparently changed little in the US-Russian standoff. Deputy Foreign Minister Sergei Ryabkov acknowledged that Tillerson presented in Moscow a detailed plan of a possible resolution of the crisis in Syria, but "we [Russia] do not see much that is new." According to Ryabkov there are some fresh suggestions, but they are mostly the same talking points that have always come out of Washington (Kommersant, April 19).
The US missile attack seems to have seriously hampered the operational capabilities of the SAA air force. The Shayrat airbase's air defenses, which Russia had reportedly enhanced, turned out to be incapable of stopping the Tomahawks; and the Russian aerospace forces (VKS) in Syria proved equally powerless. Last October, Russia enhanced its air defenses in Syria by deploying its newest army mobile S-300V4 anti-missile/anti-aircraft system to its naval base in Tartus, in addition to the S-400 missiles that were deployed at the Khmeimim air base in 2015. The S-400 and the S-300V4 both reportedly have a range of some 400 kilometers, theoretically allowing them to cover all of Syria (Militarynews.ru, October 6). At that time, the Russian foreign ministry declared that these additional deployments were intended to deter a possible US cruise missile attack threat (RIA Novosti, October 7).
More recently, however, reports surfaced that the SAA has flown a number of its still-operational jets to an airfield adjacent to the Khmeimim airbase, apparently to avoid another devastating US attack. But according to Russian military experts, being based out of an area near Khmeimim could seriously hamper further Syrian air operations (Militarynews.ru, April 20). Russia's public bluff was called, and it turned out the Russian "denial of access" air defenses are not as formidable as believed and apparently guarantee cover from cruise missile attack only in the immediate vicinity of the Tartus and Khmeimim bases—a sobering climb-down for Russian state/military propaganda.
This week (April 26), in Moscow, top Russian generals demonstrated additional public humility at an international security conference organized by the Ministry of Defense. Russian officials condemned Western actions in Syria, denounced the enlargement of the North Atlantic Treaty Organization (NATO), and alleged that the Alliance was carrying out a military build-up along its eastern flank, facing Russia (Kommersant, April 27). According to the chief of the Russian General Staff, Army General Valery Gerasimov, "NATO expansion changes the regional balance of power in Europe; increased reconnaissance activity amplifies the risk of clashes. NATO actions are destructive and provocative" (Militarynews.ru, April 26). Whereas, according to the Russian deputy chief of the Main Operational Directorate of the General Staff, Lieutenant General Viktor Poznikhir, by 2020 the Pentagon will have the capability to instantaneously kill Russia's top political and military leadership, destroy its command-and-control systems, and seriously maim its nuclear strategic forces in a sudden preemptive "global strike" (Interfax, April 26). At the same time US missile-defense capabilities are dramatically expanding and may soon exceed the number of Russian intercontinental ballistic missiles (ICBM), Poznikhir implied, which "forces Russia to improve its strategic nuclear forces to meet the US challenge"(Interfax, April 26).
The Russian military is acting much like as any military around the world—exaggerating existing external threats and inventing new ones to win more rearmament funding from a reluctant finance ministry and presidential administration. To obtain the money, the Russian Armed Forces are ready to demonstrate their opponents' vulnerabilities and surpass their capabilities—something the US Pentagon was always good at.