Russian Military Presence in Syria Increasing With Carrier Deploying to Eastern Mediterranean
Publication: Eurasia Daily Monitor Volume: 13 Issue: 153
By: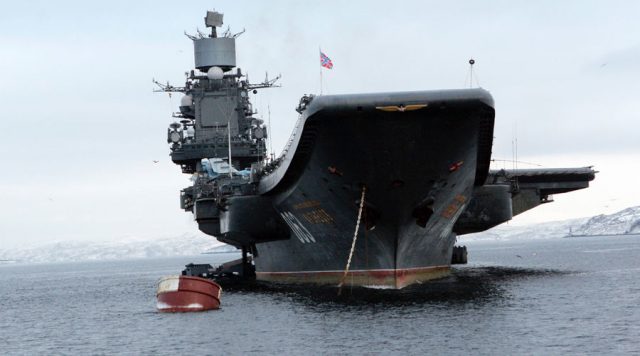 It took several month of intermittent talks between the United States and Russia and many multi-hour marathon sessions between US Secretary of State John Kerry and his Russian counterpart Sergey Lavrov to hammer out the Syrian ceasefire agreement that went into effect on September 12. But this latest accord collapsed within days. Sufficient humanitarian aid to relieve besieged Syrian civilians—a key part of the ceasefire deal—never materialized, while the Russian military accused the US of failing to press the Syrian opposition into ceasing its hostilities. On September 17, US-led coalition jets attacked Syrian government soldiers close to Deir ez-Zor, a city in northeastern Syria with a military garrison loyal to Damascus, which was besieged by Islamic State (IS) forces. The aerial attack effectively wiped out a mechanized battalion, leaving some 200 Syrian government troops dead and wounded. The Pentagon announced the attack was made in error and expressed "regret." The Russian reaction was furious and the regrets were not accepted. Russian and US representatives exchanged barbs at the United Nations, while in Moscow foreign ministry spokesperson Maria Zakharova accused Washington of lying about giving prior notice about the Deir ez-Zor bombing raid and of providing the Islamic State with direct air support. Leading Duma deputies accused Washington of deliberately attacking President Bashar al-Assad's soldiers and "supporting ISIS [Islamic State of Iraq and Syria—the former name for the Islamic State] terrorists" (RIA Novosti, September 18).
On September 19, a UN humanitarian convoy delivering aid in Aleppo province was hit by, apparently, an air attack that destroyed trucks loaded with supplies and killed civilians. The Pentagon blamed the Russian air force. Moscow angrily denied responsibility and, in turn, accused the US of staging the attack. The Russian defense ministry spokesman Igor Konashenkov suggested a US attack drone was flying over the convoy and could have attacked it to "assist the Syrian opposition and distract attention from the US-led attack on Deir ez-Zor" (Militarynews.ru, September 21). In New York, during a Security Council meeting, Lavrov declared the attack on the UN aid convoy to be an "unacceptable provocation," while Zakharova described an address by Kerry as a "cheap show" (Vesti, September 21). All this high-intensity propaganda was transmitted by Russia's state TV in prime time.
On September 22, in Moscow, Lavrov's deputy Sergey Ryabkov spelled out to journalists Moscow's conditions for possibly salvaging the Lavrov-Kerry ceasefire. According to Ryabkov, "there is no alternative, but the Lavrov-Kerry agreement has too many enemies," apparently implying the Pentagon has been deliberately staging bloody provocations to terminate the accord. Ryabkov insisted the Lavrov-Kerry agreement "is balanced" and represents the maximum that can be achieved by the US and Russia "in a situation of acute crisis, when the two sides do not agree in principle about how to proceed and what is the end objective." Though the Lavrov-Kerry ceasefire deal has been shaken "by the recent tragedies," Ryabkov called on Washington to sit down once again to "seek a solution" (TASS, September 22).
Moscow and al-Assad are united in one objective, according to Ryabkov, to wipe out "terrorist formations," including opposition groups "that have united with known terrorists." Ryabkov rejected as "unworkable" US demands that al-Assad's air force be grounded and stop attacking the opposition. At the same time Russian military jets should be allowed to attack Syrian opposition groups, which, according to Ryabkov, "have joined forces with ISIS" (TASS, September 22). In fact, no Syrian opposition group is working with the Islamic State, though many have battlefield coordination with Jabhat Fateh al-Sham (formerly, al-Nusra Front), which is also considered a terrorist organization by the West. It would seem Moscow is demanding from the US a virtually free hand in deciding, together with al-Assad, where and what to bomb in Syria.
Russia's military presence in Syria is apparently somewhat more formidable than previously anticipated. The number of Russian citizens in Syria that voted in the September 18 Duma election was officially published as 4,571. Of them, 193 voted in Damascus, at the Russian embassy, which must include diplomats and most likely the Russian military mission maintaining links with Syrian authorities in the capital. The other 4,378 Russians voted using "a mobile voting box." The exact number of servicemen and Russian contractors in Syria has been secret, but the defense ministry boasted that "all 100 percent have voted." It seems this disclosure puts the Russian contingent at present in Syria at about 4,400 (RBC, September 21).
More men may be on the way. Defense Minister Sergei Shoigu announced that Russia's naval force deployed off the Syrian coast—at present, "no less than six warships and three to four support vessels"—will soon be enhanced by Russia's only aircraft carrier, Admiral Kuznetsov. At a meeting of the defense ministry top brass "collegium," Shoigu recalled the Soviet naval presence in the Eastern Mediterranean—the 5th operation squadron—"which helped stop the 1967 Arab-Israeli conflict and continued to deter the enemies of the USSR" (Mil.ru, September 22).
Reportedly, the Kuznetsov, which recently completed repairs, may arrive to the region by mid-October, together with a frigate and two support ships. The Kuznetsov may be used to "attack targets in Syria," its air wing reportedly including standard Su-33 fighter jets (up to ten), several (up to four) new MiG-29KR jets and potentially a couple of Russia's newest Ka-52K attack helicopters. The Kuznetsov mission may last several months (Militarynews.ru, September 21).
Unlike US carriers, the Kuznetsov was never designed to project force against land targets—it was built during the Cold War as a floating jet fighter base to defend deployed nuclear strategic submarines against the North Atlantic Treaty Organization's (NATO) anti-submarine attack aircraft in the Barents Sea. The Kuznetsov's staple Su-33 jets are not designed for attack missions; the new MiG-29KRs are, but the Kuznetsov has no jet catapult, so any jets taking off must carry a limited payload or relatively little fuel. Ka-52K attack helicopters could use the Kuznetsov to launch conventional land attacks, but they are only being introduced (as are the MiG-29Ks) and are not yet fully operational. Of course, some of the Kuznetsov air wing could land at the Russian air base near Latakia and go into action from there with full a payload, but this would hardly add much to the Russian bombing campaign. It is possible the Kuznetsov's prime objective is, as Shoigu said, to reinforce the Russian naval squadron to deter US carriers from possibly intervening in Syria as the bloody battle of Aleppo unravels this fall.