Russian Money for Belarus: Not for a Base but to Limit Minsk's Turn Toward Europe
Publication: Eurasia Daily Monitor Volume: 13 Issue: 86
By: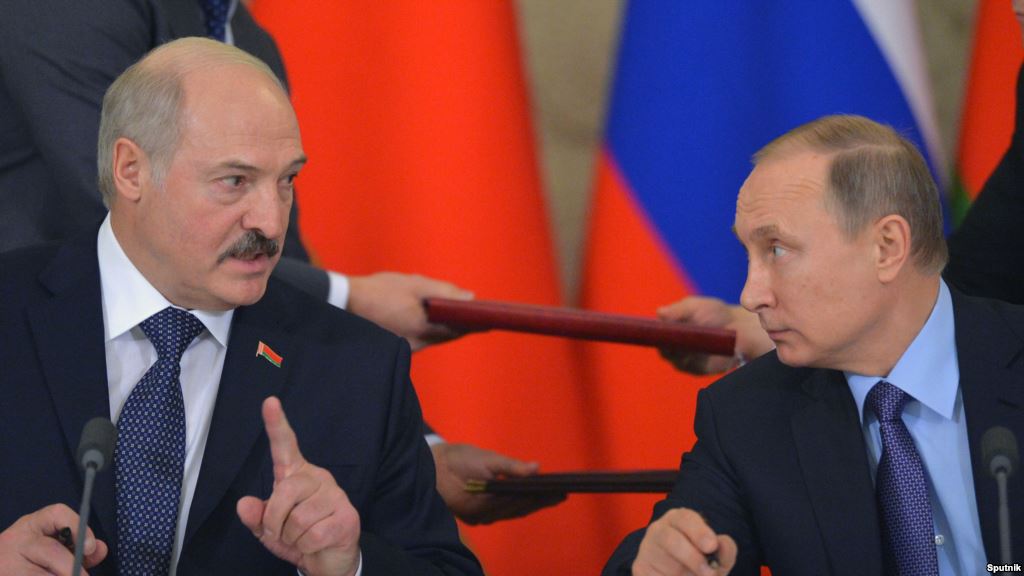 Many observers have concluded that Moscow's new $2 billion aid package to Belarus is part of a deal to allow Russia to establish a military airbase on the territory of its western neighbor. But it is increasingly clear that Belarus has no intention of allowing the organization of such a base. Moreover, Moscow is developing weapons systems that make such a base unnecessary. And finally, the Russian government is planning to begin manufacturing military goods inside the country that Moscow had long relied on Belarus to produce. Consequently, the Kremlin leadership is, apparently, now caught in a trap of its own making: it has to continue to fund Minsk lest Belarus turn completely toward Europe or descend into instability—but it can no longer count on Minsk to support Moscow's military efforts.
Moscow has long sought President Alyaksandr Lukashenka's approval for the opening of a Russian military base in Belarus, both to solidify Russian influence there and to meet Russia's own military needs (see EDM, October 7, 2015). But the Belarusian leader has been increasingly clear that he will not give such approval. And now, analysts are saying that recent developments in Russian military technology have reduced the importance of such an airbase as far as Russian military planners are concerned. Indeed, on the Naviny.by portal, Aleksandr Alesin says bluntly that "Russia has obtained the means to secure the neutralization of military objects in Eastern Europe without the use of the territory of Belarus… [T]hus, Moscow today [no longer] has a real need to establish its airbase" there (Naviny.by, April 30).
Alesin points to Russia's latest training exercise in the Caspian Sea, where it is expanding its program of cruise missiles like the ones it used in Syria last year. The impact of such weapons in the Middle East has been much commented upon, but it is important to see, the Belarusian commentator says, that they also influence "the strategic situation in Eastern Europe"—something "military analysts of all the countries of the region are being forced to take into consideration." Among the most important of these consequences in the short term, he suggests, is that Russia no longer has the same need to open a military airbase in Belarus. "One can say," Alesin continues, "that the Belarusian leadership," which has long opposed the base, has thus turned out to be "lucky."
As recently as November 2015, Russian officials were treating the opening of a base in Belarus as a done deal, even though Minsk had yet to approve it. And commentators both in Moscow and in Central and Eastern Europe argued that Moscow needed the base to "neutralize" North Atlantic Treaty Organization (NATO) forces in Poland and elsewhere in the region. That may have been true earlier, but the new Russian cruise missiles, which can fly far further than earlier generations of them, reduce the importance of such a base now.
Indeed, Alesin says, it has already become commonplace among Russian analysts to claim that the base issue for Moscow had less to do with military needs than as "a test" of Lukashenka's loyalty to the Russian government and Vladimir Putin personally. Because such "tests" are important to Moscow, many assumed that the February 26 announcement that the Russian government was extending a $2 billion credit to Minsk was intended to be "a loan in exchange for the base." Yet, the Belarusian reaction has been clear: Minsk needs the money—the Belarusian government is in extreme difficulty (see EDM, April 27)—and will take it but has no plans to open a base.
This is only one indication that in military affairs as in others, Lukashenka is exploiting the difficulties of Moscow's position. Russia has little choice but to continue to provide what money it can to Minsk even though it can no longer be sure that Moscow will always obtain what it wants. And some Russian analysts are now saying that it is time for their country to take steps in order to be able to end its reliance on Belarus for weapons systems and other military goods.
At present, Regnum military observer Leonid Nersisyan writes this week, "the military-industrial complex of the Russian Federation is seriously dependent" on Belarusian firms for parts and even entire complexes; ending that dependence "will take years." But he says that Moscow has no choice but to begin planning for a time when it will not be able to count on Belarus as a reliable supplier of such goods. Indeed, Nersisyan argues, this is where "import substitution," which Putin has often advocated, is critically important (Regnum, May 2).
"No key elements of Russian military technology should be produced abroad, however close the relations between the countries involved are," he argues, because those relations can always sour. Ukraine is an object lesson in that regard, but Belarus is threatening to become another one. Moscow needs to make plans now well before that happens or it will find its defense options limited by others, exactly the opposite outcome that the Russian government and the Russian people want (Regnum, May 2).