Russian Oligarchs and their Fight for Survival—An Investigative Report
Publication: Eurasia Daily Monitor Volume: 6 Issue: 49
By: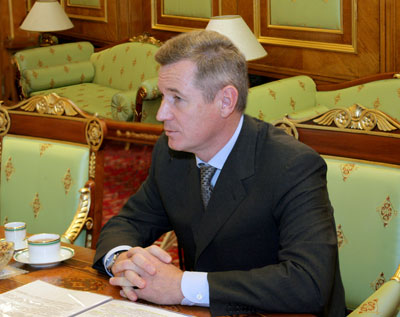 Will Russia's few remaining oligarchs, those who silently submitted to then-President Vladimir Putin's brutal nationalization of Yukos Oil Company, survive as a privileged clan; or are they doomed to extinction during the world financial crisis? How will they manage to keep buying properties in Spain, Germany, and on the Cote d'Azure, ordering new Boeing jets and yachts while paying their external debts as the Russian stock market collapses and the ruble remains in free fall?
The answer can be found by tracing the money flow and requests for bailout funding from the Kremlin for companies owned by such oligarchs as Oleg Deripaska, Mikhail Friedman, and others, as well as by monitoring kickback schemes initiated by these powerful clansmen.
In the case of Igor Makarov, the owner of Itera International Energy LLC, a once powerful corporate player in the Russian gas market, it is a case of opaque deals in which he is suspected by his own countrymen of stripping assets from Itera in order to maintain his personal life style. Makarov, however, is an important, if often overlooked, part of Vladimir Putin's team. He is a member of "Putin's komanda," which is his protection from prosecution. Makarov is a member of the Energy Council of the Government of the Russian Federation, the Presidium of the Russian Chamber of Commerce, and the powerful and highly influential Russian Gas Society. As a prominent member of Russia's energy elite, Makarov frequently accompanies Russian Prime Minister Vladimir Putin on trips abroad for the purpose of clinching new energy deals.
Makarov's business history includes dealings with a rogue's gallery of players. In 2005 Massimo Ciancimino, the don of the Sicilian Cosa Nostra, informed Italian courts that he had met with Makarov in Cortina d'Ampezzo to discuss the possibility of using mob money to set up a gas distribution network through which he could "broaden his business interests" (Bloomberg, November 21, 2006). Makarov has denied meeting with Ciancimino but admitted that he was in Cortina at the time. Makarov created a stir in the United States when news broke that he was funding Representative Curt Weldon and his daughter Karen in exchange for having the congressman lobby on Itera's behalf for an $868,000 loan from the U.S. Trade and Development Agency. The offer was withdrawn in March 2002 on grounds of its illegitimacy (The Wall Street Journal, June 10, 2008). As a result, Itera's Jacksonville offices were searched by the FBI and carloads of files were removed and are still being examined by financial fraud investigators.
While Itera's middle management was attempting to transform the company into a transparent, viable enterprise, Makarov's actions indicated that he had other plans. According to recently acquired documents, Makarov is the Ultimate Beneficiary Owner (UBO) of a slew of companies affiliated with Itera, many of which are registered in the British Virgin Islands (BVI) and other offshore tax havens including Cyprus, as well as in the Czech Republic, Germany, Italy, Russia, and the UK (confidential documents obtained by the author).
The documents reveal Makarov to be the UBO of no fewer than 23 companies, including the BVI-based Tonmar-Holding, which have multimillion dollar service contracts with Itera International Energy LLC. Russian sources confirm that companies such as Tonmar-Holding in turn control a vast network of BVI-registered shell companies through which the money for fictitious services end up in the personal bank accounts held by Makarov.
The case of Sweet Water Intervest Corporation (incorporated in the British Virgin Islands on September 17, 2003) shows the close links between the various structures controlled by Makarov. Makarov is Sweet Water's UBO and the registered agent is the Overseas Management Company, while the directors are Plantation Directors Inc., also in the BVI. Sweet Water is the 100 percent owner of the following real estate holdings: Sonoran Worldwide Group, Golden Pearl Assets Corporation, Delray Estates Management Ltd., and Finegold Global Advisory Ltd. The UBO of all these companies Igor Makarov (confidential documents obtained by the author).
In a deposition in a Swiss court on March 6, 2008, Urs Weber, a former lawyer for Makarov, reportedly stated that Makarov owned a number of such affiliated companies. One of these is Tonmar-Holding. "With this company Mr. Makarov funneled off a huge amount of Itera. Tonmar-Holding, it seems, entered into a service contract with Itera International Energy LLC for the purpose of rendering services for consulting, administration, and marketing in the annual amount of $28.5 million" (confidential documents obtained by the author).
Tonmar-Holding then billed Itera in several installments for a sum of over $53 million, not for the services agreed upon but for expenses incurred. Tonmar, a company without any employees, was alleged by Weber to be paying massive kickbacks to Makarov. On December 31, 2000, a protocol was signed stating that Tonmar's services were fully completed.
Putin's retinue of loyal oligarchs—such as Oleg Deripaska, Vladimir Potantin, Igor Makarov, and others—are now beginning to realize that Putin, their protector for nearly a decade, will not be able to protect them much longer; and each man will have to fend for himself in order to survive, even if this involves stripping the assets of their own companies.