Russian Permanent Naval Deployment Resumed off Syria
Publication: Eurasia Daily Monitor Volume: 9 Issue: 78
By: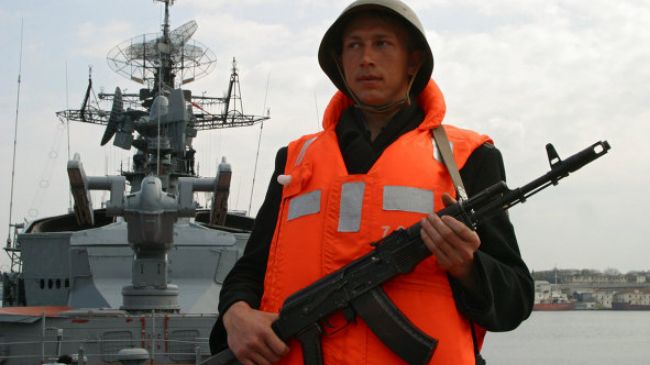 Since the uprising against President Bashar al-Assad began in Syria more than a year ago, Western and Arab diplomats and journalists continue to ask the same question: When will Moscow abandon the seemingly doomed regime or put pressure on Damascus to stop the carnage that, by UN estimates, has killed more than 9,000 people? Each pronouncement by Russian diplomats in the UN and by Foreign Minister Sergei Lavrov is dissected down to syllables to find proof that Moscow has finally acknowledged its future interests in the Middle East are not wedded to al-Assad, and that the inevitable policy shift has finally began. Russian and Chinese endorsements of the peace plan presented by UN envoy Kofi Annan, as well as the support by both nations of a UN Security Council resolution last week that authorized the deployment of 30 international observers to Syria to monitor a shaky ceasefire, has been greeted as evidence of a game-changing shift. During a visit to Moscow of a delegation of the National Coordination Body (NCB) for Democratic Change in Syria, which opposes armed insurrection, Lavrov criticized the Assad regime for excessive brutality and of dragging its feet on democratic change. After meeting in Moscow with Lavrov and other Russian officials, the NCB delegation expressed hope that Moscow may pressure the Assad regime to end violence and "promote genuine democratic reforms in Syria" (RIA Novosi, April 17).
The NCB delegation announced that the dismantling of the Assad "dictatorship" will not lead to the severing of "economic and cultural relations with Russia." The NCB delegation also did not exclude that the Russian naval base in the Syrian Mediterranean port of Tartus may stay after the eventual fall of al-Assad, but refused to give any assurances, since the Tartus base issue "is too delicate" (RIA Novosi, April 17).
Last month, all Syrian opposition groups (with the exception of the NCB) united behind the Syrian National Council (SNC). Russian officials have criticized the decision of the group of "Friends of Syria" nations to recognize the SNC as the representative of the Syrian people, instead promoting relations with the more moderate NCB. The chairman of Russia's Federation Council (upper house of parliament), ambitious and well connected senator Mikhail Margelov, appointed last year by president Dmitry Medvedev as his special representative in Africa specifically to deal with the Libyan crisis, has been promoting a more balanced approach to Syria, advocating a partial distancing from the Assad regime, while reaching out to the NCB. Margelov was instrumental in organizing the visit of the NCB delegation to Moscow this week and announced "a Russian senate delegation may take part in a future congress of Syrian opposition groups that denounce violence, if and when it may happen." The official Russian position on Syria is that the opposition must stop attacking al-Assad, the nonviolent opposition must form an overall joint organization (separate from the SNC) and then somehow negotiate with al-Assad a peaceful end of the bloody civil war "without foreign intervention" – a deal Russia may guarantee (RIA Novosi, April 17).
Margelov expresses the most moderate opinion in Moscow about further policy on Syria. After the NCB visit, Lavrov accused "many within the international community of working to ruin Annan's peace plan" and the "fighters of the Free Syrian Army (FSA) [of] deliberately provoking clashes with government forces to ruin the ceasefire." According to Lavrov, the FSA is being armed and trained on Turkish territory to attack government outposts to cause Annan's peace plan to fail, while outside powers may use this as a pretext to attack Syria militarily (RIA Novosi, April 18).
Government officials in Moscow do not spell out how to treat the SNC and the FSA if they refuse to keep a "reformed" al-Assad in power. The president of the Middle East Institute (a think-tank in Moscow), Eugenie Satanovsky, insists that Russia and China, by blocking Western attempts to condemn Syrian government atrocities in the UN Security Council, have helped al-Assad to "achieve partial victory" by defeating the FSA in big cities. According to Satanovsky, Russian help, US inaction and disarray between its NATO and Arab allies "may lead al-Assad to full victory in the Syrian civil war." Hundreds of thousands may perish in Syria "like during the Algerian Islamist insurgency in 1992-1999," but Sunni extremists will be defeated (VPK, April 18).
This week, Mikhail Petukhov, the deputy director of Russia's "Military-Technical Cooperation Service" (government agency overseeing the Russian arms trade), confirmed: "The President did not order to stop arms trading with Syria, and Russia is honoring all its obligations." Contracts to supply Syria with long-range supersonic guided anti-ship Yakhont missiles, anti-aircraft BukM2E missiles and modernized MiG-29 M/M2 jet fighters were specifically mentioned – all weapons that Moscow believes may discourage Western, NATO and Arab nations from intervening in the internal Syrian confrontation (RIA Novosi, April 18).
The al-Assad regime is Russia's last long-term ally in the Middle East, and the naval supply station in Tartus is the only Russian military outpost left outside the borders of the defunct USSR. During the Cold War, Russia sustained a constant and formidable naval presence in the Mediterranean, facing off NATO's navies. Some 20 years ago, Russian warships left the Mediterranean, while Tartus with its two floating piers, one maintenance ship and a small contingent of noncombat personnel was a vestige of a lost empire with zero military significance. This month, all that changed – a frigate "Smetliviy" and an intelligence-gathering ship "Kildin" from Sevastopol have been deployed in the Eastern Mediterranean, supported by naval tanker "Iman." The Smetliviy is old, in service for over 42 years, but it has anti-ship and anti-aircraft guided missiles. Next month, Smetliviy will return to Sevastopol, but another frigate and a tank-landing assault ship with a contingent of Marines are being prepared by the Black Sea Fleet to move into position. The Defense Ministry announced, "a decision has been made to keep a permanent military presence near the Syrian coast, and other ships may be sent" (RIA Novosi, April 13).
This Russian flotilla in the Mediterranean is miniscule, compared to Cold War times, but it is still performing the same mission – to deter the West from acting. It is quite a gamble to deploy an inferior tripwire force, hoping Western naval and air forces will under no circumstances dare shoot at a rusty Russian man of war. This risky deployment considerably antes Moscow's stake in defending al-Assad – tentatively to the level of a nuclear confrontation with the US.