Russian Political Warfare to Disrupt Ukraine's Military Mobilization
Publication: Eurasia Daily Monitor Volume: 12 Issue: 20
By: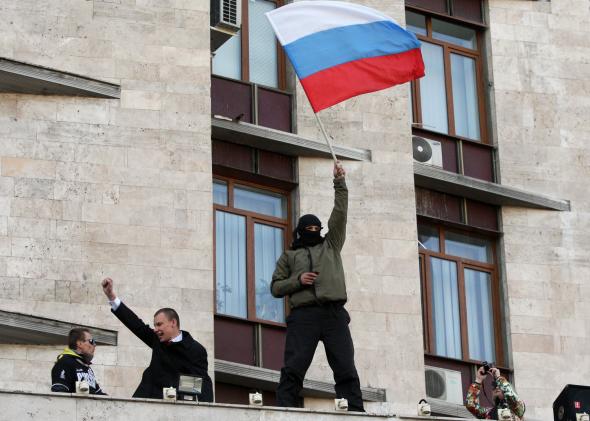 A new phase of Russia's war is ongoing since mid-January in Ukraine's east. This phase has broken the informal "silence regime" that had taken effect since December 9, which had mainly restrained the use of heavy artillery and multiple missile launchers. It is on these systems of highly destructive power, albeit inaccurate, that the new Russian offensive mainly relies (see EDM, January 22, 23, 27, 29).
This operation retains the character of positional war, without as yet involving forward movement by ground forces, although this is probably envisaged as a follow-up. Russian and proxy forces are firing these systems from more or less static positions behind the "ceasefire" lines (Sprotyv.info, January 20–30).
Moscow apparently calculates that positional warfare could, to some extent, disguise the offensive character of its ongoing operation, so as to avoid new Western sanctions at this time. However, the military logic of such heavy bombardment leads to ground-troop advances in a follow-up phase. By softening up Ukrainian defensive positions, subjecting them to attrition, Moscow undoubtedly prepares a shift from positional to dynamic warfare, with proxy ground troops moving forward to capture additional Ukrainian territory. This may already be occurring piecemeal. Following heavy shelling of Ukrainian positions in Vuhlehirsk, Russian proxy troops captured that district center on Friday, January 30 (UNIAN, January 30).
Even in the current phase of positional warfare, Russia's major escalation of hostilities is undeniable. First, it maximizes the firepower being brought to bear against Ukrainian positions (not sparing civilians) to unprecedented levels of intensity. Second, it indicates fresh movements of Russian heaviest-caliber weaponry across the open border into Ukraine. Third, it commits Russia's own military personnel directly to battle (albeit from long range), given that Donetsk and Luhansk "people's republics" are highly unlikely to possess the specially trained crews that fire and service these advanced systems. And fourth—as officials from the North Atlantic Treaty Organization (NATO) and the United States publicly confirm—Russia is deploying its command and control systems, electronic warfare capabilities, and unmanned aerial vehicles (UAV) in this operation against Ukraine.
Given Ukraine's inferior material resources, the country's main response consists of mobilizing additional manpower for defense. With the parliament's approval, President Petro Poroshenko has activated plans to mobilize some 200,000 personnel in the armed forces in three stages, between January and August 2015. The military also plans to induct some 40,000 conscripts this year. The fresh personnel is being sent to training centers, afterwards to replace and supplement the combatant personnel in the field (UNIAN, January 26).
For its part, Moscow has launched a new, highly focused political warfare campaign to disrupt Ukraine's mobilization and conscription. President Vladimir Putin gave the lead signal. Speaking at the Mining University (his post-KGB alma mater) in St. Petersburg, Putin condemned Ukraine's authorities for "sending men to the frontlines as cannon fodder." He encouraged citizens of Ukraine to evade the call-up by "moving to Russia and waiting things out for a while here."
Under Russia's recently amended migration rules, Ukrainian citizens are allowed to stay on Russian territory for only 30 days at a time (to be prolonged or not at the Russian authorities' discretion). In his speech, Putin offered to increase the duration of stay in Russia, "particularly for citizens of Ukraine of military service age" (Interfax, January 26; Rossiyskaya Gazeta, January 27).
Directly on cue, Russia's Migration Service announced the change of rules. According to the Service, there are currently 2,430,000 citizens of Ukraine residing in Russia, including 1,170,000 men of military service age. Within the grand total number, approximately 400,000 have variously been granted refugee status, temporary asylum, or temporary residence permits, according to the Migration Service. Presumably these categories refer mostly to refugees from the ongoing war. The Migration Service has decided to prolong the right of stay of Ukrainian citizens in Russia for periods of 90 days at a time, renewable until at least August 2015 (coinciding with the completion of Ukraine's third mobilization stage—see above). Citizens of Ukraine are encouraged to apply to the Migration Service's local offices for residency in Russia and a prolongation of their rights of stay. This final stipulation apparently targets residents of Ukraine itself (obliquely entreating them to cross the border into Russia) in addition to those already residing in Russia (Interfax, Russian TV Channel One, January 28).
Russia's state television channels have joined the effort to disrupt Ukraine's mobilization promptly on Putin's signal. The channels portray the mobilization drive as failing, the home front as unstable, and are all but encouraging flight to Russia for evading the call-up. Russian channels are not above inventing or grossly exaggerating protests in Ukraine "against this pointless war." They urge citizens of Ukraine to "struggle for peace" and are publicizing an "Anti-War" (Antivoyna) organization purportedly active in Ukraine. Some reports along these lines are being filed by the Russian channels' correspondents operating in Ukraine (Russian TV Channel One, Rossiya 1 TV, Life News, January 25–29).
A coordinated effort seems underway on the Russian Internet to plant stories about anti-draft protests and draft evasion in Ukraine, advice about how to avoid the call-up or apply for exemptions, inadequate social guarantees for combatants and their families, and gratitude to Russia for opportunities to wait things out there (Euromaidanpress.com, January 28).
This is a new aspect of Russia's political warfare against Ukraine. It can only intensify and diversify from this point onward. Its gist is to demoralize the country targeted for aggression. It can succeed in the event that Russian and proxy forces achieve further gains in the military operation on the ground (see above). This is beginning to look as a distinct possibility, if Ukraine is left facing Russia one-on-one. Western powers are neither responding with new sanctions to Russia's ongoing, multiple-level escalation, nor providing Ukraine with defensive weapons and training to forestall further Russian advances.