Russian Troops Back on the Border, While Shoigu Brushes off Ukrainian Arms Embargo
Publication: Eurasia Daily Monitor Volume: 11 Issue: 111
By: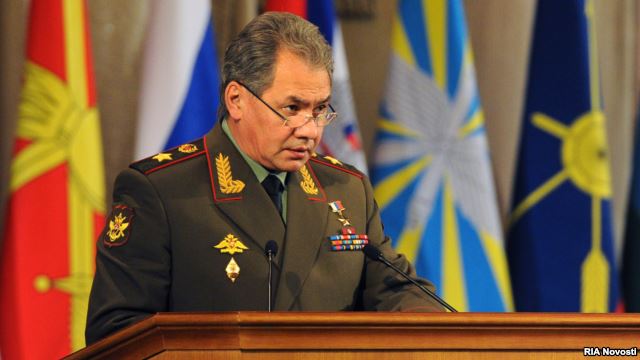 In the Duma, on June 18, Defense Minister Sergei Shoigu reportedly told deputies: "Russian troops are ready for any eventuality in Ukraine." The Q & A with Shoigu was classified, but deputies still gave an outline of his statements. The defense minister confirmed Russian combat troops have been deployed near the Ukrainian border ready for action, "if a political decision is made" (regnum.ru, June 18). He told deputies the Russian air force "could impose a no-fly zone over Ukraine," but "no political decision has been taken." Shoigu also declared that Russia can, "without much problem," provide its defense industry with materials and components in the process of so-called "import replacement" (importozamecheniye) to substitute Western and Ukrainian imports blocked by sanctions. Duma deputies from all factions expressed strong support for the Russian military and Defense Minister Shoigu, promising to increase defense spending (RIA Novosti, June 18).
Meanwhile, Ukrainian President Petro Poroshenko announced a peace plan for Donetsk and Luhansk (see EDM, June 17), involving a temporary ceasefire, a disarmament of separatists, the unhindered passage back home of Russian volunteers (described as mercenaries in Kyiv), an amnesty for rebels "that did not commit serious crimes," round table discussions with local leaders in the Russian-speaking regions of eastern Ukraine, fresh elections of local government, humanitarian aid to the victims of violence and so on. The main precondition of implementing Poroshenko's peace plan is closing the porous Russian-Ukrainian border to stop the constant inflow of arms and men (Russian volunteers). Poroshenko spoke with President Vladimir Putin on June 17, reportedly asking him to induce the rebels to cease fire and disarm, while shutting the border from the Russian side. The rebels in Donetsk and Luhansk refused to consider disarming, and the fighting between Ukrainian government forces and rebels has continued, sometimes interrupted by local tactical ceasefires to move out the dead and wounded (Interfax, June 18).
Russian Foreign Minister Sergei Lavrov accused Poroshenko of "promising a permanent ceasefire and substantial talks with rebels about the future of Ukraine" and now replacing that with "some temporary ceasefire to allow the so-called separatists to leave Ukrainian territory." According to Lavrov, "This is not the promised national dialogue—this is actually ethnic cleansing." Lavrov expressed hope, "Poroshenko may reconsider" (RIA Novosti, June 17).
In the second half of May, the Russian military began a pullback of combat forces—known as battalion tactical groups or BTGs—which had been poised for almost three months on the eastern borders of Ukraine. The pullback of BTGs from the border was a military-technical necessity: to rotate and replace men and demobilize conscripts that have served out their compulsory year of service (see EDM, May 22). The BTG is a provisional combined-forces separate combat unit, including infantry, armor, heavy guns, anti-aircraft capabilities and sappers. This week it was reported that Russian forces have moved back into position along the Ukrainian border. According to the secretary of the Ukrainian National Security and Defense Council Andriy Paruby, Russia today has some 16,000 soldiers on Ukraine's eastern border and some 22,000 in Crimea. Sources in the Russian defense ministry told journalists Paruby is inflating the numbers—"only several thousand have been moved to the border"—BTGs of the 7th and 76th airborne (VDV) divisions, the 56th air-assault brigade and the 19th separate motor-rifle brigade. Air force reinforcements have arrived. More troop reinforcements may arrive later (Vedomosti, June 17).
Russian defense ministry sources claim the forces were moved to the Ukrainian border because of Poroshenko's failure to impose a permanent ceasefire and "to counter provocations." The troops include army, VDV and special forces units. Speaking in the Duma, Shoigu reportedly told deputies there is a need to move troops to conduct intense exercises "to counter the activities of NATO [North Atlantic Treaty Organization] forces in the region." The chairman of the Duma defense committee Admiral (ret.) Vladimir Komoyedov told reporters he does not believe the regular Russian military will enter Ukrainian territory. According to reports, the Russian Ministry of Defense is considering issuing the Ukrainians "an ultimatum to stop using arms" and to ensure the safety of the civilian population by creating "sanitary corridors" or "lines of separation" in Donetsk and Luhansk. The "corridors" must be established 24 hours after the order is issued (top.rbc.ru, June 18).
It was announced in Kyiv that Poroshenko has banned any defense-related cooperation with Russia. A similar embargo was announced in Kyiv at the end of March, but it is unclear to what extent the Ukrainian arms industry has been complying. Reporting out of Moscow suggests that Ukrainian specialists from the Dnepropetrovsk "Yuznoye" ballistic missile factory are still servicing the heavy SS-18 Intercontinental Ballistic Missiles (ICBM) that were once produced in Dnepropetrovsk during the Cold War. "Yuznoye," apparently, had not yet received a written order from Poroshenko to stop this cooperation. In 2008, Russia had 75 silo-deployed SS-18s, each carrying up to ten 0.5 megaton warheads. The SS-18s are planned to be in service until 2022 at least, but the Russian military say they can service the missiles and their targeting systems without the Ukrainians (Izvestia, June 19).
Russian Deputy Defense Minister Yuri Borisov announced the Ukrainian arms embargo has been enacted since the second half of last March: "A large amount of merchandise earmarked for Russia has been stockpiling at the Ukrainian border customs posts, and some 80 percent of it has been prepaid." According to Borisov, this is creating problems in maintaining the battle readiness of Russian weapons, in particular helicopters that all have Ukrainian-made engines. But efforts are underway to ensure "import replacement." Russia also has a stockpile of Ukrainian-made arms parts and components (Interfax, May 31).
Despite the collapse of the Soviet Union in 1991, until now the Russian and Ukrainian military industrial complexes continued to work as one. Ukraine has been exporting to Russia several hindered million dollars' worth of military produce a year. Although this is just several percent of Russia's overall military production, Ukrainian components are essential in many fields. The plan of "import replacement" announced by the Russian government will, at best, take up to three years and tens of billions of dollars to complete (rbcdaily.ru, June 18). With Moscow under the threat of more punitive Western sanctions, pressure is growing for the Kremlin to find a swift solution of any sort to the Ukrainian crisis.