Russian Troops Deploy to Belarus With Fanfare
Publication: Eurasia Daily Monitor Volume: 19 Issue: 3
By: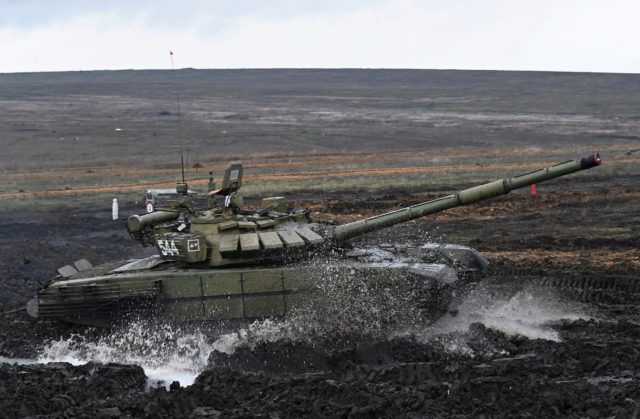 Tensions have been flying high between Moscow and the West for months, with little prospect currently of imminent de-escalation. Stress is also mounting between Russia and Ukraine, as Russian military activities in the surrounding region increase. In Washington, the White House and President Joseph Biden argue that a Russian invasion of Ukraine could be pending. The Kremlin has, in turn, repeatedly claimed it has no intentions of deploying troops into Ukraine. Instead, Moscow accuses North Atlantic Treaty Organization (NATO) countries of trying to "occupy Ukraine" by sending in modern weapons, military advisors, and instructors as well as "seeking pretexts and ways to send NATO troops," according to Vyacheslav Volodin, the speaker of the State Duma. Volodin declared this in an official address opening the spring session of Russia's parliament (Militarynews.ru, January 18, 2022). Kremlin spokesperson Dmitry Peskov contends that Russia is only repositioning troops to the Ukrainian border in order to counter the North Atlantic Alliance "moving its military infrastructure up to Russian borders" and to offset NATO reconnaissance aircraft and drones overflying Ukraine. Peskov insisted that Russia's actions are entirely legitimate (Militarynews.ru, January 16, 2022).
The Russian forces in the Southern and Western military districts (Yuzni Voyenni Okrug or UVO and Zapadny Voenni Okrug or ZVO, respectively) that face Ukraine are currently in a heightened state of alert, and both military districts' press services constantly report ongoing and overlapping military exercises aimed at keeping battle-readiness at maximum levels. A squadron of Ka-52 Alligator next-generation reconnaissance and attack armored helicopters was recently formed in the UVO. The choppers were delivered by military transport plane just before the New Year from the production factory in the Russian Far East, assembled at an airbase close to Rostov-on-Don, and are already fully battle-ready. These aircraft have been taking part in exercises with other UVO helicopter gunships (Militarynews.ru, January 19, 2022). The1st Guards Tank Army (the only tank field army at present in the Russian Armed Forces) has begun a staff exercise of all of its top commanders as well as command and communications structures. According to the ZVO press service, the exercise will test the ability of the Tank Army to move forces in cohesion and "attack the enemy" (Militarynews.ru, January 17, 2022).
In 2017, officials in Minsk announced that the Belarusian Armed Forces and the Russian 1st Guards Tank Army were forming a "regional army grouping" (gruppirovka voysk). And this month (January 2022), authorities in Moscow and Minsk declared that both countries will run joint exercises, Allied Resolve 2022 (Souznaya Reshymost 2022), on Belarusian territory to prepare to repel "possible external aggression and suppress terrorist activities"—a possible euphemism for jointly suppressing the Belarusian opposition movement. The Allied Resolve drills are scheduled to begin on February 10 and will last until February 20, but the Russian troops have already begun arriving on Belarusian territory in mid-January (Militarynews.ru, January 18, 2022).
The upcoming Russian-Belarusian exercise is being strongly promoted. Deputy Russian Defense Minister Alexander Fomin (in charge of the Ministry of Defense's foreign policy directorate) gave a special briefing in Moscow to foreign military attachés and selected journalists. Fomin explained: The Russian troops will be arriving in Belarus from the Eastern Military District (Vostochny Voyenni Okrug or VVO) and include a dozen new Su-35 fighter jets, two long-range S-400 anti-aircraft guided-missile batteries (the equivalent of an S-400 regiment), as well as a battery of short-range Pantsir-S anti-aircraft systems. Fomin did not elaborate on how many other Russian forces will be arriving in Belarus. Some reports suggest a possible deployment of long-range Smerch missiles. Russian and Belarusian soldiers will be training to fight together before the official opening of Allied Resolve 2022, according to Fomin (Militarynews.ru, January 18, 2022).
On January 19, the authorities announced that the first Russian troops had arrived in Belarus with heavy weaponry and equipment by rail from the Pacific region. According to official statements, this exercise tested the ability of VVO forces to be relocated to European Russia to face the NATO threat. It would have taken these forces a week or two to embark and travel by rail from the Russian Far East to Belarus, so the troops must have begun their journey soon after New Year's Day (Interfax, January 19, 2022).
Observers and officials in the West and in Ukraine have expressed fears about a possible sudden incursion of Russian troops from Belarusian territory southward to cut off and attack the capital Kyiv from the west and north. But the border between southern Belarus and northern Ukraine extends through a natural barrier known as the Polesie (Woodland) Marshes—some 104,000 square miles of dense forest, bogs, lakes and rivers. Few roads (including north-south) traverse this wilderness, and they are spaced far apart. The terrain is extremely difficult for the kinds of swift maneuverable armored warfare the Russian military prefers; in contrast, it is ideal for bogging down an invader. Moreover, there is the additional hazard of the still radioactive Chernobyl nuclear power plant exclusion zone just north of Kyiv in the Polesie area, on the Belarusian border. Any use of bombs, shells or other high explosives in this zone would send long-settled radioactive material airborne again, and the winds could easily blow it into Russia, deeper into Ukraine, over Belarus, or even into Europe.
The actively promoted Russian move into Belarus under the pretext of Allied Resolve 2022 appears to be more of a strategic diversion and distraction to mislead the Ukrainian military into splitting its forces away from the main possible future battlefields than a genuine preparation for a coming land invasion of Ukraine from the north. Of course, the Su-35 jets, long-range S-400s and other missiles may be deployed to Belarus and used in action, overflying the marshes to strike at targets deep inside Ukraine. And if Moscow, indeed, is seriously considering a military assault, it also makes perfect sense to move in advance forces from the Pacific region to beef up the relatively small Belarusian standing army, thus freeing the 1st Guards Tank Army to move en masse on the Ukrainian front if need be. In the coming week or two, more assets may be moving into final attack position as the readiness of Russian forces peaks. All this could still simply be a demonstration of force to intimidate the West and Ukraine into submission. Yet if that stratagem fails, an actual go order may come.