Russian Wagner Mercenaries Arrested in Belarus
Publication: Eurasia Daily Monitor Volume: 17 Issue: 112
By: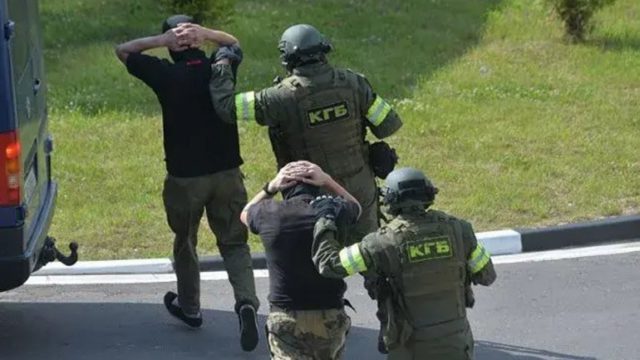 On July 29, the Belarusian KGB and OMON special police forces arrested 32 Russians residing at a countryside resort, Belorusochka, just outside of Minsk. The Belarusian authorities have accused the Russians of being members of the notorious private military company (Chastnaya Voennaya Companiya—ChVK) Wagner Group, which has reportedly been deploying fighters and organizing combat operations in eastern Ukraine as well as Syria, Libya, Sudan and other African or Middle Eastern hot spots. Belarusian law enforcement also separately arrested another alleged Wagner privateer, who was living with his family in Belarus, thus bringing the total number to date to 33. The government published a list of the names and photos of the Russian passports of the detained men (RBC, July 30).
According to the state secretary of the Belarusian Security Council, Andrei Ravkov, "Some 200 foreign fighters have been infiltrated into Belarus" to destabilize the country in the runup to the August 9, 2020, presidential elections. "We have arrested 33 and are looking for the rest," Ravkov added. According to Russian and Ukrainian sources, some of the captured mercenaries were Ukrainians from Donbas, who took part in the fighting there and are wanted by Ukrainian authorities—at least 14 of the 33, according to Ravkov (Interfax, July 30). The Security Council secretary also told journalists that the arrested men will be charged with "planning terrorist attacks." The authorities later announced that the 33 Russians will be charged with planning riots (Interfax, July 30). Ravkov has reportedly told the Belarusian Central Election Committee that other "groups of provocateurs" are being formed on Russian territory, in Pskov and Nevel (a town in Pskov Oblast, close to the Belarusian border) (Interfax, July 30). According to Belarusian officials, the ChVK privateers arrived in Minsk on July 25, spent a couple of nights at a hotel in the capital and then moved to the Belorusochka country retreat, where they behaved suspiciously, untypical of usual Russian visitors: They did not drink vodka, abstained from fraternizing with women at Belorusochka, and spent most of their downtime working out at the gym (Vzglyad, July 29).
Belarusian President Alyaksandr Lukashenka has ruled the country for 26 years and is now running for his sixth consecutive term in office. A number of opposition presidential candidates have been denied registration or arrested. The Belarusian economy has been hit hard by the effects of the COVID-19 pandemic, and there is widespread discontent. Protesters have for weeks been demanding the release and registration of opposition candidates. Lukashenka's reelection campaign is positioning him as a strong national leader who opposes Russian attempts to dominate the country. He has repeatedly accused Moscow of attempts to destabilize Belarus and undermine his reelection. The arrest of war-hardened Wagner Group operatives in the Minsk countryside fits with this overall narrative. On July 24, during a visit to a special forces unit, Lukashenka announced that ChVK privateers might be sent in from abroad and that Belarusian soldiers should be "ready to prevent an escalation" of street protests into a coup. The Wagner ChVK was created by veterans of the Crimea and Donbas campaigns, in which armed Moscow-sponsored activists spearheaded so-called "hybrid" wars or insurrections. At least some of the ChVK privateers arrested in Belarus have such firsthand experience (RBC, July 30). According to Ravkov, a number of the arrested operatives are experienced snipers or experts in explosives and/or cyber warfare. A meeting of the Belarusian Security Council chaired by Lukashenka decided to boost border security and to demand explanations from Moscow (Kommersant, July 30).
As the ChVK crisis unfolded, it became clear: Minsk had a solid narrative to push, while Moscow was in disarray, without a coherent public story to present. It took the Kremlin more than 24 hours to say anything in response; and even then, Kremlin spokesperson Dmitry Peskov admitted to reporters, "I am short on information." Peskov explained there is no such legal entity as a "private military company" in Russia, though no one apparently questions the actual existence of the Wagner ChVK. Peskov insisted Moscow cannot possibly be involved in any attempt to destabilize Belarus and repeated that the arrested "Russian citizens" did not do anything wrong. He told journalists that President Vladimir Putin has no immediate plans to phone Lukashenka, which may be read as Peskov's inadvertent admission of the Kremlin's internal confusion as to how to address the story (Interfax, July 30).
Later that same day, the Russian embassy in Minsk issued a statement implying the ChVK privateers were simply transiting through Minsk but had missed their flight to Istanbul, on July 25, and were stuck. According to the embassy, the men have a written contract with a Minsk-registered company to carry out security work in a "third country," adding that refusing to drink vodka or to womanize is not a crime (TASS, July 30). Video of the ChVK privateers' arrest shown by Belarusian TV apparently includes footage of seized currency, including US dollars and some Sudanese pounds, which could support the case that the men were actually on their way to Sudan via Minsk and Istanbul (Kommersant, July 30). That is not entirely inconceivable: Russian borders have been closed due to the pandemic, and wealthy Muscovites have been leaving the country via Minsk since Belarus never closed its own borders. Of course, official military traffic, say, to and from Syria, has been exempt from the Russian border closures. Ravkov insisted Moscow never expressed, through any official or unofficial channels, its intension to move Russian ChVK privateers via Belarus (Moskovsky Komsomolets, July 29).
The 33 ChVK privateers—a platoon-sized force—seems too big and noticeable for a typical terrorist cell but is clearly too small to effectively destabilize Lukashenka's authoritarian regime. Relations between Lukashenka and Putin have been bad, but it is not clear if Moscow is indeed ready to begin a "hybrid" campaign to oust the Minsk strongman. The risks of destabilizing Belarus at a time when Russia itself is simmering because of the pandemic and the connected economic crisis are quite high. Nevertheless, the detention of the Wagner mercenaries (if they are not released soon after election day, on August 9), persistent perceived anti-Russian rhetoric coming from Belarusian officials, or the extradition of the arrested Russian fighters to Ukraine (as Kyiv demands) might lead to a serious risk reassessment in Moscow. Hastened regime change in Belarus could, then, become a political priority, and the ChVK privateer deployment to Belorusochka might, indeed, turn into the first move of a new "hybrid war" effort.