Russia's Delayed Victory Day Parade: A Grand Sales Pitch to Putin and to Foreign Customers
Publication: Eurasia Daily Monitor Volume: 17 Issue: 92
By: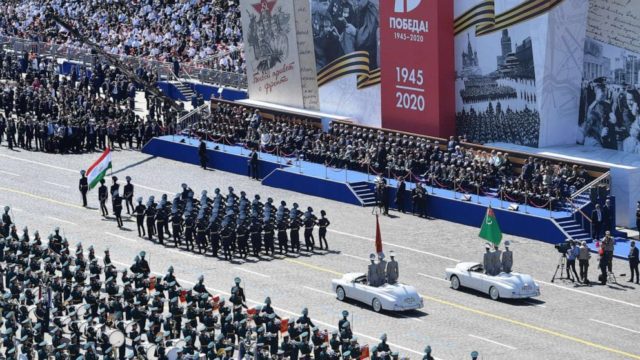 President Vladimir Putin has transformed the May 9 military parade on Moscow's Red Square, which commemorates the Soviet victory over Nazi Germany in May 1945, into a grand public relations extravaganza. In Soviet times, the main annual military parade occurred on November 7—the anniversary of the October Socialist Revolution. From 1945 to 1991, the Soviet authorities held only four "Victory Day" parades: the first, put on by Joseph Stalin, on June 24, 1945, and later three on May 9, in 1965, 1985 and 1990. The Russian Federation's first president, Boris Yeltsin, resumed May 9 parades in 1995. In 2008, the authorities added a defile of heavy weapons—tanks, guns, anti-aircraft and nuclear ballistic missiles—fully returning to Soviet-era grandeur. Special emphasis was put on round "anniversary years"—2000, 2005, 2010, 2015 and 2020. This year, foreign leader invitees included United States President Donald Trump, who promised to send a high-level delegation, possibly led by Vice President Michael Pence. The leaders of France, Japan and other countries also reportedly intended to come, but the COVID-19 pandemic spoiled all those plans. The May 9 event was postponed until June 24. And yesterday, troops marched and tanks rolled through Red Square despite the continuing health emergency. The number of spectators on Red Square was significantly reduced, however, and high-level guests included only a handful of former Soviet republic presidents, the leaders of the Russian-occupied Georgian separatist regions of South Ossetia and Abkhazia, and the Serbian president. Nonetheless, Putin notably emerged from self isolation in his Novo Ogaryovo residence to attend the festivities on Red Square (Interfax, June 24).
Throughout his two decades in power, Putin transformed May 9 from a true (if unofficial) day of Russian national unity that bridged various ideological, political and other divides into a massive state PR operation. But unlike May 9, June 24 does not mean much to the average Russian. The grand parade of victorious troops on June 24, 1945, was a onetime event. Putin ordered to begin preparing for the parade on June 24 less than a month prior—on May 26, 2020 (Interfax, May 26). The Russian state propaganda machine did its best to whip up patriotic sentiment, but the results were mixed, with the coronavirus pandemic and economic hardships weighing on the populace.
Unlike Putin, Belarusian President Alyaksandr Lukashenka held his Victory Day military parade in Minsk on May 9, 2020 (see EDM, May 12). On June 24, however, Lukashenka was dutifully at the parade in Red Square; though he seemingly sought to distance himself from Putin. Lukashenka has ruled Belarus singlehandedly since 1994 and is now running for a sixth consecutive term. The election is planned for August 9, 2020, but has already been marred by the harassment of opposition candidates as well as growing internal instability aggravated by economic distress caused by the coronavirus pandemic (see EDM, June 16, 23). After returning from the Moscow parade, Lukashenka publicly accused Poland and Russia of interfering in the election in an attempt to undermine his regime and promised to discuss this with Putin. The Kremlin denied Russia is meddling in Belarus (Newsru.com, June 25).
Both India and China sent small military contingents to march on Red Square on June 24, together with Russian troops. They were also accompanied by similar token troops from several former Soviet republics as well as Serbia and Mongolia. Prior to 2014, Western military contingents, including the US Army, would also routinely be present on Red Square on May 9, but this practice ended after the Russian annexation of Crimea and the war in Donbas.
Both China and India sent their defense ministers: Generals Wei Fenghe and Rajnath Singh, respectively. Beijing reported that the two men met and talked in Moscow prior to the parade; whereas, New Delhi denied there was any meeting as tensions have continued to surge following the recent bloody clash between Indian and Chinese soldiers in the disputed Ladakh border region. Singh reportedly came to Moscow to ask Russia to hasten the delivery of S-400 anti-aircraft missiles and, maybe, to sell India additional jet fighters and/or other weapons to counter China. Moscow apparently is ready to consider new arms sales to New Delhi despite its close strategic partnership with Beijing. Russia has called on India and China to deescalate in Ladakh and to seek a diplomatic solution, but Moscow lacks influence to even attempt to mediate between its two warring "strategic partners." Nonetheless, Russia seems ready to make money selling weapons to both sides, according to the pro-Kremlin Vzglyad (Vzglyad, June 25).
Some 14,000 military personnel marched on June 24 in Moscow, and around 200 pieces of heavy equipment rolled past the Kremlin, as 75 aircraft overflew Red Square. New weapons on display including a modernized T-90M tank, the S-350 Vityaz anti-aircraft missile system and modernized Pantsir missile/artillery anti-aircraft systems (Pantsir-SM and the Pantsir-SA, built for the Arctic) (1tv, June 24). Russia has been exporting billions of dollars' worth of Pantsir-S1 (SA-22 Greyhound) systems to various customers (Iraq, Iran, Algeria, Ethiopia, Oman, United Arab Emirates, Syria, Jordan, Serbia, possibly Vietnam). Yet, in recent fighting in Syria's Idlib province and in Libya, up to 20 Pantsir-S1s were destroyed by Turkish drones and, apparently, disabled by Turkish electronic warfare capabilities (see EDM, June 11). Russian experts have been portraying Arab Pantsir-S1 operators as unqualified as well as insisting that the export model of this system—the Pantsir-S1E, which Russia is shipping abroad—is a rundown and ineffective modification, not designed to deal effectively with Turkish drones. The modernized Pantsir-SM paraded on Red Square, on the other hand, is purportedly much better and specifically designed to fight off incoming unmanned aerial vehicles (Zvezda Weekly, June 19). Buyers are being invited to buy these newer and more expensive versions.
The Red Square grand military parade was as important to Putin as to his military chiefs. The COVID-19 economic shutdown has severely harmed the Russian economy and will cause a massive budget deficit in 2020. Civilian ministries have been ordered to reduce spending, but the so-called "power departments," primarily the Russian military, have been steadfastly resisting any cuts (Kommersant, May 21). It was important for Defense Minister Sergei Shoigu and the top brass to demonstrate the shiny new military technology to the commander-in-chief to help lobby against lower defense spending. As such, this year's military parade was a grand sales pitch aimed both internally and externally.