Russia's Interest in UAV Strike Capability Gathers Pace
Publication: Eurasia Daily Monitor Volume: 17 Issue: 161
By: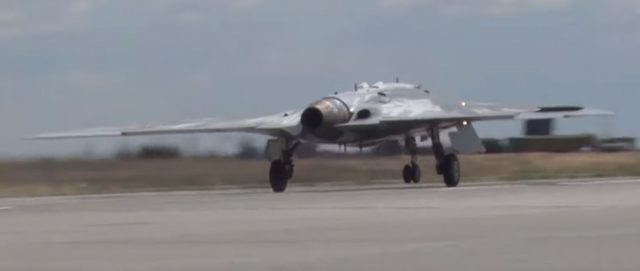 Russia's political-military leadership pays increasing attention to the combat potential of introducing and exploiting unmanned aerial vehicles (UAV) and unmanned combat aerial vehicles (UACV). Experience gained during its operations in Ukraine and Syria, coupled with experimentation in military exercises, as well as specialist analyses of the use of UAVs in modern conflict has elevated the level of interest in producing these systems. This was in evidence during the strategic-level military exercise focused on the Southern Military District in September (Kavkaz 2020), which rehearsed the application of drone swarms in target acquisition (see EDM, September 30). Moreover, the employment of UAVs in hostilities over Karabakh has provided fresh impetus for Russian military analyses of the potential for drone usage in theaters of military conflict (Lenta, November 11).
The Russian top brass has proven to be more focused on using UAV capacity as a means to boost battlespace intelligence, surveillance and reconnaissance (ISR), with less interest in the application of UACVs with strike capability. This, however, has entered a period of prolonged transition, underscored by research and development (R&D) into producing "heavy" strike-capable UACVs such as the experimental S-70 Okhotnik (Hunter). This system could still stall at its design stage for several years (see EDM, February 20, 2019).
In September 2019, the UACV Okhotnik made a test flight twinned with the fifth-generation fighter, the Su-57. The introduction of the Su-57 has itself been long delayed; and despite expressions of confidence within the defense ministry that it may soon enter service, there are ongoing issues in manufacturing a truly fifth-generation engine. The Okhotnik, therefore, appears tied to the fate of the Su-57, as it is designed to work in tandem with this platform. According to Russia's defense industry sources, the heavy strike drone will expand the radar field of the Su-57, and is also reportedly a stealth drone. Designed by the Sukhoi Design Bureau, it reportedly weighs 25 tons, with a combat load of 2.8–8 tons, achieving speeds of up to 1,400 kilometers per hour at lower altitudes (see EDM, October 19, 2019).
Russia has also completed state tests of the latest target complex with UAVs, according to the press service of Technodinamika (part of the government-controlled military-technical concern Rostec). The S-70 featured among these tests, though no information is available on how close the new UACV is to production. On October 20, it was reported that the Ruselectronics holding, also part of Rostec, presented a module that is capable of detecting drones by sound. Its serial production is scheduled to commence in 2021 (Izvestia, October 29).
In October 2020, a Russian online aviation-focused outlet cited an unnamed Chinese military analyst who offered a critique of the Okhotnik. The commentary noted that the S-70 combat drone resembles the US B-2 strategic bomber and stated that although the Okhotnik is inferior in terms of stealth capability to US platforms, it will have high speed and maneuverability. The commentary added that the S-70 will have a maximum range of 4,800 km, with a lot of storage space in its fuselage, which can be used for storing fuel; these characteristics make it ideal to accompany the Su-57. Additionally, the Okhotnik would fly in front of the Su-57 to target enemy air defense systems (Aviaport.ru, October 16).
Another analysis published in a different Russian aviation website questions the purpose for which the S-70 is designed, characterizing it as essentially only usable in large-scale warfare. Noting the lack of drone-strike capability in Russia's military inventory, with the current focus on UAV use for ISR, the commentator alleges that this drone type hardly presents itself as a high priority for Moscow. The S-70 appears designed for high-end conflict with a peer adversary, tasked to suppress long-range air-defense systems as well as to destroy important targets in the operational depth of the enemy, or provide cover to manned aircraft from ground-based attacks (Newizv.ru, October 30).
Denis Fedutinov, a Moscow-based specialist in unmanned aerial systems, explained why the role of UAVs in modern conflict has been underestimated for so long: "The Russian military, as well as the political authorities of the country, who successfully slept through the unmanned revolution, suddenly realized in the late 2000s the importance and significance of these systems for themselves." Consequently, this realization has prompted several large-scale programs to address these issues. Nonetheless, Fedutinov noted that in the current circumstances, it is not possible to act consistently, moving from simple to complex systems. Fedutinov argued, "If foreign companies that create UAVs act as system integrators, using the most suitable solutions for subsystems, then in our country, at the start of these large-scale works, such an approach was simply impossible due to the lack of not only ready-made technical solutions in many areas but also the lack of scientific and technical groundwork for them" (Gazeta.ru, October 31).
Konstantin Makienko, a military expert at the Moscow's Center for Strategies and Technologies (CAST), brought up the lack of Russian innovation in drone technology. This is especially the case in the design or emphasis placed on UACVs. Makienko suggested that Russia's "developers of UAVs will continue to focus on reducing the radar signature of UAVs, their further miniaturization, lower prices, increased autonomy, reliability and accuracy of output to the target" (Gazeta.ru, October 31).
Despite the recent trends toward using more UAVs in Russia's military operations, continued work on UACVs (including the S-70), and Moscow's growing attention to these systems in training and military exercises, the current balance between ISR and strike drones is likely to persist for some time. Surprisingly, the role of Russian strike drones looks tied solely to possible conflict with a peer adversary.