S-400 Dispute Highlights Ongoing Difficulties in Turkey's Rapprochement With Russia
Publication: Eurasia Daily Monitor Volume: 14 Issue: 142
By: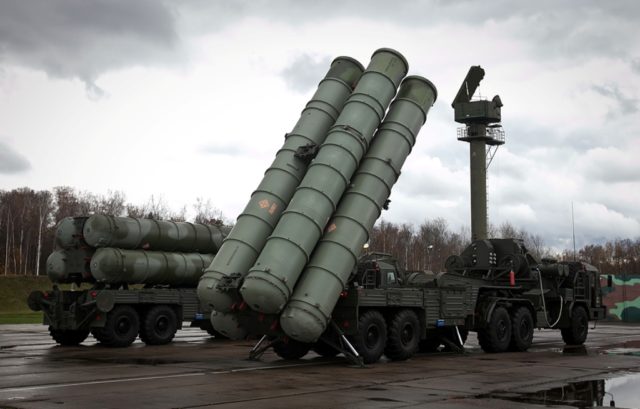 Russian President Vladimir Putin made an unexpected visit to Ankara, on September 28 (Kremlin.ru, September 28). The reason for Putin's trip was to discuss with Turkish authorities a host of regional and bilateral issues: the northern Iraqi Kurdistan referendum; the establishment of a safe zone in Syria's İdlib region by Turkey, Russia and Iran; the removal of commercial customs bans stemming from the November 2015 aircraft shoot-down crisis; tourism and visa-free travel by Turkish citizens to Russia; as well as, notably, the Russian sale of the advanced S-400 air-defense missile system to Turkey.
Following negotiations, President Putin and his Turkish counterpart, Recep Tayyip Erdoğan, appeared before the press and made brief statements, but took no questions from journalists (Kremlin.ru, September 28). Immediately after this visit, Putin's aide for military-technical cooperation, Vladimir Kozhin, made an interesting statement related to the S-400s sale. Specifically, Kozhin explained that "technological transfer between Russia and Turkey is not part of the S-400 agreement" (Interfax, September 29).
In the ensuing days, the Russian press further clarified that this missile system's internal control codes would not be shared with Ankara (Gazeta.ru, October 1). This news appeared to somewhat contradict the reported terms of the $2 billion Russo-Turkish deal, which in particular specifies that two of the four purchased S-400 batteries would be co-produced by the two countries.
Turkey responded swiftly and negatively to the Russian announcement about the restrictions on the technology transfer. Turkish Foreign Minister Mevlut Çavuşoğlu explained that if joint production of the air-defense system cannot be fully agreed on, Turkey is ready to look to other countries for alternatives to the S-400. But after these harsh words, Çavuşoğlu followed up in a softer tone: "We have agreed in principle on joint production… But we [still need to reconcile the details] of the purchase. We need to do this urgently. We need to protect our airspace" (Sputnik Türkiye, October 9).
Sergei Chemezov, the director of Russia's state-owned military technology company Rostec, declared that Turkey does not have the scientific and technological potential to be able to adopt the advanced technology in the S-400, adding, "it is essential to have qualified staff and technological training for this, and all this will take decades" (Kommersant, October 10). Later, Russian officials again repeated that technological transfer between the two countries had actually not been negotiated in the first stage of talks regarding the air-defense complex. However, Taha Akyol, a columnist with the Turkish daily Hürriyet, asserted that this Russian explanation "is an excuse" for not making the technological transfer (Hürriyet, October 16).
The North Atlantic Treaty Organization (NATO) has repeatedly objected to member state Turkey's purchase of the Russian missile complex because of the impact this could have on the Alliance's multi-national integrated air-defense network. And on October 22, the chairman of NATO's Military Committee, General Petr Pavel, told a group of defense journalists in Washington, "The principal of sovereignty obviously exists in acquisition of defense equipment, but the same way that nations are sovereign in making their decision, they are also sovereign in facing the consequences of that decision" (DefenseNews, October 25; Hürriyet, October 26)
While discussions on the S-400 agreement between Turkey and Russia were ongoing, Erdoğan traveled to Ukraine to participate in an October 10 meeting of the bilateral Strategic Cooperation Council. His statements in Kyiv caught the attention of both Russian and Turkish media. At a press conference following the meeting between the two countries, Erdoğan pointedly declared, "Turkey recognizes the territorial integrity of Ukraine" and "will not recognize the illegitimate annexation of Crimea by Russia" (Akşam, October 10). Merchant vessels setting off from ports in occupied Crimea are banned from trading with Turkey.
Of particular note, during the Turkish president's visit to Kyiv, the two government signed new agreements on military aid to Ukraine as well as joint cooperation in the defense industry (Vzglyad, October 10). One notable deal includes a $43.6 million contract to equip Ukraine's Armed Forces with Turkish-made military radios (Aselsan.com.tr, October 10).
On the same day Erdoğan was in Ukraine, Turkey also announced that new customs rules would be applied against Russian agricultural products. Although this came as a surprise for the Russian side, it is clear that this decision was prompted by similar trade restrictions put in place by Moscow against Turkish products. The new import rules are particularly focused on grain/wheat products (T24, October 11). In a statement dated October 11, Russian Agriculture Minister Alexander Tkachov declared that "if such developments continue," Russia will respond by applying similar restrictions on the "purchase of vegetables, mandarins and oranges" (Habertürk, October 19).
Despite this, news emerged that Russia was nevertheless planning to gradually phase out its ban on Turkish fresh fruit and vegetable products. Thus, according to RIA Novosti, Tkachov stated that the necessary documents were being prepared to allow tomato shipments from Turkey as of November/December 2017. In addition, the Russian agriculture minister said that Turkish eggplant and pomegranate imports would be permitted as of November 1 (Habertürk, October 22). Until the deterioration of bilateral relations, Russia had been Turkey's largest single importer of tomatoes. However, over time, the Russian market had slipped below other destination countries like Morocco, China and Belarus.
In assessing the latest developments between Russia and Turkey, it is clear that multiple problems at the bilateral level continue to complicate relations, despite ongoing convergence regarding such issues as their cooperation in Syria. Most recently, this state of affairs was highlighted by Ankara's announcement that the Kremlin was indefinitely postponing a planned November 18 meeting in Sochi on the Syrian war, which was supposed to include Syrian Kurdish representatives, because the Turkish side had protested their presence (Hürriyet Daily News, November 5). Serious difference in their outlooks and policy preferences on multiple issues have meant that the restoration of bilateral Russo-Turkish relations have not progressed as quickly as Ankara or Moscow had expected. And indeed, such difficulties also extend to the S-400 sale, which has yet to be finalized. Until the Turkish government receives terms from Moscow that it is willing to accept, Ankara will likely continue to seek out other alternatives.