SECESSIONIST LEADERS COORDINATE ACTIVITIES IN MOSCOW
Publication: Eurasia Daily Monitor Volume: 4 Issue: 38
By: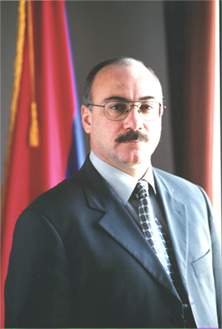 Between February 16 and 21, the "presidents" of South Ossetia and Transnistria and the "foreign ministers" of Abkhazia, South Ossetia, and Transnistria paid overlapping visits to Moscow for talks with Russian government officials and in the State Duma. The three "foreign ministers" also conferred among themselves on February 19-20 to plan an expansion of joint actions by the three secessionist leaderships.
Prior to these visits, Karabakh leader Arkady Gukasian had paid his own visit to Moscow in late January-early February — a visit that he reported to the Karabakh media on February 13. Formally invited by a Russian military-connected think-tank, Gukasian met with "high-ranking diplomats" in Moscow and was also awarded the Peter the Great Medal for promoting Russian-Armenian friendship (Azat Artsakh, February 13) — incidentally amid a recrudescence of xenophobic attacks on ethnic Armenians in Moscow and other Russian cities.
Transnistria's "president" Igor Smirnov and "foreign minister" Valery Litskay were received by Russian Minister of Foreign Affairs Sergei Lavrov to discuss the resumption of negotiations with Moldova "on the basis of earlier-achieved understandings" and for the purpose of "creating a viable structure of Moldova and Transnistria" — code words for Russia-arbitrated "federalization."
Litskay and his Abkhaz and South Ossetian counterparts, Sergei Shamba and Murat Jioyev, conferred to prepare a meeting of the three "presidents," tentatively scheduled for April in Sukhumi. The political framework, activated last year, is titled "Commonwealth for Democracy and the Rights of Peoples" and forms part of the network run by Modest Kolerov's department for external and regional ties within Russia's presidential administration. The three "ministers'" joint communiqué terms Russia "our common strategic partner and guarantor of the rights of the Abkhaz, Transnistrian, and Ossetian peoples."
Their cooperation agenda includes forming a joint "peacekeeping" contingent — an intention that was first announced officially last year. According to Litskay at the concluding news conference in Moscow on February 21, Transnistria can contribute two battalions that are already operating as part of the existing "peacekeeping" operation in Transnistria. Litskay inaccurately stated that the OSCE Mission in Chisinau has frequently inspected these units, and it has not expressed any criticism or objections to their operation. Apparently he calculates based on experience from years past that the OSCE Mission would hurt its own credibility by failing to challenge such assertions.
Litskay also stated that South Ossetia is ready to contribute its existing "peacekeeping" battalion, and Abkhazia is training a battalion for peacekeeping duty with the planned tripartite contingent. All three components shall be based on their own territories and be available on call to respond to Georgian, Moldovan, or international "threats and challenges." The secessionist leaderships are portraying this plan as a reaction to the GUAM [Georgia, Ukraine, Azerbaijan, Moldova] countries' stated intention to form a peacekeeping contingent for internationally authorized missions. While in Moscow they specifically objected to Ukraine's possible participation in peacekeeping operations in the South Caucasus. In any case, the three secessionist forces (whether labeled as peacekeeping or otherwise) are commanded and staffed by officers assigned from Russia, within the Russian military and security forces' chains of command.
The conclave also decided to set up a joint information center in Moscow, with branch offices in Tiraspol, Sukhumi, and Tskhinvali. They also drew up a plan for coordinated activities on the international level, to be approved by the three "presidents" and unveiled at their upcoming meeting. Shamba and Kokoiti also held their own news conferences (attacking NATO, inter alia) and Kokoiti was featured in a lengthy interview by the governmental Rossiiskaya gazeta (February 17).
Georgian Minister of Foreign Affairs Gela Bezhuashvili reacted to the Moscow conclave in a brief statement, tersely objecting to "Russia's encouragement of separatists through [such] conclaves" and urging Sukhumi and Tskhinvali to negotiate the terms of their status within Georgia. For its part, Moldova's Ministry of Foreign Affairs responded in a long-drawn and somewhat plaintive statement, essentially regretting the Russian MFA's recent practice of referring to Smirnov and Litskay by the titles President and Minister.
The three leaderships did not take any clear-cut position regarding Kosovo as a possible "precedent" or "model" for resolving the post-Soviet conflict. Ever since the Kremlin introduced that linkage almost one year ago, the leaders in Sukhumi, Tskhinvali, and Tiraspol — as well as those in Stepanakert and Yerevan — have displayed great wariness regarding such a linkage. They have no way of knowing whether Russia will ultimately side with Serbia in favor of the "territorial integrity of states" or with the post-Soviet secessionists in favor of their own version of the "self-determination of peoples." In Moscow, they postponed taking any clear-cut position on this issue, pending their planned "summit" in Sukhumi.
(Interfax, Regnum, Olvia-Press, Basapres, Imedi Television, February 17-22)