Sectarian Violence Escalates in Balochistan as Shi'a Holy Month Approaches
Publication: Terrorism Monitor Volume: 9 Issue: 38
By: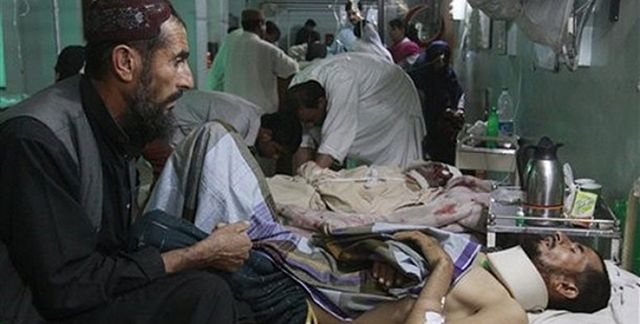 Recent incidents in which dozens of Shi'a Hazaras have been killed by Sunni militants have put Balochistan's religious minority on a knife's edge. On October 4, a bus ferrying Shi'a men to work at a vegetable market on the outskirts of Quetta was assaulted by unidentified motorcycle-borne gunmen. The attackers dragged 13 men off the bus, lined them up and sprayed them with Kalashnikov fire (AP, October 4). On September 23, three Hazara men going to work at a coal mine outside Quetta were murdered after their van was stopped by Sunni extremists (Express Tribune [Karachi], September 24).
On September 20, a group of Shi'a pilgrims were traveling to Taftan, the lone official border crossing with Iran, when they had their bus boarded near the town of Mastung by Sunni Deobandi militants who forced 26 male passengers off the coach whom they identified as Shi'a (Samaa TV, September 20). The captives were then shot execution style on the roadside in front of their families. Notably, in December 2010, militants attempted to assassinate Balochistan's top politician, Chief Minister Nawab Aslam Raisani, because of his pledge to protect Shi'a civilians in his jurisdiction (AFP, December 7, 2010). A suicide bomber approached Raisani's convoy in Quetta, killing one and injuring nine, though the Chief Minister escaped unscathed.
Balochistan, Pakistan's largest province by area – at 43 percent of its total land area, has a proportionally tiny population when compared to eastern Pakistan and is vastly underdeveloped despite the region's immense natural resources. Balochistan is ethnically divided along rough north-south lines, with Baluchis running from the center on south to the ancient coastal trading ports of Makran on the Arabian Sea. The coastal region includes the former fishing village of Gwadar, recently redeveloped into a major deep-sea port with Chinese funding. The province's northern reaches hugging the southern Afghan provinces of Nimroz, Helmand, Kandahar and Zabul are populated by Sunni Pashtuns.
Balochistan hosts insurgents active in both Iran and Afghanistan while being torn apart internally by both ethno-nationalist and sectarian militancy. The province has been plagued with a multitude of complex security problems since Pakistan's founding in 1947. These challenges have only worsened since the American war in Afghanistan began a decade ago. Though anti-Hazara violence predates the 2001 American invasion and occupation of Afghanistan by several years, incidents of violence continue as Taliban factions and their Sunni chauvinist allies in Pakistan accuse the Hazara of collaborating with Western militaries since the Mullah Mohammed Omar-led emirate was deposed ten years ago.
The Hazara community of Quetta, Balochistan's provincial capital, migrated from the Hazarajat region in central Afghanistan when Afghan Amir Abdul Rahman declared jihad on their ethno-religious community at the end of the nineteenth century. This exodus forced them to seek protection from the colonial administrators of the British Raj who ruled what is today Pakistan. Almost exactly a hundred years on, the Afghan Taliban carried out a campaign against the Hazaras as they consolidated their rule over Afghanistan that many international human rights campaigners labeled ethnic cleansing. As Persian speaking Shi'a with origins in Central Asia, a radical fringe of Pakistani Sunni religious polemicists view them with perpetual disdain.
Regular attacks on Hazaras in Balochistan began in the late 1990s in the wake of an urban sectarian war between Sipah-e-Sahaba Pakistan (SSP) and Sipah-e-Mohammad Pakistan (SMP). These groups were supported by Saudi and Iranian state patrons respectively in the context of a religious proxy conflict on Pakistani soil. Lashkar-e-Jhangvi (LeJ), an ever-more radical Sunni movement that splintered from the SSP, continues to carry out mass attacks on Shi'a. The unabated spate of anti-Hazara violence may very well be linked to the presence in Quetta of the Afghan Taliban leadership, the Quetta Shura.
When the Taliban were at war with the Hazara Hizb-e-Wahdat during the fall of Mazar-e-Sharif in August 1998, Pakistani sectarian groups fought alongside the Taliban. The agendas between the two movements blended to a degree as the Taliban adopted an anti-Shi'a bent and LeJ took on some broader jihadi themes in its sectarianism.
When Mazar-e-Sharif ultimately fell to Taliban forces, large-scale reprisal killings were carried out against Hazara civilians trapped inside the city. [2] Since the city fell to Hizb-e-Wahdat, the ethnic-Uzbek Junbish-e-Melli militia of Rashid Dostum and the ethnic-Tajik Jamiat-e-Islami forces of Marshal Mohammed Fahim (with the backing of American Special Forces) in November 2001, the Taliban's contempt for the Hazara has yet to ebb. Hazara fighters fought aggressively against a Taliban prisoner uprising at the fort of Qala-e-Jangi north of Mazar-e-Sharif following the city's fall. With the ouster of the Taliban, many Pakistani Sunni jihadis returned to Pakistan, where some are believed to be behind the current wave of violence Hazara activists are calling genocide.
Attacks on Quetta's Hazara minority began in 1997 with virtually all attributed to LeJ. LeJ ideology employs the inherently controversial concept of takfir whereby they grant themselves the authority of declaring other Muslims apostates worthy of death. LeJ recently distributed a letter in Quetta essentially declaring war on the Hazara: "All Shiites are worthy of killing. We will rid Pakistan of unclean people. Pakistan means land of the pure and the Shiites have no right to live in this country We have the edict and signatures of revered scholars declaring Shi'ites infidels. Just as our fighters have waged a successful jihad against the Shiite Hazaras in Afghanistan, our mission in Pakistan is the abolition of this impure sect and its followers from every city, every village and every nook and corner of Pakistan" (Asia Times Online, October 5).
Balochistan's highest ranking policeman, Inspector General Tariq Khosa, laid the blame for the sectarian violence on weak-willed politicians who have allowed rural tracts of the province to be guarded by militias called the Balochistan Levies Force who are accountable for their district's own law and order. This arrangement leaves many areas off limits to formal Pakistani law enforcement responsible to Islamabad.
These tribal militias were originally raised by British colonial administrator Robert Grove Sandeman in the late 19th century in order to co-opt restive tribesmen rather than attempt to impose order on Baloch culture from the top down (Baloch Hal, June 24, 2010). After years of "police rule," the century old militia system—having been dissolved by the regime of Pervez Musharraf—was restored by popular demand in April 2010 by the Balochistan Provincial Assembly (Associated Press of Pakistan, April 6, 2010; for Pakistan's tribal levies, see Terrorism Monitor Briefs, February 26, 2010).
Some have challenged the idea of provincial responsibility for Balochistan's security, suggesting it might be better to place it in the hands of Pakistan's Inter-Services Intelligence (ISI) and the Pakistan Army rather than the Balochistan Levies or local and federal police structures.
With the ISI busy countering the machinations of their Indian rivals in neighboring Afghanistan and the Pakistan Army in conflict with groups like the Balochistan Liberation Army, it seems that violence directed at Balochistan's Shi'a minority by the LeJ is simply a low security priority for Islamabad in light of the central government's well defined intelligence and military footprint in the province.
Pakistan's security priority is the Baluchi nationalists fighting for a separate state – whom they accuse of being backed by Indian intelligence – rather than sectarian jihadis repeatedly murdering an underrepresented minority (Indo-Asian News Service, September 5, 2006; Daily Outlook Afghanistan, October 8). President Asif Ali Zardari asked the Hazara community to remain steadfast in the face of such slaughters, pledging to provide protection for Hazara pilgrims en route to Shi'a holy sites in Iran, though he outlined nothing more specific in terms of security for the Hazara (Frontier Post, October 14). When Interior Minister Rehman Malik chaired a meeting that called for Iran-bound pilgrims to be protected by the Pakistani state, Inspector General Khosa responded by stating such protective measures were already in place, though many Hazaras might be skeptical of such an assertion (Express Tribune, October 6).
At the end of November the Shi'a holy month of Muharram will be observed in Quetta by the city's estimated 400,000 Hazaras. With their high visibility, public Ashura processions (marking the martyrdom of Husayn ibn Ali in 680 CE) will be vulnerable to LeJ suicide bombers. So long as Malik Ishaq, the group's leader, and the LeJ leader in Balochistan, Usman Saifullah Kurd, remain at large, the security of Hazaras in the province will continue to deteriorate (News International, October 7; see Militant Leadership Monitor, July 2011).
Notes:
1. Ravi Shekhar Narain Singh Singh, The Military Factor in Pakistan, New Delhi, 2009, p.386.
2. The Taliban killings of Hazara inside Mazar-e-Sharif in August 1998 were reprisals for the execution of hundreds, perhaps thousands, of Taliban fighters in May 1997 when Taliban forces and their foreign jihadi allies tried and failed to capture the city. See Human Rights Watch, "Backgrounder on Afghanistan: History of the War, The Third Phase: The Taliban's Conquest of Afghanistan, October 2001," https://www.hrw.org/legacy/backgrounder/asia/afghan-bck1023.htm.