Sisyphean Labor: Extracting Slivers of Optimism From Events in Belarus
Publication: Eurasia Daily Monitor Volume: 20 Issue: 64
By: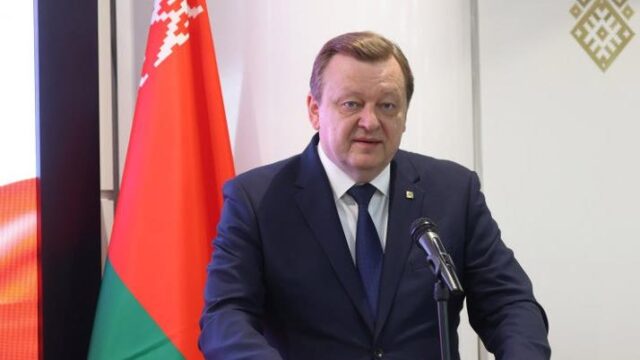 As every cloud has a silver lining, the current situation in Belarus is no exception. Admittedly, this is hard to prove, but four recent events may have cause for some restrained optimism. First, on April 12, during his visit to Hungary, Belarusian Foreign Minister Sergei Aleinik called for a truce in Ukraine: "The position of Minsk is unequivocal: it is necessary to stop the killings, immediately declare a truce and start negotiations—the sooner the better" (Kommersant, April 12). Aleinik's appeal may come straight from his boss, President Alyaksandr Lukashenka, who in his March 31 address to the nation (see EDM, April 5) called for cessation of hostilities. However, the intensely discussed content of the leaked Pentagon papers has, in the meantime, changed the calculus of the situation in Ukraine for some. These factions believe that, given what now seems to be the actual situation on the frontlines, a truce may benefit Ukraine. One may also recall that appointing (in December 2022) a diplomat with experience exclusively in the West to succeed the late Vladimir Makei—despite intense competition by devout hardliners—was also a positive sign.
The second event in question is the release of Andżelika Borys, chair of the unregistered Union of Poles in Belarus. Borys was detained on March 23, 2021, and placed in a pre-trial detention center on highly improbable charges of inciting hatred and rehabilitating Nazism. She spent a year behind bars. On March 25, 2022, she was placed under house arrest. Six months later, Lukashenka announced that he personally allowed Borys to be released at the request of her mother.
In total, five people were detained in the "case of the Union of Poles," including Borys and journalist Andrzej Poczobut. Allegedly, they organized illegal mass events in Grodno "to honor the participants of anti-Soviet bandit formations that operated during and after the Great Patriotic War." This is how Polish Home Army is now being labeled. Later, three detainees (Irena Biernacka, Maria Tiszkowska and Anna Paniszewa) were released on the condition that they leave Belarus for Poland. Poczobut and Borys refused to be released on such terms. In February 2023, Poczobut was convicted on charges of calling for sanctions and inciting hatred, and he was sentenced to eight years in a high-security penal colony (Zerkalo, April 12).
Today, it seems surreal that five years ago, in July 2018, the same Union of Poles openly celebrated 30 years of work in Grodno with three Polish officials taking part, including a senator, a deputy foreign minister and the chief of the prime minister's office (see EDM, August 8, 2018). This shows how precarious the fate of the organized Polish community is in Belarus and the degree of its dependence on the state of Belarusian-Polish relations. "Organized" is a key word in this context, as individual Poles without political ambitions outside the ruling elite are hardly ever subject to discrimination in Belarus.
Poczobut's and Borys's rejections of the authorities' suggestions to be released in exchange for leaving Belarus for Poland is noteworthy in its own right. Whereas, back in the 19th and early 20th centuries, ethnic Belarusians themselves used to be a largely peasant group without the upper strata, as the members of the latter pledged their allegiance to either Russians or Poles, the current situation for Poles in Belarus resembles that of Belarusians back then. Several postwar emigration waves, including two under Nikita Khrushchev, mainly involved educated Poles. However, Belarus's education system disposed of Polish as the language of instruction, and when two Polish secondary schools were eventually founded in the late 1990s—in Grodno and Volkovysk—many graduates would then attend colleges in Poland (Polskie Radio, April 11, 2022). (Since the fall of 2022, these schools no longer teach in Polish.) That left the Polish community largely composed of farmers and small-business owners, with only 13 percent of the community having received a college education. Thus, if even the few remaining community organizers, such as Borys and Poczobut, also leave, that will only accelerate the assimilation and disappearance of the entire community. In that sense, Borys' release is grounds for optimism, however restrained.
The third event is the clemency granted to nine out of 15 defendants in the collective Tut.by case. The names of those nine have not yet been disclosed, but the widow of Yury Zisser, the founder of Tut.by, is most probably among them (Zerkalo, April 16).
The fourth event, arguably the least amenable to teasing a positive aspect out of it, is penalizing three guarantors of two former political prisoners that fled the country following their release from jail. Elena Tolkacheva and Olga Loiko, former Tut.by journalists, were detained on May 18, 2021, as part of a criminal case initiated against Tut.by for tax evasion. They spent 14 months in prison, and, on July 18, 2022, they were allowed to wait for court proceedings out of jail. Two people pledged on behalf of Tolkacheva: Valery Voronetsky, former diplomat and current member of the Belarusian House of Representatives, and Yauheni Preiherman, political scientist and head of the Minsk Dialogue Council on Foreign Relations. Alexander Shvets, chair of the Belarusian Union of Industrialists and Entrepreneurs, interceded on Loiko's behalf. In October 2022, the Belarusian State Security Committee, or KGB, included Tolkacheva and Loiko on a list of "persons involved in terrorist activities." In the meantime, however, they fled Belarus, most probably via Russia. Consequently, on April 9, each of the three guarantors was sentenced to a fine of 18,500 Belarusian rubles, or about $6,200 (Viasna, April 10).
If anything, this episode shows that, in Belarus, respectable people can intercede on behalf of political prisoners and that the latter can sometimes escape prosecution. Admittedly, this is not much to boast about; nevertheless, it still belies the images of a relentless dictatorship cut from the cloth of North Korea or Stalinist Russia. And yet, Belarus has now officially become part of Russia's national security perimeter, as negotiated between Lukashenka and Putin and detailed during Russian Defense Minister Sergei Shoigu's visit to Minsk on April 11 (Vzglyad, April 11). Ultimately, the cloud is by definition bigger than the silver lining, as the new divisions cropping up in Europe are almost as formidable as the Iron Curtain.